Successful businessman Åke Jönsson loves himself. And his career. And his big, expensive car. But in a fateful moment his life is transformed, and he loses his wife and his children, who, in the heat of his career ambitions, he has forgotten to love. Suddenly everything has changed, and Åke must go hunting for love. But what happens when he finally learns to love - and the one he loves is unattainable?
"Bang Bang Orangutang" is a film about love. "Romeo and Juliet" meets "King Kong".

Love smites someone who isn't ready for it. Who is unfamiliar with it. Who doesn't know how to handle it.

In a similar fashion we all resemble "King Kong". When we fall in love we behave more like a tragicomic "King Kong" than a heroic "Romeo or Juliet".

"Bang Bang Orangutang" is also a film about a love that is too much. Too demanding, too overwhelming, too right and far too wrong. So the film is also a bulimic love film: a love film that is too much – about a love that is too much.

A love film like Liberace might have made – which is both too much and too little, has too much good taste and is far too tasteless.

Just like love!
"Staho's narrative is insensitive and will deter most of the people relatively early in the film. Many will find it incoherent and noisy and then give up. But the style at the beginning is just a lighter surrealistic presentation to a story about a man's safe way to the abyss... The careful and rather original use of colors, light cones and absurd contrasts is the very distinctive feature of the film.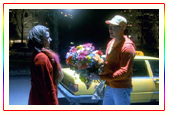 At the same time, Staho is consistent in its quivering, anxiously provoking storytelling... Drama, humiliation, madness - it all goes out in ugly, sexless surroundings, and this surface actually becomes a depth because Staho just avoids all possible clichés and instead concentrates on its raw material, namely the actors and the strong visual instruments." ...Tobias Lynge Herler, philm.dk
"Ladies and gentlemen, Simon Staho presents: Another movie with an unfortunate Mikael Persbrandt behind the wheel of a car. He has honestly gone completely apeshit with cheerful color filters and costumes. Probably because it will give some kind of intensity to history. Instead, it feels more like he does not really dare to trust the script." ...Tomas Hemstad. Nojesguiden
"Featuring an energetic central performance by Mikael Persbrandt, the stylistically brash picture is meandering and repetitive with unnecessarily strident visuals, but its faults are redeemed by its gentler, human moments. The outlandishly exaggerated opening sequence has power-drunk middle-aged businessman Ake (Persbrandt) ignoring the pleas of a man he just fired (Nyqvist) to put him back on the payroll. But what looks like a setup for a satire on modern business quickly changes when Ake, who is trying to drive and talk on his cell phone making a big money deal at the same time, hits and kills his youngest son in his driveway. Within the space of 20 minutes, Ake losses his wife Nina and child Emma, the support of the rest of his family, and his job. He starts work as a cab driver, sleeping in his taxi outside his old house and picking up and having sex with younger Linda. Much of the remainder of the picture displays the humiliations to which Linda, and the script, subject Ake. There is an uneasy sense that the script is reveling in his punishment a little too much." ...Jonathan Holland, Variety
"Bang Bang Organgutang is a film about love and sorrow. But to say that it is done in an unconventional way is to undermine strongly... Staho really uses the movie medium to the max. He mixes with colors, image quality and sound in an interesting and exciting way. In the most embroidered sequences, you almost wonder if it's not Spike Jonze. Unfortunately, Staho does not have a Charlie Kaufman script to work from, but has written the story together with Peter Asmussen. They are skilled at doing tragedy with simple means, but do not have the same excitement as Kaufman. In particular, the dialogue scenes become more than legally theatrical and pretentious... It is easy to admire the visual narrative style, but at the same time it is difficult to get the right contact with the characters... Summing up the review is about as split as the movie itself. An interesting experiment that is easy to applaud but hard to love." ...Kim Nilsson, Moviezine.se