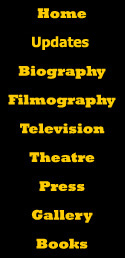 THE MAN FROM BEIJING (TV - 2011)
(Der Chinese)
ROLE: Staffan

GENRE: Crime thriller

COUNTRY: Germany/Austria/Sweden

PREMIERE: Munich Film Festival - 06/25/11
Synopsis
A mass murder, a female judge and diary entries from ages ago, surely now forgotten Ė judge Brigitta Roslin has to make a long and dangerous journey before she discovers that the background to this hideous crime lies in the distant past. The film adaptation of Henning Mankellís novel begins with the stunning murder of 19 people. The police believe a madman was behind the brutal act. Not only Brigitta Roslinís parents are among the dead; almost all the victims were related to her. Brigitta soon becomes convinced that the police are on the wrong track, and she starts to investigate on her own. Her search for the murderer of her entire family leads Brigitta to China, where she is confronted with the gruesome machinations of a millionaire businessman.
Film Details
Suzanne von Borsody - Brigitta Roslin
Michael Nyqvist - Staffan
Claudia Michelsen - Vivi Sundberg
Amy Cheng - Qui Hong
Jimmy Taenaka - Ya Ru
* * * * *
Director - Peter Keglevic
Cinematography - Alexander Fischerkoesen
180 minutes
Production Notes:
Filming begin April 26, 2010. Locations included Sweden, Taiwan, Lower Austria and Vienna.
Publicity Stills
Notes
"The Man from Beijing" is a novel by Swedish writer Henning Mankell first published in Swedish in May 2008 under the title Kinesen (The Chinese). The English translation was published in the UK and US in 2010. Yellow Bird acquired the TV film rights and produced a German language version together with Austrian production company Lotus Film and broadcasters ARD and ORF. It was first screened at the Munich Film Festival on June 25, 2011. It was broadcast in Austria by ORF on December 30, 2011, following DVD releases in Germany and France a few days earlier. The film was nominated for two German Camera Awards: to Alexander Fischerkoesen for Best Cinematography of a TV Film and to Moune Barius for Best Editing of a TV Film.