In this photo it appears that Michael sees himself as Michael Corleone from "The Godfather" during the time he flees to Sicily. The only thing missing in the picture is his two henchmen. I don't have the details but this was used in a 2006 calendar for the month of July.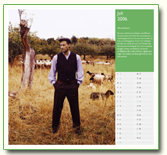 In 2009, a calendar was created to help fund cancer research in Sweden and several famous couples signed up. Here Michael and wife Catharina pose for the month of March.
In 2014, photographers Sophia Forsberg and Jesper HallÚn decided to do a celebrity calendar where all revenues would go to the City Mission in Gothenburg. Michael agreed to participate and chose to be photographed in a Thai boxing session. Because only 12 portraits could be used for the calendar, all portraits were exhibited and went on sale at the city's library right before Christmas.