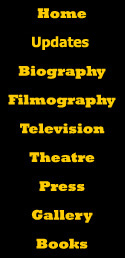 DAG OCH NATT (2004)
ROLE: Jacob

GENRE: Drama

COUNTRY: Sweden/Denmark

SWEDISH PREMIERE: August 6, 2004
Synopsis
The film starts with a voice-over telling the audience that on September 11, 2003, a man named Thomas committed suicide by shooting himself in the head. The rest of the film depicts the day leading up to this act, with Thomas meeting for the last time various people who in some way or another have meant something to him. By letting the audience know from the start how the film will end, the director deepens and darkens the tragedy without resorting to any will-he or won't-he suspense. It's the tragic story of a man who hates himself and what he has become, and who finally commits the ultimate act.
Film Details

Mikael Persbrandt - Thomas Ekman
Sam Kessel - Emil
Maria Bonnevie - Sarah
Michael Nyqvist - Jacob
Lena Endre - Anna
Hans Alfredson - Bilisten
Pernilla August - Eva
Fares Fares - Kristian
Marie Göranzon - Modern
Tuva Novotny - Desiré

* * * * *
Director - Simon Staho
Screenplay - Peter Asmussen, Per Nielsen & Simon Staho
Cinematography - Kim Hřgh
Music - Joachim Holbek
* * * * *
90 minutes
* * * * *
Production Notes
Filming began on November 10, 2003 for 15 days around the streets of Gothenburg, Sweden. Two cars were connected by an 'umbilical cord'. In the first car, which dragged the second, sat Simon Staho, who followed the filming by a monitor. In the other were three people - Mikael Persbrandt, his current passenger, and the script girl in the trunk. For the director, it was a dream to film everything in a car with no problems with lighting and equipment. Only two small DV cameras mounted on the dashboard.
Publicity Stills
Premiere photo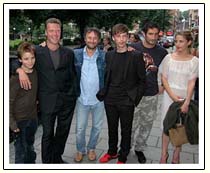 Commentary
The film is very Swedish with its heavy mood, broken relationships, suicide and perpetual perpetuity. It's ninety minutes of fear but relentlessly played well. "Dag och Natt" is admirable concentrated and reserved. Directer Simon Staho shows deep feelings with minimalistic means. The whole film plays in Thomas's car, which could have had poor results, but it is balanced by sharp editing and brilliant acting.
Persbrandt is sometimes almost without expression, but there is no doubt about his inner hopelessness. Thomas is the portrait of a man who has committed too many mistakes in his life. He is an alcoholic, was unfaithful, has deceived and been deceived and now sees no way out. It is an emotionally strong and heavy movie with almost no humor but very worth seeing.