Statement dated June 27, 2017
"On behalf of Michael Nyqvist's representatives and family, it is with deep sadness that I can confirm that our beloved Michael, one of Sweden's most respected and accomplished actors, has passed away quietly surrounded by family after a year long battle with lung cancer. Michael's joy and passion were infectious to those who knew and loved him. His charm and charisma were undeniable, and his love for the arts was felt by all who had the pleasure of working with him. He is survived by his wife Catharina, and their children Ellen and Arthur."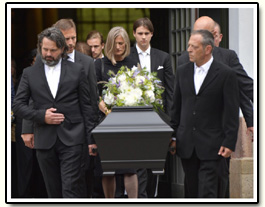 Description of Funeral:
July 21, 2017
Friends and family gathered today at Katarina Church in Stockholm to celebrate the life of Michael Nyqvist. At his burial service, there were many familiar faces, which included film colleagues he had worked with over the years, such as Sverrir Gudnason, co-star in both "A Serious Game" and "My So-called Father", Shanti Roney, Anastasios Soulis, who played Michael's son in two films, Mikael Rahm, Kay Pollack, Ewa Fröling, Lena Endre, Rafael Edholm, Anthony Edwards, Eva Dahlgren, Mona Sahlin, David Dencik, Vera Vitali, Pernilla August, Ingela Olsson, etc.
In describing the church service, actor Leif Andrée said, "It was a fantastic, absolutely outstanding funeral. Pompous, lovely, dramatic and fun and nice. Just like Micke was. His amazing big heart pervaded this as well. It was like a pulsating heart."

On the cover of the funeral program distributed to all visitors, there was a portrait of Michael drawn by his daughter Ellen. Poems were read and included "Gunnar Ekelöf's "Envoi" as well as a poem written by Michael himself. Among the songs performed were a Lutheran psalm called "Lovely is the Earth" and the beautiful "Amazing Grace" was sung by Barbara Hendricks. The Weeping Willows singer Magnus Carlson ended the ceremony with an interpretation of "Blackbird" by Paul McCartney and John Lennon.
As most of you know, Michael was adopted but eventually found his biological parents and discovered his Italian heritage through his father. Sadly, his father was too ill to attend the funeral but his siblings Fabrizio and Beatrice attended.
Words from his widow Catharina:
She said, "Micke was absolutely sure that he would be fine. He had so much hope and power." After the diagnosis, they spent a lot of time together. She added, "We suddenly were very much together and did everything together as we always wanted. It was a very good time."

For Michael, it was important that he did not become his illness. He would keep working. Catharina described how they both had difficulty understanding how serious it was. She couldn't understand how he had lung cancer when he was always healthy and sporty and never smoked.

At the end, he suffered from pneumonia and became very ill. He was not hospitalized but received home care. A nurse told Catharina the night before he died, "I just want you to know that pneumonia is very serious and there is a risk that it cannot be reversed."

Tearing up, Catharina explained how he had gone to the bathroom and asked for help because he felt very dizzy. She went to help him and then he fainted. She said, "I did not think he could die."

In honor of Michael, the Royal Dramatic Theatre in Stockholm presented a condolence book where visitors could write a final greeting. A very nice gesture from the theatre world.