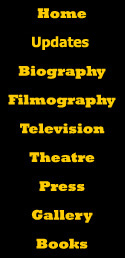 SÅ SOM I HIMMELEN (2004)
(As It is in Heaven)
Synopsis
Daniel Daréus is a successful international conductor at the peak of his career. However, in private, he is lonely, miserable and exhausted by the demands of his high profile lifestyle. After suffering a physical and emotional breakdown, Daniel abruptly interrupts his career and returns, alone, to Norrland, the village of his childhood located in a remote part of northern Sweden. No sooner does he arrive home than his fame makes him the object of curiosity, fascination and suspicion. Before long, he is asked to come and "offer a bit of good advice" to the small church choir, which practices every Thursday in the parish hall.
Daniel resists being dragged back into the spotlight, yet he finds that there is no way he can gracefully refuse the choir's request and, reluctantly, he agrees to help. As he begins to work with the choir, Daniel, quite to his own surprise, begins to rediscover his long-lost love of music.
But Daniel's work with the choir poses a serious threat to the town's status quo, and Daniel finds himself surrounded by enemies – including the jealous parish priest and a dangerous and violent enemy from his past. At the same time Daniel makes new friends, among them the lovely and sensitive Lena, a woman who helps him overcome his fear and loneliness. Both Daniel's life, and village life, will never be the same again.
Cast & Credit Details

Michael Nyqvist - Daniel Daréus
Frida Hallgren - Lena
Helen Sjöholm - Gabriella
Lennart Jähkel - Arne
Ingela Olsson - Inger
Niklas Falk - Stig
Per Morberg - Conny
Ylva Lööf - Siv
André Sjöberg - Tore
* * * * *
Director - Kay Pollack
Screenplay - Anders Nyberg, Ola Olsson, Carin Pollak,
Kay Pollak and Margaretha Pollak
Cinematography - Harald Gunnar & Paalgard
Music - Stefan Nilsson
132 minutes
* * * * *

https://www.youtube.com/watch?v=Nsg3Iz9wOBs
(Pollak directs Michael)
https://www.youtube.com/watch?v=y765gdd3rEc
(Gabriella's Song with movie clips)
https://www.youtube.com/watch?v=K_yp2DJ9Km0
(Movie clip)
https://www.youtube.com/watch?v=X95Yf_MhR2I
(Finale)
https://www.youtube.com/watch?v=YvsMjwgTU3c
(Trailer with English subtitles)
Production Notes
Pollak had a lot of interests, and his desire to explore them on film never diminished. It was his wife who gave him the idea for this film. He explains, "She sang in a choir and I used to go to pick her up. I listened to the choir and studied it, and I gradually realized what a metaphor for humanity a choir is. I did not know then that this is the largest cultural movement in Sweden - that close to 700,000 people take part in choir-practice every week." As this interest developed, Pollak started to study this folk movement more closely. He spoke at length with choir-leaders and gradually a script started to evolve. When the script was ready, he presented it to producers Anders Birkeland and Göran Lindström, who sent the script to Peter Possne at Sonet Film. Possne says, "I got the script on a Friday afternoon, and on Saturday morning I called and said 'I'm in'. I have never made such a decision as fast before - the script was so good."
For Pollak, this dramatic story could only be set in the far north of Sweden. "I wanted to be able to use the contrasts between the summer, with its special light - and the winter, with its harsh weather and snow-storms." Art director Mona Theresia Forsén toured the north of Sweden, scouting for locations. She found several perfect settings, which meant only two interiors had to built. These were the old school-house, and the church where the choir practises. The rest were already there.
When it came to casting, Pollak had already pictured Michael Nyqvist and Frida Hallgren as the two leads. The shoot was long, and sometimes turbulent. Editing took place in the spring and summer of 2004, with editor Tomas Täng, of whom Pollak speaks very highly. He says, "I'm grateful God sent him in my way. That man is a genius."
Recognition
The film captured the hearts of the Swedish audience and became one of the most successful films in Sweden. In February 2005 the film was screened at the Berlin International Film Festival in the series, "Berlinale Special". It received an Oscar nomination for "Best Foreign Film" and was also nominated for no less than eight Guldbagge Awards and shockingly failed to pick up any awards. The categories were: Best Film, Best Cinematography, Best Actor, Best Actress, Best Supporting Actor, Best Supporting Actress, Best Screenplay.
A sequel was made in 2015 with Frida Hallgren in the same role as Lena, who gives birth to Daniel's child. It's called "Så ock på jorden" (Heaven on Earth).
Publicity Stills
Promotional Photos
Premiere Photos
Berlinale Special - BIFF - February 2005
Commentary:
"A beautifully crafted film with some outstanding performances. It tells a very human story with fully realized characters, but it is also a story about community and art. The choir can only achieve harmony by being open and honest with themselves and each other. It's also a meditation on the relationship between art and organized religion. Its Oscar nomination was well-deserved." ...Fandor.com

"This film, full of emotions and noble feelings and designed to attract the wide-public, was chosen to represent Sweden at the Academy Awards as Best Foreign Film. Pollak manages to mix humor and melancholy to tell us with natural simplicity about destiny, about loving music and rediscovering life. His refreshing approach is emphasized by the picture enhancing the soft colours of a Scandinavian summer... It was Pollak's first film after 18 years of absence. He said, 'I needed to stay still all this time and solve personal issues. Then I wrote this film and met Per Nielsen from the Swedish Film Institute. He was available and wished to finance my project.'" ...Cineuropa
"Kay Pollak has made a beautiful movie in several ways: the film itself is well-made, but above all the action is interesting. It is easy to follow while it has several important messages... The actors are supreme and very convincing. Michael Nyqvist does one of his best roles. It's so beautiful to see him so it hurts at the end. Clearly efforts by all the actors also enhance the movie." ...Per Ganbar, Moviezine
"An astonishing Swedish drama about a church choir and its creative director who take a meaningful and loving journey together. Writer and director Kay Pollak has created an emotionally rich drama that vividly conveys both the delights and the challenges of small town living. The intimacy that blooms between Daniel and Lena happens very slowly and enables Daniel to confront his own fears and lack of trust in other people. Lena helps him see that he needs a more balanced life; ironically this comes as she teaches him how to ride a bicycle. Inger, the minister's wife, finds herself liberated through Daniel's teachings and emboldened to tell her husband that she no longer believes in sin. Their marriage is rocked by the changes the outsider has brought to the community. For Daniel, the biggest surprise is that his love for these quirky people enables him to at last fulfill the mission of his life - to create music that will open a person's heart." ...Frederic and Mary Ann Brussat
"It's a story that affects enormously on many levels. One cries and laughs alternately when Pollak orchestrates the scenes properly... Beautiful photography, superb music by Stefan Nilsson and, not least, amazing acting. Nyqvist is both charismatic and vulnerable in the film's center... And Frida Hallgren embodies Lena's joyful and beautiful beauty queen with such charm and intensity that there can be no man who doesn't want to take her in his arms and hug her when the movie is over." ...Jan-Olov Andersson, Aftonbladet