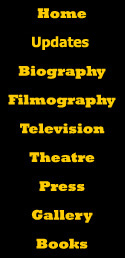 ISKARIOT (2008)
ROLE: Drug king Masen

GENRE: Crime drama

COUNTRY: Sweden

SWEDISH PREMIERE: March 7, 2008
Synopsis
Valle has it all. A villa at Lidingö, a well-paid job as a surgeon, a beautiful wife and a daughter who loves him. His brother, on the other hand, is the opposite. Adam is generally unsuccessful. He's a drug dealer and when he gets robbed of several kilos of cocaine, he has three days to solve the problem; otherwise, something unpleasant will happen to him, according to drug king Masen.

Valle is drawn into this problem when Adam goes to him in hopes of help. Now Valle has put his family at risk and must decide whether to keep his family safe or risk everything to save his brother.
Film Details

Gustaf Skarsgård - Adam
Michael Nyqvist - Masen
Helena Af Sandeberg - Mona
Jacob Ericksson - Valle
* * * * *
Director - Miko Lazic
Screenwriter - Frank Ågren
Cinematography - Andreas Wessberg
Music - Patrik Andrén
* * * * *
80 minutes
* * * * *
Production Notes
The $2 million production began shooting in Stockholm during the first week in April 2007.
Publicity Stills
Promotional photo shoot
Commentary
Variety review:
"Family bonds are stretched to the breaking point in Swedish helmer Miko Lazic's slick, soap opera-like thriller Iskariot. Illustrating the film's subtitle, 'Two Brothers, One Debt,' Stockholm doctor Valle (Jacob Ericksson) puts his life — and those of his wife and daughter — on the line to bail out his irresponsible younger brother Adam (Gustaf Skarsgård), a drug dealer and addict. Despite arty lensing and nuanced playing from Skarsgård and Michael Nvqvist as the chief villain, the film can't transcend stock situations and implausible plot twists."