Next door is a psychological thriller with strong sexual undertones. The film's main character John, recently abandoned by his girlfriend, allows himself to be seduced by his two pretty neighbors Anne and Kim, who drag him into a world in which it becomes impossible for John to separate lies from reality.
2005 Norwegian International Film Festival, Haugesund (New Nordic Films): Amanda for Best Actor to Kristoffer Joner
2005 Cinénygma Luxembourg International Film Festival: Méliès d'Argent
2005 Cinénygma Luxembourt International Film Festival: Special Mention from Jury of Grand Prix Cinénygma
2005: Kodak Award 2005. Jon Andreas Andersen received the Award for Next Door.
2006 Nordic Film Festival, Rouen, France: Young European Jury Award
2006 Amsterdam Fantastic Film Festival: Black Tulip Award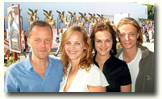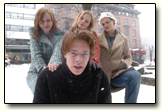 NEXT DOOR is a version of the classic nightmare: One day you discover a door next to yours, and when you enter you find a world where normal rules no longer apply. You are both drawn to and repelled by what you discover. You find yourself in a world where you must face up to your innermost fears. It is simultaneously the most
enticing and the most frightening thing you have ever experienced.
NEXT DOOR is a journey to that most secret place on Earth, deep inside yourself. I have always been interested in how our mind works. How much pressure can the mind handle? How do we manage to incorporate experiences we don't consider ourselves capable of doing, into a new self image?
NEXT DOOR is a film about denial, shame, and crossing boundaries.
Adrian Wootton:
"This is a chilling thriller about how one man descends into madness where he cannot distinguish dream and reality because he has committed a terrible act that shatters his sanity. Sletaune cleverly builds up tension and increases our sense of claustrophobic unease by focusing all the action on a labyrinthine apartment, where the leading character gets lost in a terrifying and violent web of fantasy. With nods to Hitchcock and De Palma, particularly in the brilliant use of sound effects and an orchestral score, Next Door is very high quality filmmaking and a roller coaster ride that you are unlikely to forget."
Jon Selås, Verdens Gang
Rating: 6 out of 6
"Sinister delving into the human mind in a borderline horror movie. The direction is wonderfully planned and implemented. And Kristoffer Joner has never been better. The acting, the photography, the sound, the scenography and not least! the music, flows up or down in manipulative unison. Brilliant! With quaking nerves we are forced to admit: This is superb. Nothing less!"
Mode Steinkjer, Dagsavisen
Rating: 5 out of 6
"Frightening and psychotic thriller from the director of Junk Mail Although powerful muscles to be compared against, this claustrophobic, sexually charged piece is reminiscent of Polanski; the metastructural peeping Tom element, for both John and the viewing audience, brings Hitchcock to mind; and the cooped up, violent, and sexually ambiguous passion is totally Lynch. Let it be known that this inspiration is only perceptible, and cannot be directly measured, and Sletaune gets away with a film that by all means has its own signature."

Inger Bentzrud, Dagbladet
Rating: 5 out of 6
"Intelligent thriller with powerful scenes. Pål Sletaune's new film Next Door is a fairly uncomfortable experience. A psychological thriller that increasingly gains the character of a real horror film, and crawls uncomfortably under your skin. It's creepy because we are here dealing with a smart horror film. You don't quite understand what is going on. The aspect of time has been torn apart, the lines between reality, fantasy, dreams, and hallucination have also been erased. Apparently the film is about being invaded, and this sense of claustrophobic closeness is effectively augmented by Jack von Domburg's scenography. Dark green silk-like walls close 'normal' life out. Inhospitable, brownish hallways seem as endless as deep caves. In Next Door you recognize the atmosphere of David Lynch, and associations to Hitchcock's The Birds at a certain point. But this film is consistently original and 'different'."

Astrid Kolbjørnsen, Bergens Tidende
Rating: 5 out of 6
"A real, shuddering, classic psychological thriller. Perfect in its genre. A perfect idea. Perfectly accomplished in the most claustrophobic of environments, where neither elevator, long, spooky hallways, nor sombre colors are missing. Sletaune has shown that he masters breadth in his repertoire and deserves kudos for this great artistic comeback."