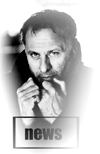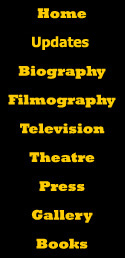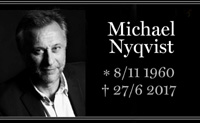 August 15, 2017

WGN America has acquired three more international drama series in the crime/thriller genre. They include the 2015 Swedish-American thriller 100 CODE. Developed by Academy Award winner Bobby Moresco, "100 Code" stars Michael Nyqvist and Dominic Monaghan. The 12-part serial originally debuted in March 2015 in Denmark, Finland, Norway, and Sweden on HBO Nordic, and in Germany on Sky Deutschland.
Though the two leads are scripted to be combative in their roles, in real life they two became rather good friends and even compared "war injuries" with each other. Dominic had to get 40 stitches after being bitten on the arm of one of the wild animals that he sought in the BBC series "Wild things" earlier in 2014. Michael's retort was, "Though he was bitten by a venomous lizard, I still win," pointing to a scar on his forehead, a souvenir of "John Wick" when he was injured in a stunt scene and had to get 80 stitches in his head. The accident took its toll on him. He said, "It hit me more on the inside than on the outside. I had tremendous luck. It was a really scary experience. I have suddenly realized that people don't live forever. Life is short and I just want to do what I think is interesting and fun, along with people I enjoy. I have gained a greater curiosity."
During filming, Michael told the press, "I've invited Dominic to celebrate midsummer with me in the archipelago. I have exaggerated our celebration a little and said that we dance around a phallic symbol and take a sauna naked. I think he is a bit tense (laughs)."
Later when the midsummer festivities were over, Dominic was asked about Michael. He replied, "Incredible guy. but I do not think he is a classic Swede, but rather European. Actually a little Italian and French. He is funny and generous. I was invited to his house during midsummer, and we sang and danced like crazy around the bar, singing about small frogs. Ate herring and caviar."
In a German interview with Henning Harder, Michael was asked what it was like to make an international production in his own country. He answered, "It's fun. I may sound like a nationalist, but the tradition that we have of Ingmar Bergman and others is a long tradition of filmmaking. And something happened a few years ago when we were shooting the "Millenium" trilogy. Suddenly, the people came to us and they found that we have great actors. I'm not talking about myself, but about my colleagues. For me, it is great to be here. And I am proud to show that are doing things we believe in and not for money. Collaborations are always fun because you have to translate your own thoughts into another language and another culture."
And how dark is your role as Mikael Eklund?
Michael: "The gloom is mainly in him. This can be compared with the later works by Clint Eastwood. It comes from the heart and head outwards. The dark side in Mikael revolves around guilt and anger."
So the great Swedish subject of guilt?

Michael: "Yes, we are very good at it. I do not know why. But he (Eklund) has also done some bad things and was very close to the abyss. And, as for this dark side, I have found out that I myself carry one in me. That's why I'm often called when it comes to dark scripts. So it's just a bit of myself."
Here is the photo shoot taken for the interview with Henning Harder in the first photo. Be sure to check out the press photos as the series premiered in France, Germany and Austria.
August 12, 2017
There's an excellent video interview with Michael on the set of "Du Forsvinder" at this link. The DVD will be released at the end of this month on August 31. For more information, visit the film page.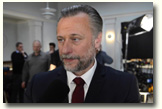 Michael's widow Catharina posted a photo of herself with stepdaughter Ellen as they vacationed at a yoga retreat in the Sierra Nevada region of Spain last week. It's good to see them smiling.

August 8, 2017

Following up on the box-office and critically acclaimed hit Underbara Älskade (Suddenly), Johan Brisinger wrote and directed the 2010 film ÄNGLAVAKT (Among Us) starring Michael, Izabella Scorupco and Tcheký Karyo. Mysticism weaves its way through this Swedish drama about love and the power of hope. Cecelia and Ernst's well-ordered and predictable life is suddenly thrown into emotional chaos by their son's playground accident. Nine-year-old Alexander is hospitalized and ends up in a coma. In an attempt to deal with the situation, an undermining rift in their relationship arises as Ernst's rational approach counters Cecelia's search for a deeper meaning. In the midst of this enters a stranger named Walter who speaks French, sings and brings world-class wines to dinner. Is Walter an angel?
And do angels really exist? They do in films, at least. Personally, I'm not a fan of angel movies so the premise here was a challenge for me. When Michael was offered the lead role, he said, "When I first read the screenplay, it seemed like a mixture of Woody Allen and Wim Wender's 'Wings of Desire'.
Michael wasn't one to shy away from the supernatural and commented, "I'm not remotely bothered. People die, and there's a kind of no man's land between life and death. What does bother me, on the other hand, is superstition. I think it's quite dangerous, and I'm not a fan of new age. But I do think we're lacking a spiritual dimension, and it's sad to see celebrity culture taking over from thoughts about life and death. We're becoming one-dimensional, where the only things that matter are what you can buy or the rubbish you watch on television on the weekends. It's a worrying trend to see diversity given over to blandness."
Brisinger said he wanted a Swedish actress who had not worked with Michael so that wasn't easy. He finally asked Izabella who was living in Los Angeles and she liked the script and wanted to join. In working with Michael, Izabella told the press, "It feels absolutely wonderful. Can you feel anything else with Michael? I have only known that he is Sweden's absolute sex symbol. He is such an incredibly good actor and a wonderful person to be with. It feels like we've known each other for 20 years."
Michael agreed, "Yes, it does. Strange... It was in mid-December when we met and ate dinner. I had seen Izabella in movies and thought 'we will never meet' because she was so far away doing James Bond and all that stuff... When we met, we talked about everything - children, jobs, etc. No barriers."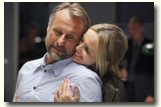 The film's religious overtones will remind some of Så som i himmelen (As It is in Heaven), which I absolutely adored. Brisinger's film is more melancholic and its dysfunctional element adds to its somberness and also its tension. Rather than bringing joy with the sometimes poetic performance of Turkish-French actor Tcheký Karyo, he can annoy an audience. I mean who wants to dance when your son is dying! That was certainly non-realism.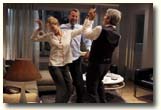 * * * * *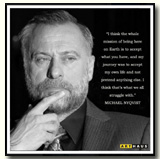 * * * * *
Here is an especially sweet photo of Michael and his wife. I would guess it was taken about 15 years ago.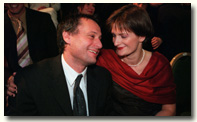 August 4, 2017
Here are some new photos of Michael in his scenes from the Danish film, "Du Forvinder". He looks so distinguished as a lawyer.

In real life, his father was a lawyer and encouraged his son to become one. He didn't think much of an acting career but when his father died, Michael cleaned his apartment and found a closet full of clippings and posters. They weren't just from local sources but also from England and Germany. Unbeknownst to Michael, he had been carefully following his career. That was a happy revelation.
Isn't it amazing how Michael always became the person he was portraying. Take, for example, the geeky tech guy he played in "I.T." He is suddenly meek and quiet as if he draws his whole body inward. Even while waiting for his next scene.
The tech thriller did not fare well at the box office and I certainly agree with the critics. I don't know why Michael's agent offered him the script. He had many more impressive turns than this underwhelming supporting role. The film begins with an interesting premise but doesn't offer anything new and director John Moore should have toned down Brosnan's over-the-top performance. At least Michael adds some clout as the terse intelligence spook but nothing can save this disappointing movie. Don't bother renting it.
August 1, 2017
Today I finished creating the movie page for ARN: The Knight Templar (2007). The Arn films are based on a trilogy of novels by Jan Guillou about the fictional Swedish Knight Templar Arn Magnussonand. This was the most expensive film production in Swedish history. It included two theatrical releases and a television series as well. Michael, who plays Arn's father, did not appear in the second film - "Arn: The Kingdom at the End of the Road".
The cinematography and settings of this medieval fantasy adventure are spectacular. Despite the budget, there are no huge battle scenes to satisfy the blood lust of many cinema goers, and the emphasis is more on a thoughtful look at Arn's beliefs and how he overcomes the obstacles that bar him from the woman he loves. It stays as close as it can to the original books and works on a personal level rather than as a wide-sweeping historical epic.
Here's a photo of Michael in his chain mail looking rather uncomfortable. It was actually made of aluminum and was thus lightweight but in the heat, it probably felt very hot.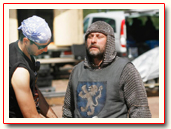 Just ten years ago, Anna Warner of Mariestads-Tidningen interviewed him in connection with the ARN production. On June 8, 2007, the press was invited to the set. Michael spent a few days filming in Skaraborg. Though the interview took place several years ago, the interview stuck with Anna. She says maybe it was because he was a famous actor, but maybe even more because he was special to talk to.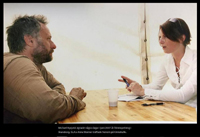 She says he had an interesting way of floating away from the subject at hand, lose some thought, look a bit absent, and then return directly and be fully focused on the interview. She thought him kind and calm. He told her that he was interested in history but that Skaraborg's historical sites were unkown to him. He said he thought they were beautiful and that he would come back to look at the old stones. He also told Anna that he liked the mood of the film team and explained how he wanted it to feel. He said, "The best thing for me is when I get really good contact with the situation in the scene, and I feel it's trustworthy and genuine."
Anja Praesto, who worked on the ARN project, commented, "We met a few times, most superficially, yet enough to perceive him as humble and kind. He was open and accommodating and a very talented person. He seemed to be a nice type. Michael filmed a lot at the Stenbrottet in Kinnekulle but also in different scenes in other places in Västergötlan."
The Swedish premiere was held on December 19, 2007 in Stockholm and was attended by Michael and his children, Ellen and Arthur.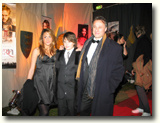 News Archive:
2017: April, May, June, July