With the sixth installment of the "Mission Impossible" series premiering in US theaters a couple weeks ago, it's time to look back at Michael's villainous role in the fourth installment called "Ghost Protocol". What's strange is that after reading over 150 reviews, in the majority of them, he's never mentioned. He should have been thankful for that because if he were discussed, there were unfavorable comments.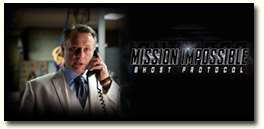 As the baddie Kurt Hendricks, Michael had possibly ten minutes of screen time out of the film's 138 minutes with perhaps twenty lines of dialogue. He and Ethan Hunt don't share one exchange of dialogue throughout the film. Villains are usually the highlight in films of this genre. They give us the most colorful characterization, the most flamboyant performances. As the nuclear war madman, Michael isn't asked to do much more than carry a steel briefcase, look menacing, and fight Tom Cruise, which he does in the parking garage sequence at the end of the film. We know that the original script called for more screen time because in his book Dansa för oss, Michael writes about the devastation he felt at the film's NY premiere when he realized some of his best scenes were on the floor of the editing room.
David Germain from the Associated Press wrote, "Nyqvist shows hints of the unhinged villain he no doubt could play with relish. But he's unfortunately shackled by a few brief scenes that never give him a chance to unleash his inner Blofeld."
Though the present installment "Fallout" has a rating of 97% on the Rotten Tomatometer, "Ghost Protocol" wasn't far behind with 93%. It shows that an undercooked plot and a weak villain ultimately mattered little because director Brad Bird imbued the film with exotic locale shots with wide framing, a focus on glossy style over dark grit, ambitious stunts rather than generic shootouts, a variety of high-tech gadgets, and even a sense of humor.
I don't believe Michael ever regretted doing the film. He must have been paid handsomely, maybe 2 or 3 million, out of the production budget of $145 million. He told the press, "It's hard work to be involved in such a giant project. Sometimes you work for nineteen hours. But it's fun too. In particular, I felt that I would never get to do this in Europe."
After Michael's death last year, several of his close friends shared how he loved discussing Hollywood gossip, such as Tom Cruise's entourage of cult healers and therapists. However, he was discreet in always being gracious when talking about the controversial superstar with the press since there were confidentiality clauses in his contract.
Michael was actually in New York at the time he was offered the role. He had a week off from filming "Abduction" in Pittsburgh. After discussing the five-month shoot with his wife, he signed up. He said he must be "stupid in the head" not to. He first met Cruise in Prague where filming started in October 2011. Cruise wanted to speak with our Swede about Ingmar Bergman. The action star has never shown much complexity, depth or intelligence, so I was surprised he would be truly interested in European art films but perhaps that was his way of engaging Michael.
On working with Cruise, Michael said, "Tom did his stunts himself. Heights are not my thing at all. I was nauseated just by looking out the window. He, on the other hand, would be out there hanging. I told him that 'you have to be born on a ladder. You're supposed to be scared up here'. 'No, no,' he said, 'it's just fun.'"
He also tells this funny story about the Bura Kalifa shoot: "I was in Dubai for a month and I was there when he climbed the tower. The guy is really crazy! I was really impressed. Before I do that myself, I prefer to shoot myself! I read a Swedish newspaper online at the hotel and they had a holiday video from a Swede who filmed his wife in front of one of the windows in the Burj Kalifa. She just said a few greetings to the family: 'Hi, I'm here in the Burj Kalifa, the tallest building in the world, outside you see Dubai - and there's Tom Cruise.' The camera wobbles, the man asks 'what?' and she says, 'Yes, Tom Cruise was just climbing down there.' And then he came up again. He had to take another shot and waved into the camera."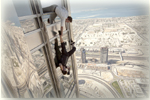 Summing it up, Michael told the press, "'MI: 4' is, in a sense, an American James Bond film. Everyone on the planet knows 'Mission Impossible'. I am honored. The shoot took a long time. It became my life. We traveled around the world and had a great time. I do not know how old I was when I saw 'Mission Impossible' for the first time. Where I come from as an actor, you mainly shoot dramas - that's what I love too. But to shoot an action movie, and then in the US, where you understand something of it, that was a challenge and a kick."
At one point in the film, our villain is shown in some archival footage during the Cold War. For that shoot, these new additions show Michael on location as a younger Hendricks with brown hair instead of his silver gray.
* * * * *
After some investigation, I've discovered the new URL for The Michael Nyqvist Foundation. The domain name used to be michaelnyqvistfoundation.org and now you must access at -
https://anders-tempelman-4n2b.squarespace.com/
I have no idea why they wouldn't continue to pay the measly cost for the domain name. It's up for sale right now. Obviously, Anders Tempelman was a friend of Michael's. He had written the script for the film, EN VETERINÄR FÖR MCYKET, in which Michael was to make his directorial debut. On Anders' web site, you can find this quote from Michael: "The most interesting thing about Anders, isn't what he writes or even how. It's the fact that he writes. This isn't the beginning, not the end, but the start of an ending you didn't think was possible. That's the way Anders is, so good you don't know how it's going to end. Like mogul skiing with mini-skis, hilariously impossible."
* * * * *