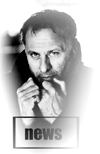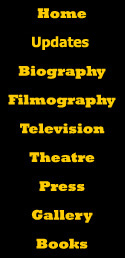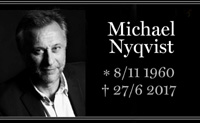 June 17, 2018
In an interview with FLM magazine in December 2009, Michael spoke with journalist Andre Johansson. Andre told Michael that his mother was a major fan and thought his best role was as the farmer Benny Söderström in "Grabben i graven bredvid" (2002). Such a lovable character! And obviously, he grabbed the hearts of many, thus winning the Guldbagge for Best Actor.

Andre told Michael that when the Nyqvist name is mentioned among middle-aged women, they become completely soft. He said it's because he represents a modern man type, a blend of classic male qualities and the sensitivity that exists in several of the actor's roles. Michael replied, "Micke Blomkvist has that. He is empathetic."
Before giving his autograph for Andre's mother, Michael explained it was his dream to play Willy Wonka one day and do a French film about the curse of infidelity. Well, he never played Willy Wonka but he did do a French film about infidelity with Isabelle Huppert.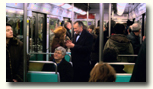 Here's the photo of Michael writing to Andre's mother:

* * * * *
Another theatre page has been added to the Michael Nyqvist Archives. On January 26, 2002 DRÖM OM HÖSTEN (Dream of Autumn) premiered at the Swedish Dramatic Theatre followed by 64 performances. The play was written by Norwegian author and dramatist Jon Fosse with the original title of "Draum om hausten". Sadly, I found no photos from the play. Director Stefan Larsson had previously performed with Michael as a gay couple in "Angels in America" back in the '90s as seen in the photo below.

June 14, 2018
About a month before Michael died, he posted a photo of himself, which showed his head covered in some blue goo. He appeared to be having a sculpture made and this month a photo of the completed project was posted by self-taught sculptor Sussanne Snoeck. The bottom half of his face looks more accurate than the top half.
* * * * *
I have added a new photo gallery featuring several photos from Books & Dreams events that Michael participated in. His first interview with Carina Nunstedt was in 2010 when she hosted the show "Book Your Life". Visit the youtube link. He was again interviewed by her when she went on to host "Books & Dreams" in 2012 at this link, and then the last interview was on September 27, 2013.

June 10, 2018
On June 30, 2013, Jenny Lindh and Mark Levengood hosted a program on Sveriges Radio called "My Bookshelf - At Home with Michael Nyqvist". We have often read that Michael was enamored with French novelist Marcel Proust so it comes as no surprise that "In Search of Lost Time" sat on his bookshelf. Michael told his hosts, "Sometimes I dream of what I'm reading. It's like a hug in the dream. With Marcel Proust, it's as though he's writing to make us dream." The 27-minute Swedish interview can be accessed at this link. Here are some of his favorites:
The Divine Comedy by Dante Alighieri
Ulysses by James Joyce
The Rules of the Game by Jonas Karlsson
Soldiers: About Battle, Killing and Death by Harald Welzer and Sönke Neitzel
Love poems by Francesco Petrarch
Song of Myself & Leaves of Grass by Walt Whitman
That is definitely a list of some heavy-duty reading. The photo below shows Michael with hosts Jenny Lindh and Mark Levengood.

* * * * *
The photo below comes from a 2010 TV program hosted by Kajsa Ingemarsson, who interviewed her guests in a restaurant. In the photo is (L-R) Sigge Eklund, Kajsa, Kattis Ahlström and Michael. Since both men had written books about their childhood, much of the conversation related to that subject as well as the topic of "uncertainty". The Swedes can't stay away from existentialism!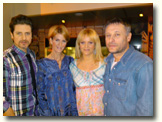 June 7, 2018
For those of you in the US, DU FORSVINDER (You Disappear) is now available for streaming via Amazon.com. Though the film received decent reviews in Scandinavia, Dennis Harvey of Variety wrote, "There's an irresistible fascination to the more peculiar regions of neuroscience and related dysfunctional behavior. That doesn't mean every such disorder is a natural for dramatization, however. It certainly doesn't mean the discussion of such disorders is inherently dramatic. Strenuously failing to convince otherwise on both counts is 'You Disappear,' an initially absorbing, increasingly exasperating study of a family man whose actions grow inexplicable and indefensible after it's discovered he has a brain tumor. To what extent can those actions be defended as direct results of his condition? It's an interesting question, but not as posed over and over in a mix of arid courtroom testimony and earnestly plodding dramatic conflict, all of which presumably worked better in Christian Jungersen's original novel."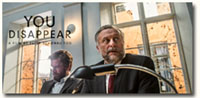 As previously discussed in my April 3rd posting, I absolutely agree with this review. I anticipated watching an enjoyable film but, despite the top-notch performances from its stars, I found the dialogue dry and the courtroom scenes repetitive and boring. But, ladies, Michael's sex scene is definitely worth a look!
* * * * *
Another play has been added to Michael's theatre work. Å ENA SIDAN (On the One Hand) premiered at the Royal Dramatic Theatre on April 12, 2001 for 49 performances. It was a comedy and rather unusual in that the audience was divided into two groups sitting on either side of the stage. One half of the audience watched the restaurant scene while the other half witnessed the kitchen. After the break, the audience changed places and the same performance was played once more. Dagens Nyheter called Michael "irresistible".
* * * * *
These three photos were taken at the start of filming MIN SÅ KALLADE PAPPA in April 2013.

June 3, 2018
In 2005 Swedish television stations SVT, TV3, TV4 and Channel 5 came together to create an award similar to America's Emmy Award called the Kristallen (Crystal). The first award ceremony was held on September 13, 2005 with the TV film "Om stig Petrés Hemlighet" winning as Best Drama. Michael, who played the lead, revealed that he received inspiration playing the panic-distressed CEO from all his years of theater tours in small Swedish towns. So much anxiety. The photos below show the celebration that took place that evening. The man sharing the award with Michael is the director, Harald Hamrell.

* * * * *
Imagine Tom Hanks recording a scene on the streets of Los Angeles without any barricades or security guards. The filming of the "Millennium Trilogy" in 2008 actually took place on the streets of Stockholm without closing off areas. This photo shows Michael, one of Sweden's greatest actors, acting in front of the cameras while people walked past ten yards away!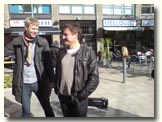 May 30, 2018
Here are a couple photos of Michael attending the MIPCOM event at Cannes in 2014 doing publicity for 100 CODE. The first photo shows him posing with a fan and the second one shows him partying with his director and co-stars.
Producer/director Bobby Moresco says there was no bromance with the Swedish investigator, played by Michael. He was not a fan of anything American, including his partner, played by Dominic Monaghan. Off camera, it was a different story though. Moresco told the press, "Michael, God rest his soul, was the nicest man on the face of the earth. The two of them were both such great guys and both so professional that they became friends very quickly. I directed the first couple episodes and they kept leaning on the friendship. I had to keep saying, 'Guys, you're not friends. Stop it.' Once we got past that, they were able to tap into some really cool stuff. That's the only hurdle we had to get over."
Pop Radar LA describes the series as having all the ingredients for a respectable Nordic cop drama - flawed protagonists, a sick psycho killer who uses the myth of Hades and Persephone as inspiration, dark and moody lighting, subtitles and Volvos! They do, however, fault Monaghan trying a little too hard with his New York accent and tough cop exterior. I absolutely agree that the ex-hobbit from "The Lord of the Rings" trilogy, was seriously miscast. And what kind of hard-bitten NYC cop would have his hair highlighted with blonde streaks?
I've added another series-related interview with Michael in March 2015. He mentions that "the worst thing you can do in such a series is that your character will eventually be annoying and boring." NOT A CHANCE with Michael!
* * * * *
I discovered more photos from the 2009 calendar shoot that featured Michael with his wife so I decided to create a special calendar gallery for all calendars he has appeared in.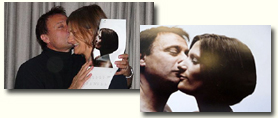 May 26, 2018
In just three days 100 CODE will premiere on WGN America. There's a preview at this twitter link that says, "They'll find the killer if they don't kill each other first." Great line! The series tells the story of veteran Swedish police officer, Mikeal Eklund (Michael Nyqvist), who's forced to partner up with New York cop Tommy Conley (Dominic Monaghan) to pursue a serial killer in Stockholm. Conley's very American arrogance and Eklund's Scandinavian cool are like "oil and water", which generates as much drama as the unsettling crimes they're attempting to solve.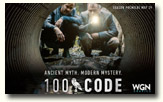 May 22, 2018
I'm adding a little more biography today. In 1990, Michael married Pinita Ingrid Rodriguez, born July 3, 1960, just four months before Michael. On June 29, 1990, their daughter was born - Ellen Clara Josefina. Their marriage lasted less than four years. Here are some photos of the family during that time.
Today Pinita Rodriguez Nyvist is a respected psychologist and psychotherapist, who has published numerous papers on child and adolescent therapy education. She lives in Stockholm and has never remarried but gave birth on October 10, 2000, to a second daughter named Maya Corinne Sejersen Rodriguez.
No online biography has included where their daughter Ellen lived during her childhood, but it can be assumed she stayed with her mother and half-sister. As you can see from the photos, Pinita has a striking resemblance to Michael's second wife, Catharina Ehrnrooth, whom he married in 1998.
* * * * *
I came across a more recent photo taken in 2014 to add to the Gröna Lund photo gallery. Father and daughter are joined by Fredrik Olsson and Ellen's friend, Amanda Wennö.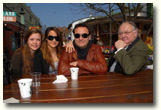 * * * * *
What do you think of this portrait by Håkan Fogelström? I give it a thumbs up.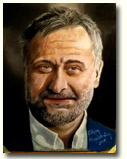 May 18, 2018
In 2009 Michael did a favorites list for RES travel magazine and seven years later, he again listed his favorite places in the world. Click on this photo to read his list.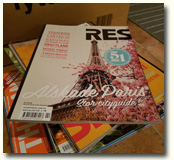 Among the many places Michael mentions is Sweden's Gröna Lund, an amusement park in Stockholm. It is relatively small compared to other amusement parks but it has over 30 attractions and is a popular venue for concerts in the summer. Opening day each spring is a special day when celebrities are invited to bring their children. Check out the Gröna Lund gallery with photos from 2005 to 2012.
* * * * *
In 2013 Z magazine featured a section called "Nordic Hollywood Stars". Journalist Gunnar Rehlin looked through Sweden's most desirable contact list gathering 24 of the most interesting Nordic film personalities. Photographer/director David Bicho succeeded in doing a group photo that certainly mirrored many of Annie Leibovitz's famous group shots. The stars were asked to wear clothes by Nordic designers. Among the 24 were Michael, Izabella Scorupco, Lena Endre, Alicia Vikander and several of the Skarsgård men.
May 14, 2018
For the past 30 years, Micael Bindefeld has been known throughout Sweden as one of its most high profile – not to mention flamboyant – public relations executives and event planners. I created a photo gallery showing several Bindefeld events that Michael attended.

Bindefeld also hosted a television cooking show called "Fest hos Bindefeld" in which he invited guests to his summer cottage in the archipelago. Among his gardens he shares his best summer tips as he serves dinner under a white tent with his co-hosts Pernilla Wahlgren and Sofia Wistam. Michael was a guest during the summer of 2015 and the episode was aired on October 22 that year. You can view the program at this link. He arrives via his boat about halfway through the show. At one point they all don a complete bee keeper's suit and helmet and are taught how to extract the honey from the hives.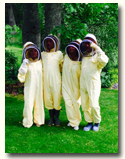 When Michael passed away last June, Bindefeld posted the following - "Devastated to learn that you passed away!!! I have the most amazing memories of you and your kindness, your crazy humor and great wit and how you really cared for your friends. How we loved to hear you gossip about Hollywood. I will always have a small piece of my heart reserved for the memories we share!!!"
* * * * *
I'll let you guess what telefilm this autographed photo is from.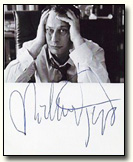 May 10, 2018
There's a new photo gallery of Michael and Catharina attending the Stockholm premiere of the documentary "I am Ingrid" on August 24, 2015. Here's one of my favorites: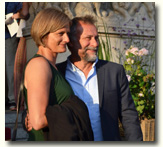 * * * * *
Both Michael and Mission Impossible Finnish co-star Samuli Edelmann were interviewed on Finnish radio's X3M show on January 17, 2012. Both were on a premiere tour in the Nordic region. During filming of the blockbuster film, they were called the "Boys from Scandinavia". Samuli says he looked up to his colleague who's had more experience in the big world. And Michael was glad to have Samuli share some of his music knowledge with him receiving a record of Finnish hymns. You can watch Michael's interview by clicking on the photo below.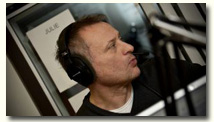 Here are more photos from that day:
This last photo is from the Stockholm premiere two days later. Samuli is showing Michael his autographed pair of boxing gloves from Robert Helenius, a Finnish-Swedish professional boxer and two-time former European heavyweight champion. A special gift for fighting Tom Cruise!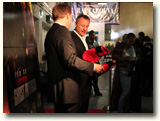 May 6, 2018
The "Press" page now has a Norwegian article written March 11, 2009 when Michael was in Oslo for the premiere of the first film of the "Millennium Trilogy". And then a Dutch article written in March 2010 when the third film in the trilogy was released in the Netherlands.
Though Blomkvist's character is described in the book regarding his morality, integrity, intelligence and sexual prowess, he is not physically described. Therefore, Michael had a lot of leeway in shaping his character, including how he dressed. The screenwriters did, however, choose to make him less of a stud. In print, Blomkvist had many lovers but on screen, his main squeeze is Millennium magazine's editor, Erika Berger, played by Lena Endre.
Here are some photos from the Oslo premiere:
It's interesting that Michael chose not to socialize with Noomi Rapace during the 18 months of filming. At the end he said he still did not know her privately. He said, "We worked together for one and a half years, but chose not to talk about the scenes in advance. We did not drink coffee together, did not send each other SMS. We just met for the scenes in the movie. It was our technique to hold the tension between the two characters."
When Michael discusses Swedish storytelling and Scandinavian film noir, he says, "We have very good actors. We do not show too much emotion. All are a little depressed in the eyes. A Swedish actor never laughs."
So true! It actually took me a while to love Nordic cinema. I remember films like "The Night Visitor" with Max Von Sydow and "Insomnia" with Stellan Skarsgård and they just seemed so dark and humorless though I thoroughly enjoyed the frightening atmosphere. Now I watch everything and appreciate the Scandinavian style in film across all genres. I think they still have a way to go in comedy but certainly a film like "Kitchen Stories" is quite a gem. Very quirky humor. I have no problem reading subtitles but I agree with Michael that, on the whole, Americans don't like them.
* * * * *
In this photo it appears that Michael sees himself as Michael Corleone from "The Godfather" during the time he flees to Sicily. The only thing missing in the picture is his two henchmen. I don't have the details but this was used in a 2006 calendar for the month of July.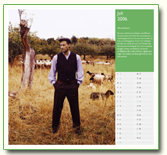 News Archive:
2017: April, May, June, July, August, September, October, November, December