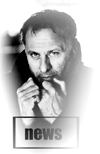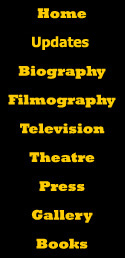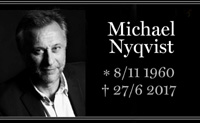 October 22, 2017
I've added a new gallery called "Cannes 2013". Michael had just finished shooting "Min så kallade pappa " (My So-Called Father) and was asked to meet buyers during the Cannes Film Festival. He was interviewed by Variety Studio at Chivas House on May 19, 2013 and was photographed. Variety did keep that interview online but has since taken it down, but you can access a Cannes interview at this link (in Swedish).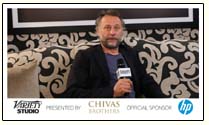 Michael's widow Catharina has seemingly become friends with actress Vera Vitali since the actress co-starred in the "Pappa" film. Vera attended Michael's funeral and when she came to New York earlier this month for the NYFF at Lincoln Center, Catharina joined her. Vera's father Leon, also an actor, is the subject of a documentary called "Filmworker", which was screened at the festival. Vera can be seen in the film as well as Pernilla August and Stellan Skarsgård. Sounds very interesting. Leon evidently surrendered his thriving career to become Stanley Kubrick's loyal right-hand man, almost as an obsession. And he's the one who came up with the "Arbus twins" idea for "The Shining". Clever!
* * * * *
Here are two more photos from the promotional photo shoot for ISKARIOT.

October 20, 2017
Michael has been in three films with actor Gustaf Skarsgård - Arn, Detaljer and ISKARIOT. Gustaf plays a drug addict and in 2008, he himself was addicted to drugs and booze though he pretended to research the subject. Since then, he has come clean. Wonderful!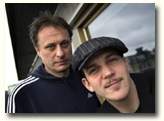 Michael plays a mafia boss called Masen who heads the drug ring. He said he received inspiration from several directions. He told the press, "I was thinking about Svartenbrandt. I remember an interview where he sounded really nice but talked about such nasty things completely unrelated, just like a psychopath." For those unfamiliar with Svartenbrandt, he was described once as the most dangerous man in Sweden, having spent almost 40 years combined in prison for several robberies, violent crimes and prison escapes.
Michael admitted, "The hard thing about doing this kind of role and running around with play guns is that it can easily look a little ridiculous." He decided to play the villain as a sympathetic person with a strong but dangerous ethic. He adds, "This was my own idea. He is mean but he has a moral codex. What drives him is really justice. He is very ethical in the same way that Hitler was. He is a mix of Bert Karlsson and Hitler."
It's interesting to note that when the film was sold to Germany, the title was changed to "Millennium Brüder". Since the "Millenium Triology" was about to be launched, the distributors thought the film would be marketed better with the word "Millennium" slapped on the DVD cover with Michael's face rather than the titling brothers who are the leads in the film. However, they gave him this rather strange blue eye that makes him look like an alien. Not recognizable as Michael Nyqvist!

There's a little story about this next photo. The press was having a standard interview with photos in a hotel room for the film's premiere. According to the photographer, the actors were tired of the reporters' repetitive questions and he was looking for a good shot. He was seated on the floor in front of a sofa with Gustaf, Michael, Helena Af Sandeberg and Jacob Ericsson when Michael slips backward on the couch with his feet on the table giving this fat kick straight into the camera, which immediately flashes. The photographer felt he had gotten an illustration of a gangster at home.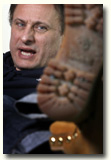 October 16, 2017
I've added a new photo gallery featuring photos from a fashion shoot Michael did for Esquire magazine in their 2012 spring/summer issue.
October 14, 2017
Scandinavia has long been known for its crime novels and one of the most successful of the Nordic authors was Henning Mankell with his series of detective Wallander books. During the 1990s several movies were made based on these books starring Rolf Lassgard. Then the decision was made that some of the stories would be adapted as a television series with Krister Henriksson as the new WALLANDER. The first series consisted of 13 episodes and were shot between 2005 and 2006 with the setting in Ystad, Skåne near the southern tip of Sweden. Michael played the villainous Lothar in Episode 6 called MASTERMIND. Of the first 13 stories, "Mastermind" was one of the three that premiered in cinemas with the rest released as direct-to-DVD movies or shown on television.
The episode is available online with English subtitles at several web sites. I was able to view it on Hulu and get some screen shots of Michael since the producers are reluctant to reveal photos of the "mastermind criminal" in their trailer and movie stills.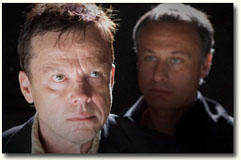 October 11, 2017
About 12 years ago, Michael had a minor role in two films that were part of a Norwegian TV drama series for children. Both films were directed by Thomas Kaiser with a script written by Arthur Johansen. The first was called VEDDEMÅLET (The Bet) and was released on December 4, 2004. The second was called SKATTEJAKTEN (The Treasure Hunt) and premiered on September 24, 2005. Michael played one of the fathers, Ake Sterner. Sadly, there are no photos of Michael from these films. If anyone comes across one, please forward a copy to the Archives. Tack!
October 8, 2017
This web site continues to grow! Such a satisfying project to create this online history of his work, which will keep his memory alive and honor his contribution to the arts. OM STIG PETRÉS HEMLIGHET (About Stig Petré's Secret) was a Swedish TV series broadcast on SVT in three parts beginning December 5, 2004. The series was filmed in Gnesta, which also became the film location for "The Girl with the Dragon Tattoo" four years later. Here are some new photos of Mikael Blomkvist: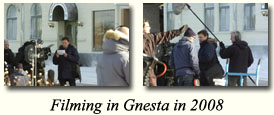 In the 2004 TV series, Michael plays the title role of Stig, who's told he needs to seek some therapy when he starts to unravel as the CEO of a company he inherited from his father. The group sessions are a vehicle for much humor in the series. Michael said, " I got the script in my hand and could not stop reading it." He felt it was a nice blend of humor and tragedy. In fact, he thought it was the funniest script he had read in a long time and was glad to join the cast.
When the series premiered, Michael was interviewed and shared his experience of psychoanalysis. He said, "It was amazing and very rich. Before one felt ashamed to go into therapy so it's good things have changed and it's now acceptable. For me, the years in psychoanalysis have meant a lot."
Michael went to therapy for 11 years, four times a week. He said the reason for his need for therapy was due to his divorce from his first wife Pinita Rodriguez, mother of his daughter Ellen.
October 3, 2017
I've delayed adding ABDUCTION to the Archives because it's such a dreadful film. The reviews were uniformly horrendous. On the film page, you can find links to access his LA premiere interview as well as his interview with Trailer Addict. I don't quite understand why Michael's entry into Hollywood films resulted in a barrage of action thrillers where he plays the Eurotrash villain. In "Abduction", he plays Kozlow, some kind of Serbian spy who spends the whole movie trying to track down Nathan, played by "Twilight" star Taylor Lautner. Michael seemed to relish the role, hamming it up in the final scene at a Pittsburgh Pirates game. He always talks about the fun he has playing the bad guy and he certainly appeared to be having fun in this role.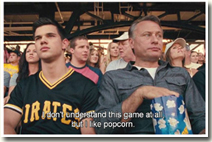 I've also added a new photo gallery highlighting the September 15, 2011 LA premiere of "Abduction".

September 30, 2017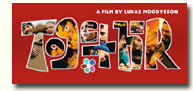 Set in a Stockholm commune called TILLSAMMANS (Swedish for "Together") in 1975, the film is a satirical view of socialist values and a bittersweet comedy. It premiered in Sweden on August 25, 2000 and garnered wonderful reviews around the world for the next several months as it opened in other countries and was screened at several film festivals. Directed by Lukas Moodysson, the film explores the best and worst of the hippie era as free thinkers explore love, sex, childhood and the music of Abba. I saw it years ago before I was a Michael Nyqvist fan and loved it. Wonderful performances from both the adults and children make this film a winner and you're sure to end up with a warm, fuzzy feeling in your stomach. I did.
The cinematography style is perfect for the characters as we see them through a soft, golden filter which creates a storybook quality. Moodysson allows us to observe his characters' follies without spreading a heavy layer of judgment. For example, Michael's character Rolf is an abusive husband and he drinks too much. It's a challenge to get an audience to appreciate his efforts to get his wife and children back in his life and yet, in the end, it's almost impossible to dislike him.
Ultimately, the film is about loneliness and our need to connect. As Rolf puts it, "I'd rather eat porridge together than a pork chop alone."
Michael told the press: "I'm very proud of that movie. It's my favorite role [as of 2010] because we could finally laugh at the things we were not supposed to laugh at in Sweden. I remember that at the premiere, a woman called out that the film was not politically correct. And we thought - We know that! Thank you!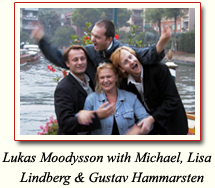 * * * * *
I love this photo shoot!

September 27, 2017
Since learning that Ulf Rollof's short film VI was going to be shown at Michael's tribute during the Stockholm International Film Festival, I've been wondering what "Vi" (We) is. It turns out it indeed is a very short video at only 1 minute, 49 seconds. Ulf Rollof has worked with a multitude of different materials and expressions - sculpture, works on paper, moving images, experimental painting, mechanical installations, and photography. In his April 2008 exhibition called "Under", he included this film. I don't think its meaning is apparent but obviously somebody thought enough of it to include it in his tribute. Here is the exhibition poster and some of the frames from the film. Yes, Michael in a mine crying with an octopus!
* * * * *
Back in 1994, Michael was featured on a Swedish television comedy series called DÖDA DANSKAR RÄKNAS INTE (Dead Danes Don't Count). There is little information online except that the idea came from the BBC series, "Drop the Dead Monkey". The British show was very successful and ran for eight years but the Swedish version apparently didn't find an audience. You can find several videos of the show at youtube. The links can be found here. We have a very young and handsome Michael.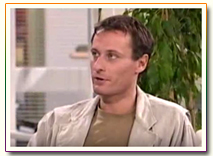 September 25, 2017
Good news for director Peter Schønau Fog! His film, DU FORSVINDER (You Disappear) will be Denmark's contribution to the Oscars next year in the category of Best Foreign Language Film.
* * * * *
Director/actress Pernilla August recently told SVT, "What struck me when I looked back is how much he [Michael] has done. What range - from the most serious to absurdist comedy. I almost do not know of any other actor who has this range."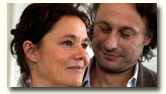 * * * * *
I finally found a snapshot of Michael with Tom Cruise, his Mission Impossible co-star.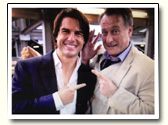 * * * * *
The Swedish Tax Agency reported this week on Michael's estate. It comes as no surprise that his widow Catharina will inherit most everything. His estate was valued at 17.2 million Swedish kroner, which is a little over 2 million in American dollars. For property, he owned half of a residential complex in Södermalm and a summer cabin in Norrtälje. Very modest. Children Ellen and Arthur will each receive a scholarship of 70,000 Swedish kroner and when Catharina Nyqvist dies, the children will inherit what's left of his estate.
September 23, 2017
It has just been announced that this year's edition of the Stockholm International Film Festival will be dedicated to Michael Nyqvist. During the festival a special tribute program is being organized together with Michael Nyqvist's foundation. There is the opportunity to participate in a quiet minute, followed by a film about Michael Nyqvist. In addition, the Danish drama "You Disappear" by Peter Schønau Fog and the short film "We" by Ulf Rollof in which Nyqvist participates, will be shown.
"It's a hit when an actor like Michael Nyqvist is not with us anymore. We are forever grateful for the film heritage he leaves behind, "said festival director Git Scheynius.
"We want to thank you for this fine cooperation. Michael was a warm and open man who had an unbelievable belief in the power of acting," said Thomas Perlmann, spokesman for Michael Nyqvist's foundation.

The tribute program will be featured at Cinema Saga Salon 1, November 12 at 3 pm.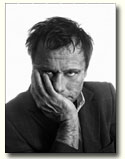 * * * * *

Another film page completed! Michael's first Guldbagge for "Best Actor" was earned for his role as lovable farmer Benny Söderström in Kjell Sundvall's romantic comedy, GRABBEN I GRAVEN BREDVIK (The Guy in the Grave Next Door) filmed in the fall of 2001 and released in Sweden on August 2, 2002. For the role of Desirée, Benny's love interest, Sundvall gave screen tests to about 30 actresses before he found the perfect co-star in Elisabet Carlsson. Her grandfather was a farmer and she was the first in the family to attend college so her background helped her understand Benny's difficulties in fitting into Desirée's world and vice versa. She and Michael first met ten years before in Örebro when she did her theatre internship. Doing her first feature film, Elisabet told the press, "It was an incredible security to have Micke as my co-star. He is experienced, talented and generous."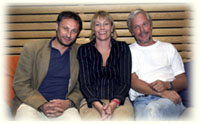 Michael said, "I fell in love with the script and my character. Benny is warm and lonely and has a longing for love." Playing a farmer was a new experience because he had never even been inside a barn and was terrified of cows. "When I did the farmer Benny, I always imagined that my hands were big like tennis racquets. It made me feel a little picky and that was what was required to become Benny."
To prepare for his role, Michael packed on several pounds which he said was "easy". He said, "It went on for a month, a wonderful time. Only fat sauces, berries, chips and sweets. Then the vanity hit and I tried to lose weight. It took a whole year to return to my normal weight again."
He told the press he believes the love story meets the audience's heart. "Yes, I think the interaction between Elisabet and me worked and part of that was because we knew each other for a long time."
In April 2003 Aftonbladet readers were asked to vote for their favorite Swedish film from 2002 and this romantic comedy won. Sundvall said, "I'm surprised. I had no ambitions that the film would do so well... I think you recognize yourself in the real people and in their loneliness and love thirst. And the culture between the city and the milk federation is both entertaining and something that many can relate to."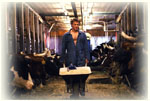 Michael was also voted as "Best Swedish Male Role" in the film. He said he was very excited about the honor since it was the audience that voted for him.
When there was talk of a sequel, he said, "Never say never. If Katarina Mazetti comes up with a good script, maybe. I do not want to join 'Police School 7' as well."
News Archive:
2017: April, May, June, July, August, September