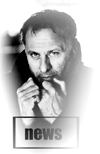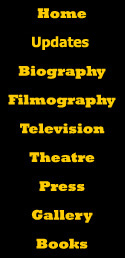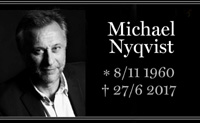 July 17, 2018
On February 6, 2010, Michael was a guest on Norway's NKR with talk show host Viggo Johansen. You can view the interview at this link. The purpose of his appearance was to discuss his first book.
He told the host that he had written the book to avoid talking about his adoption because it's a heavy subject. I found this surprising because through the years, he would bring up his orphaned beginning and his Italian roots in almost every interview. Adoption doesn't necessarily have to be traumatic if a child feels loved; however, the decision to locate the biological parents is at risk and, in Michael's case, brought further pain. When he finally secured an address for his mother, he wrote a letter to her but she refused to meet him. He tried again a year later when she agreed to see him. That was their one and only meeting. It did not go well. Her alcoholic husband was involved and Michael realized that it was a very difficult topic for all involved. At least his locating his Italian family on his father's side was much more successful. If you've read his books, you know the story.
These are some of the photos shown in the program. The passport photo is adorable!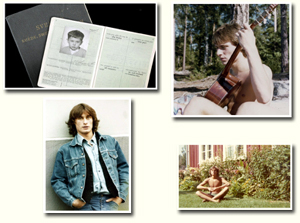 July 13, 2018
The newspaper article below is from ETC, dated July 15, 2014. It begins - "Abandoned, adopted, doubtful, struggling - but finally a film star. Michael Nyqvist's life could have been an American success story. He himself prefers Lars Norén instead of Hollywood, and talks about the art of being human."
Journalist Anton Borgström reports that they meet at Söder in Stockholm. Michael has spent the previous night filming "100 Code". So far they have recorded three of the twelve episodes. He apologizes if his mind is a bit foggy but he gives the impression of being driven and present. Michael suggests that rest is not good and quotes Jacques Brel that rest is a bastard, a quote he agrees with. He's asked if he ever feels satisfied and he answers, "No, never. On the other hand, one can feel harmony."
As usual, he expresses his pride in being a Swedish actor. His experience in Hollywood has shown him excess. For example, he once worked with an American actor who was followed around constantly by an assistant with food just in case he might get hungry. Michael likened it to a scene from the Roman Empire. I agree that there's little reason to be enamored with Hollywood mega stars.
As to his role in "John Wick", he announces, "There is not a single nice person in the movie, but I'm the worst." And just because he played the baddie didn't mean he deserved to look like this! This is, of course, a photo of Michael taken right after his accident with a stuntman resulting in a head wound needing many stitches. I think this is a selfie he took right after they bandaged him up.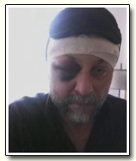 I don't believe the following "John Wick" poster was an official one, probably more of an art project, but I fancy it for its originality.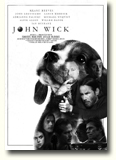 July 9, 2018
Here are some photos taken on September 28, 2013 when Michael attended Gothenburg's annual book fair in regard to the publication of his book Dansa för oss.
* * * * *
In 2013 forty Swedish celebrities participated in a project to support Doctors Without Borders. Michael was among them. Without compensation, they contributed to a photo book, edited by brothers Christian and Carl-Johan Brandt. The pair captured unscripted moments from some of Sweden's well-known artists with the proceeds of the book donated to the international organization. Michael is shown below in his photo in a fun perspective, pointing with his middle finger at the camera.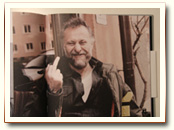 This second photo was taken by the Brandt brothers while he was rehearsing for "John Wick" in NY in the fall of 2013.

As long as we're doing "middle finger" pictures today (laughing), I might as well post this interesting one. I have no background on it as far as where it was taken but my guess is maybe at a New York art gallery because it was published in the fall of 2013.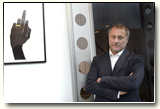 July 5, 2018
Another theatre piece, written and directed by Lars Norén, is UNDER, which was staged in 1999. It was written specifically for Michael, Göran Ragnerstam and Shanti Roney, all contributors in "Personkrets 3:1" except these three characters are even more outside society than those in that play. The theme is about total uncertainty with three men who do not remember what they are called, who do not know where they are or where they are headed.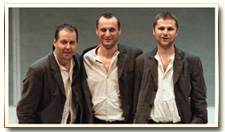 "Under" had a premiere at the Sagateater in Umeå on March 30th. Then it toured Gävle, Sandviken, Lund and Örebro before it had three performances in April in Hallunda. It was performed at Dramaten's Elverket in Stockholm in May.
After the first performance, producer Isa Stenberg remarked, "You cannot say what the play is about, but it has a very special language. When we performed it for the first time yesterday, there were actually many who laughed." And indeed, the play was described as comic, but brutal.
* * * * *
Among Michael's many humanitarian works was his alliance with UNICEF in October 2015 along with production agency Edelman Deportivo and Swedish musicians Block 44. Michael became the voice of Unicef's new campaign to protect children's rights to speak about their particular situation. In a film Michael talks about his experiences as a child and his long search for his biological father. His wish was to highlight the problems that may arise for children where adults do not listen.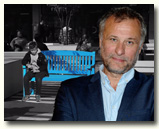 He shared, "My name is Michael Nyqvist. When I was little, I hoped that someone from the adult world would understand me. But instead of speaking with me, decisions were made about me. And I felt lonely and insensitive. I had no opportunity to change. And this is so for many children today. The children are allowed to sit on the bench and be spectators in their own lives. It is enough now. Unicef ​​wants the children's voices to be heard. Even on a talking bench. Children must be entitled to decline when their rights are violated." You can view the video at this link.
July 2, 2018
In 1998, Michael was part of the ensemble for PERSONKRETS 3:1 (The Human Circle), a play written by Lars Norén, one of Sweden's leading dramatists and directors. The production was staged with 66 performances by Riksteatern, Sweden's National Touring Theatre, beginning on November 2. It was also aired as a TV film later that month on November 21. In this play, the first in what was called the Morire di Classe trilogy, Norén portrayed the socially dismissed who lack a voice in society, such as prostitutes and drug addicts. The book was published the same year with this unsettling cover.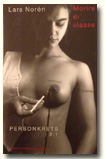 The Swedish Film Database notes that Michael was featured in several of Norén's productions - "With his dark radiance, he almost focused on picking up the darkest sides of mankind by portraying frustrated, communication-less men who can only react with aggression and anger. Such was the case with 'Personkrets 3:1'."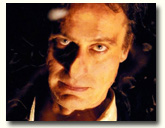 Michael regarded the man in the highest esteem. Unfortunately, it wasn't mutual. In 2008, the playwright published a 1,680-page diary in which he lambasted several of his colleagues, including Michael accusing him of acting like a "bad amateur". Michael refused to comment on the book and Norén's comments. The dramatist's attacks were vicious and revealed a man poisoned by his immense ego. If there's one quality that stood out in Michael's character, it was certainly his humility.

The above two photos show Norén (center) with his actors during a presentation of "Personkrets 3:1". You can view the entire play at this youtube link.

June 29, 2018
The Michael Nyqvist Foundation has re-designed its web site and has announced it will give an annual award each year. The amount was not specified, only that it would be given to "someone" who works in Michael's spirit, defined by the belief that acting can create understanding and diminish conflict. Rather than the actors, I believe it's the authors, often screenwriters, who accomplish that goal since they're the ones writing the dialogue. I suppose they will include the international community, not just Sweden. I would recommend German director/writer Michael Haneke. The first award will be announced on November 8, 2018. I'm not too crazy about the photo used by the foundation because it exaggerates Micke's Italian roots and that's not how we remember him on the big screen.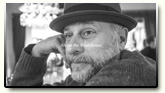 June 27, 2018
It was exactly a year ago today that the angels welcomed Michael into the loving embrace of God. This 1910 poem by Henry Scott-Holland called "Death is Nothing At All" reminds me of what Michael would say to us today:
Death is nothing at all.
It does not count.
I have only slipped away into the next room.
Nothing has happened.

Everything remains exactly as it was.
I am I, and you are you,
and the old life that we lived so fondly together is untouched, unchanged.
Whatever we were to each other, that we are still.

Call me by the old familiar name.
Speak of me in the easy way which you always used.
Put no difference into your tone.
Wear no forced air of solemnity or sorrow.

Laugh as we always laughed at the little jokes that we enjoyed together.
Play, smile, think of me, pray for me.
Let my name be ever the household word that it always was.
Let it be spoken without an effort, without the ghost of a shadow upon it.

Life means all that it ever meant.
It is the same as it ever was.
There is absolute and unbroken continuity.
What is this death but a negligible accident?

Why should I be out of mind because I am out of sight?
I am but waiting for you, for an interval,
somewhere very near,
just round the corner.

All is well.
Nothing is hurt; nothing is lost.
One brief moment and all will be as it was before.
How we shall laugh at the trouble of parting when we meet again!
* * * * *
It has been almost a year since the the Michael Nyqvist Foundation was created and, unfortunately, I have nothing to report on its activity. The intention was good, but perhaps it became too difficult to implement.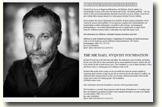 * * * * *
Jonas Gardell is a writer, artist and co-worker on Expressen's cultural side. Upon the death of his friend Micke, he wrote:
"Care and joy, seriousness and childhood, self-awareness and self-esteem. At the same time. Most of all, he was loving. And calm. And smart... Another thing with him was that he was so formed. Had read everything. Could everything. Had met everyone. He could write as well." And then this Arseny Tarkovsky poem was presented:
I am a candle. I burned at the feast.
Gather my wax when morning arrives
so that this page will remind you
how to be proud and how to weep,
how to give away the last third
of happiness, and how to die with ease—
and beneath a temporary roof
to burn posthumously, like a word.

* * * * *
In the fall of October 2013 Michael and his wife attended the premiere of Jonas Gardell's show at the Maxim.
* * * * *
It was mid-afternoon on June 27, 2017 while I was researching information for Michael's web site that his death came up in a Google search. At first I thought it was a hoax. I had been gathering photos and news articles since March in preparation for launching his web site right before the premiere of Du forsvinder in April. I noted a lack of activity since the beginning of the year and was further alarmed by Michael's appearance. Yet there was no press coverage of an illness and Michael was attributing his loss of weight to becoming healthier. So, in the end, I was prepared and not prepared for the sad report of his passing that day. I was honored that the New York Times acknowledged the Michael Nyqvist Archives in his obituary even though I had only put two months of work into it. I made the decision at that time to continue in my efforts to create an online archive celebrating his life and work as an actor. I thank those of you who continue to express your gratitude for this endeavor.
June 22, 2018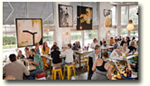 Today I'm posting a 2012 interview with Michael by Volkswagen magazine. He chose the place for the interview - the Urban Deli, a trendy store with a shop at Nytorget in Söder, Stockholm. He has lived in the neighborhood for many years so he had to say hello to many acquaintances before reaching his table. First off, he ordered a shrimp salad. Micke Nyqvist claims he is easily interviewed, but Volkswagen magazine indicates he is not easy to interview. And I totally agree. I would have done a full English translation but often the conversation is difficult to follow though his humor shines through with his jocose responses.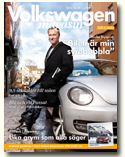 Much of what he says in the interview has been written about many times before. For those who understand Swedish, you can read the entire article above. In regard to his working abroad, he says, "It's fun, mainly because I meet other people with other preferences... The playing field has been expanded from Sweden to the whole world - Taiwan, Germany, Italy, England, South Africa, Egypt. Hollywood is not necessarily the target." He does see the benefits of Sweden and says, "We have great actors and we are not dependent solely on commercial means for our productions."
As far as his own performances, he points out, "I really liked my role in Together, but I'm proud of the 2.5-hour monologue called If This is a Man. Yes, I'm really proud of that." However, he does admit he will never be satisfied. In fact, he wrote on Twitter - "I do not want to die satisfied, live happy, or be satisfied". I assume he preferred viewing his journey here as a continuous challenge.
In regard to his second book describing his childhood, he claims he hit his father once because he was not named Gunnar. Oh, my! I'm surprised he didn't give his son that name since he liked it so much.
Michael deems his curiosity as his best trait with impatience as his worst. When anyone's conversation becomes repetitive, he says he becomes extremely impatient. His motto is "one step forward, one back." He believes it's important to think things through again. Because he travels so much, upon returning to Sweden, he prefers to spend time in his country home, maybe cooking and pretending to be on a food show.
June 17, 2018
In an interview with FLM magazine in December 2009, Michael spoke with journalist Andre Johansson. Andre told Michael that his mother was a major fan and thought his best role was as the farmer Benny Söderström in "Grabben i graven bredvid" (2002). Such a lovable character! And obviously, he grabbed the hearts of many, thus winning the Guldbagge for Best Actor.

Lukas Moodysson's "Together" was still the movie Michael most liked. He said, "I liked the subject, the political and the nostalgia. I liked the character's honest intent and his strange life. I can actually recognize myself. You want to. There's a blues I'm close to."
Andre told Michael that when the Nyqvist name is mentioned among middle-aged women, they become completely soft. He said it's because he represents a modern man type, a blend of classic male qualities and the sensitivity that exists in several of the actor's roles. Michael replied, "Micke Blomkvist has that. He is empathetic."
Before giving his autograph for Andre's mother, Michael explained it was his dream to play Willy Wonka one day and do a French film about the curse of infidelity. Well, he never played Willy Wonka but he did do a French film about infidelity with Isabelle Huppert.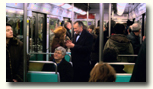 Here's the photo of Michael writing to Andre's mother:

* * * * *
Another theatre page has been added to the Michael Nyqvist Archives. On January 26, 2002 DRÖM OM HÖSTEN (Dream of Autumn) premiered at the Swedish Dramatic Theatre followed by 64 performances. The play was written by Norwegian author and dramatist Jon Fosse with the original title of "Draum om hausten". Sadly, I found no photos from the play. Director Stefan Larsson had previously performed with Michael as a gay couple in "Angels in America" back in the '90s as seen in the photo below.

June 14, 2018
About a month before Michael died, he posted a photo of himself, which showed his head covered in some blue goo. He appeared to be having a sculpture made and this month a photo of the completed project was posted by self-taught sculptor Sussanne Snoeck. The bottom half of his face looks more accurate than the top half.
* * * * *
I have added a new photo gallery featuring several photos from Books & Dreams events that Michael participated in. His first interview with Carina Nunstedt was in 2010 when she hosted the show "Book Your Life". Visit the youtube link. He was again interviewed by her when she went on to host "Books & Dreams" in 2012 at this link, and then the last interview was on September 27, 2013.

June 10, 2018
On June 30, 2013, Jenny Lindh and Mark Levengood hosted a program on Sveriges Radio called "My Bookshelf - At Home with Michael Nyqvist". We have often read that Michael was enamored with French novelist Marcel Proust so it comes as no surprise that "In Search of Lost Time" sat on his bookshelf. Michael told his hosts, "Sometimes I dream of what I'm reading. It's like a hug in the dream. With Marcel Proust, it's as though he's writing to make us dream." The 27-minute Swedish interview can be accessed at this link. Here are some of his favorites:
The Divine Comedy by Dante Alighieri
Ulysses by James Joyce
The Rules of the Game by Jonas Karlsson
Soldiers: About Battle, Killing and Death by Harald Welzer and Sönke Neitzel
Love poems by Francesco Petrarch
Song of Myself & Leaves of Grass by Walt Whitman
That is definitely a list of some heavy-duty reading. The photo below shows Michael with hosts Jenny Lindh and Mark Levengood.

* * * * *
The photo below comes from a 2010 TV program hosted by Kajsa Ingemarsson, who interviewed her guests in a restaurant. In the photo is (L-R) Sigge Eklund, Kajsa, Kattis Ahlström and Michael. Since both men had written books about their childhood, much of the conversation related to that subject as well as the topic of "uncertainty". The Swedes can't stay away from existentialism!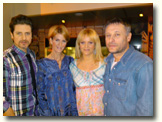 June 7, 2018
For those of you in the US, DU FORSVINDER (You Disappear) is now available for streaming via Amazon.com. Though the film received decent reviews in Scandinavia, Dennis Harvey of Variety wrote, "There's an irresistible fascination to the more peculiar regions of neuroscience and related dysfunctional behavior. That doesn't mean every such disorder is a natural for dramatization, however. It certainly doesn't mean the discussion of such disorders is inherently dramatic. Strenuously failing to convince otherwise on both counts is 'You Disappear,' an initially absorbing, increasingly exasperating study of a family man whose actions grow inexplicable and indefensible after it's discovered he has a brain tumor. To what extent can those actions be defended as direct results of his condition? It's an interesting question, but not as posed over and over in a mix of arid courtroom testimony and earnestly plodding dramatic conflict, all of which presumably worked better in Christian Jungersen's original novel."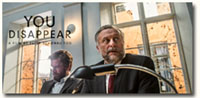 As previously discussed in my April 3rd posting, I absolutely agree with this review. I anticipated watching an enjoyable film but, despite the top-notch performances from its stars, I found the dialogue dry and the courtroom scenes repetitive and boring. But, ladies, Michael's sex scene is definitely worth a look!
* * * * *
Another play has been added to Michael's theatre work. Å ENA SIDAN (On the One Hand) premiered at the Royal Dramatic Theatre on April 12, 2001 for 49 performances. It was a comedy and rather unusual in that the audience was divided into two groups sitting on either side of the stage. One half of the audience watched the restaurant scene while the other half witnessed the kitchen. After the break, the audience changed places and the same performance was played once more. Dagens Nyheter called Michael "irresistible".
* * * * *
These three photos were taken at the start of filming MIN SÅ KALLADE PAPPA in April 2013.

June 3, 2018
In 2005 Swedish television stations SVT, TV3, TV4 and Channel 5 came together to create an award similar to America's Emmy Award called the Kristallen (Crystal). The first award ceremony was held on September 13, 2005 with the TV film "Om stig Petrés Hemlighet" winning as Best Drama. Michael, who played the lead, revealed that he received inspiration playing the panic-distressed CEO from all his years of theater tours in small Swedish towns. So much anxiety. The photos below show the celebration that took place that evening. The man sharing the award with Michael is the director, Harald Hamrell.

* * * * *
Imagine Tom Hanks recording a scene on the streets of Los Angeles without any barricades or security guards. The filming of the "Millennium Trilogy" in 2008 actually took place on the streets of Stockholm without closing off areas. This photo shows Michael, one of Sweden's greatest actors, acting in front of the cameras while people walked past ten yards away!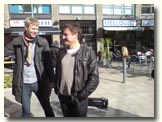 News Archive:
2017: April, May, June, July, August, September, October, November, December