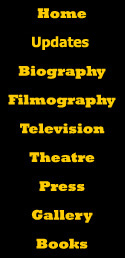 OM STIG PETRÉS HEMLIGHET (2004) - TV
(About Stig Petré's Secret)
Synopsis
Stig is a 42-year-old CEO of a small factory, which he inherited from his father. He is a well-known figure in the town, but Stig suddenly suffers from fainting attacks, panic and sleep problems. When he vomits in one attack, he visits his physician and claims he has only eaten some bad salmon. However, the doctor says he thinks Stig is close to burnout and needs to start some group therapy. Stig reluctantly attends a group session of four led by a therapist named Björn. The quartet then becomes the hub around which the story is told. Everyone has problems that come from the difficulties of a demanding life.
Film Details
Michael Nyqvist - Stig
Jonas Karlsson - Björn
Gunilla Röör - Inger
Göran Thorell - Tore
Camilla Larsson - Malena
Sofia Ledarp - Linda
Lina Englund - Åsa
Jan Holmquist - Claes
Magnus Mark - Jennebring
Christer Fant - Roland
Jacob Nordenson - Torbjörn
Sten Johan Hedman - Bosse
* * * * *
Director - Harald Hamrell
Script - Ulf Kvensler
Cinematography - Leif Benjour
Music - Adam Nordén
* * * * *
3 episodes - 60 minutes each
* * * * *
Production Notes:
Filming began in March 2004 in Gnesta, Sweden and was produced by Sveriges Television AB and Finnish Television.
Publicity Stills
Commentary
March 27, 2006:
On Sunday, the International Television Festival in French Reims ended. The SVT series "About Stig Petré's Secret" had great success, and won the award for Best International Television Drama, the big public award and a special award for Adam Norden's music. Aftonbladet writes, "The series, with Michael Nyqvist in the lead role as a crippling business leader in a small Swedish society, became a major success when broadcast on Swedish television in December 2004. Director Harald Hamrell was present and received the prizes."
The series was released on DVD on October 26, 2005.