Source: Trelleborgs Allehanda [Translated and edited]
Date: November 7, 2015
Despite all of his fame, Michael Nyqvist is still consumed by self-doubt. He is one of Sweden's foremost actors with success in both Lars Norén's plays and in the movie "Sĺ som i himlen". The world's success of Stieg Larsson's "Millennium Trilogy" has plunged him into stardom and opened an international career with film recordings in Italy, France and Hollywood.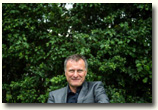 Michael: "It's fun working around the world and meeting colleagues."
The day after this interview, he goes to Denmark to play a defense lawyer - a main role in Danish.

Michael: "It's damn hard, but I like challenges."

Despite world fame, the thirst is unmistakable after confirmation and self-doubt is constantly reminded. He still remembers the pain from the premiere night of "Antigone" at Dramaten twelve years ago. As he bowed for the applause, he snapped up a comment from a lady in the first row: "He was not so good."

The self-despair is a result of his adolescent childhood.
Michael: "It's with me every step I take every day, good and bad. In some way, I can feel like a second sorting - someone did not want me from the beginning. On the other hand, I know that there is always an alternative, a kind of adoptive family. If I get into a bad environment, I do not have to stand out. It has given me freedom and made me search for different places in my work."

When the questioning drive goes on inboard gives a good sense of self-esteem. It probably originates from the adoptive parents.

Michael: "My adoptive mother was very driven not to take shit. I liked that."
And his father was a criminal lawyer. And the legal patronage infected him as a teenager.

Michael: "I wanted to be Raoul Wallenberg and save people. I had empathy, but did not know how to use it. I was lost."

In his eagerness to understand events, he treated people unfairly, apparently with great conviction.

Just over a decade later, 30-year-old Michael Nyqvist participated in Lars Norén's play "Personkrets 3: 1", about the outcasts in society.

Michael: "It was my breakthrough as an actor. The road there was just an obstacle course."

Now 25 years have passed, but the drive has remained the same.
Michael: "I'm curious about how people act. About two percent of humanity has been given actor support so you have to manage your gift well. It's wonderful to be a languageist that helps people understand themselves. Once someone has understood a role, one realizes something that one cannot dare say to himself."