Source: Amsterdam Interview [Translated and edited]
Date: March 28, 2010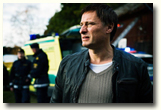 For Michael Nyqvist, it was a challenge to take on the role of Mikael Blomkvist in the film adaptations of Stieg Larsson's "Millennium" series.
He says, "Fifty million people had already read my script."

Even if he's unshaven, Michael Nyqvist was recognized by the baker this morning. He grumbles, laughingly, "You can no longer get a sandwich. People stare at me and point."

Nyqvist is spending a day in Amsterdam. Since last week, the third and final part of the "Millennium Trilogy" has been in the cinemas. He gladly supports this with interviews, although he did face bigger challenges than Millennium as an actor.
Michael: "I was really proud of 'As It is in Heaven', because that film went from mouth to mouth. 'Millennium' is, in all honesty, a bit like 'Harry Potter'. You read the book, you are going to see the film. You fill in a thought-out character as an actor. With 'As It Is In Heaven', we had to come up with everything. And we came up with it together."
The film, by director Kay Pollak, was nominated for an Oscar.

Michael: "The challenge here was to find a challenge. Fifty million people had already read my script. Very weird. I felt invisible. That sounds crazy for an actor. I did not have to invent anything. I was not used to that. Everyone knew Blomkvist, or thought they knew him and everyone had ideas about what I should or should not do. I did not care about what they said. I did it my way."
With "Millennium" Nyqvist had to work with two different directors. The initial plan was only to film Stieg Larsson's first book for the cinema. A television or DVD version of the other two books would then be included. The Dane Niels Arden Oplev directed the first film, Nyqvist's childhood friend DaniŽl Alfredson the other two. They knew each other from primary school, played in a rock band - Nyqvist sang and played guitar.
Was he actually eager to play the role of Blomkvist?
Michael: "I tried to stay outside the buzz. Whoever was going to play Blomkvist, that was what kept Sweden busy when it became clear how successful the books were going to be. I did not want to interfere. I feared it would be very commercial and I don't like that."

A conversation with Niels Arden Oplev changed his mind.
Michael: "He really had serious plans. He did not want to film Stieg Larsson's books, but his universe. That did interest me."
Only then did he read the books.
Michael: "Everyone was reading Larsson in those days. I thought I'll stick to my Proust. Then, like everyone else, I was totally seized by the books. I had devoured them within a week. Where was number 4?"

As satisfied as he is about the series, he is so skeptical about the plans for an American remake of "Millennium". "They have to because the use of subtitles in America does not work. But whatever the Americans do, it is always commercial. If it has to be non-commercial, someone like David Lynch has to do it. That is what I heard. There are a lot of rumors anyway. The first rumor was that Brad Pitt would play my role and Quentin Tarantino would be in charge."

In "Millennium" Nyqvist forms a couple with Noomi Rapace, the actress who impresses so much in her role as Lisbeth Salander. In the second film, however, they only have two scenes together.
Michael: "That was very sad. In the first one film, we were so attached to each other. We had built a good relationship. In the second film, we did not know what we were doing."
In the third film, there are a number of beautiful scenes in which a society of now-aged men try to keep their role in the Secret Service really secret. Wonderful acting from actors unknown in the Netherlands.
Michael: "I am glad that it stands out. We have a school, we have a tradition. The tradition of Chekhov, Stanislavski. Brecht too, at the end of the sixties. We are very good in Sweden. We have very good actors. We do not show too much emotion. All a little depressed in the eyes. A Swedish actor never laughs. That is what we learn. In Italian or Spanish films I see a lot of overacting. There they have tele-novellas and other soaps. That encourages bad acting. We do not have soaps. That does not work in Sweden. We do not know that way of storytelling. This is more than compensated by a huge selection of Swedish thrillers, in book form and as television series. The focus is on murder and manslaughter, yes. In Swedish thrillers, the question is: why does that man have to kill if necessary? We immediately connect the question of what is so sick in society that the murderer comes to his actions. That is really a typical Swedish approach."