Michael Nyqvist: Grandfather was killed by the mafia
Source: Hemmets Journal - May 17, 2013
At six years old, he learned that he was adopted - a truth that made actor Michael Nyqvist, as a child, fantasize about his biological parents. Today he has contact with his Italian dad, but he has only met his mom once in a cafe.

After filming abroad for almost four years, actor Michael Nyqvist has landed in Sweden. He will make movies in Sweden and enjoy close proximity to the family - his wife and two children.

"It's a struggle to be apart," says Michael.

Michael Nyqvist is dressed in a dark suit. The look is as intense blue as when you see him on the big screen. He does thai boxing and lifts weights.

"In the summers I paddle kayaks in Roslagen where we have a summer place," he says. "It's magical - one gets the kayak and the water. And you slide straight into the animal kingdom. The birds do not really understand what's coming, they keep calm with theirs. And that's how great training is."

Says the man who was crushed against a car by his colleague and mate Tom Cruise in the movie "Mission Impossible: Ghost Protocol" where Michael plays a villain.

"I had never been close to doing something like that. In Sweden, we have actors knee protection only if we are going to type box a bit. It was scary - and fun. I enjoyed making that movie. Action is probably something of an old boyhood dream. But just that scene hurt, I broke three ribs. I told Tom: 'This was a big step for Micke Nyqvist - a little for humanity.' Tom does all his stunts."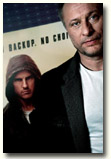 This spring, Michael played a French lover against Isabelle Huppert in the upcoming film Folies Bergére.

"I am a Danish dentist and Isabelle has a crisis in her marriage. It was a fun-filled recording. We became childlike together and had fun. Isabelle has a wide game style - she takes leave of herself as she enters into a role. The film is about love after 40."

Michael Nyqvist, 52, is one of our most celebrated actors. In his new autobiographical book, Dansa för oss, we get to know how he started: When he was a child, he like to role play...

The love of acting and doubt on his own ability pulses through the book. He is pardoned from the role of Romeo in a series on the Young Empire. He assumes he accidentally entered the drama school. And he is sitting in a tuxedo in New York's finest cinema - it's a gala premier and Michael is speechless: almost all his scenes are cut off.

Not a word about Guldbagges and success rushes.

"People have asked how I feel. How is my self-esteem? 'Yes, thank you,' I answer. The fact that I dare to write about certain situations suggests a rather good self-esteem. Interestingly, it seems to be something of a taboo, to describe one's failures. But they are the ones which have made me, not the moments of happiness."

He never reads a review - whether it's film, theater or now his book. Not since joining Strindberg's Ghost Sonata in his teenage years, and it was stated in the newspaper that everyone was brilliant but that "the student played by Nicke Nyqvist was well naive".

"It was a little tense between me and Malou von Sivers in the television studio recently. She wanted to quote a review in Svenska Dagbladet, but I stopped her. That's exactly what my book is about. That there are others who make us who we become. I don't like it..."

Before the theater became his life, he made a turn at Danshögskolan where actor Mikael Persbrandt also was trained in steps and piruettes.

"Persbrandt was good. I was a disaster. I entered because of gender quotation, and because I fell in love with a ballet dancer."

Michael has always liked writing. He wrote his first book when he was five years old about misunderstandings between children and adults.

"In my profession, there are so many who have views on what you do. When I write, it's just me. The writing is also a more intimate encounter with the audience, the reader."

Michael is married to Catharina Nyqvist-Ehrnrooth. They live in an apartment in Södermalm, Stockholm, where the Millennium films are partly filmed.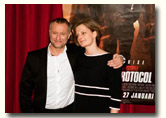 Together they have a son Arthur, 17, and Michael has a daughter Ellen, 22, from a previous relationship.

"I have been working abroad around the world for almost four years, and I am so privileged that I can choose a job that feels fun. But privately it's not a dream come true. It's a struggle. Sometimes the family can accompany me... It has been a plague for me, not always being close to the children."

And how does love survive between you and your wife?
"We've been good at it. You learn. When you are apart, the relationship will be full of longing and nostalgia... We get close together by not doing much. Eat fruity cheese. Hang around. Talk. And it can be seductive and inspiring to be seen in new places on earth - to become tourists together."

But now Michael has landed home. In this, we start recording a film he wrote with friend and film director Ulf Malmros. Michael takes the lead: A dad who does not remember who he is after a stroke - after which his daughter turns him into the father she missed.

How are you yourself as a father?

"Close. I think I'm pretty strict... They call me 'rottweilern' sometimes, haha!"

When Michael became a father at the age of 30, he began to search for his biological parents. A trip he tells about in his acclaimed debut book in 2009 called När barnet lagt sig.

Michael spent his first year in a Swedish children's home where a couple called Nyqvist came and picked him up. When he was six years old, the family went to Italy. And at an outdoor venue in Venice, his parents told him that he had been adopted. That the biological mother was a young Swedish. Dad Italian.

The adoption would remain a secret between the three: Michael and his adoptive parents.

"A secret that made me very lonely."

"I thought long ago that Anita in the children's program Anita and Televinken was my biological mother."

Through persistent detective work, he managed to trace his biological parents in adulthood. First, his mother - they met once at a cafe in Södermalm. And he got his father's name.

Several years later he found him - the pharmacist Marcello in Florence.

"My biological father and his family [I have two half-sisters] have received me and my family with open arms. We hear from them quite often, and see them when we can."

It means "all", says Michael and throws out his arms:

"It's life before and after I got my Italian family. The change was felt throughout my body - people looked at me physically. I broadened. From floating above ground, I got ground contact."

As an actor, he has become safer, more concrete. Perhaps brave.

"I have accepted my background - it is no longer distressed or diffused. I'm starting to relate."

His father's family come from Sicily where Michael's grandfather had a business that made wine and oil. The grandfather was shot to death after testifying in a trial against the mafia.

"Most have blue eyes in northern Sicily like you," said Marcello for the first time when father and son met. It was in Stockholm. "But your eyes are similar to your mother's."

Michael's biological mother has chosen not to have contact with her son - they saw each other once.

"I do not blame her. I do not blame anyone. I'm just telling how the adoption affected me. She can always reach me. Read my books. Watch me in the movies. Maybe that's why I have this profession?

Thoughts on his co-stars:

Tom Cruise: "A super professional. Privately, we became friends. He has an eye for the whole production when he makes a film role as if he were a producer at the same time."

Isabelle Huppert: "Very French - an extremely open actor with great psychological courage."

William Hurt: "An entirely different actor than Tom. To me, he is the symbol of an elusive actor. I enjoyed working with him."

[Edited translation]