NOW I KNOW WHO I AM
Source: Klikk.no - February 1, 2010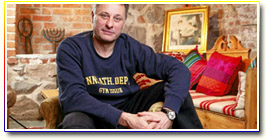 "Reviews? No, I never read them. It has happened that I have involuntarily seen things that have been about me, and usually there have been comments of the type: 'And it did not get any better when Michael Nyqvist came to the stage.' I have too low self-esteem to expose myself to this," says Sweden's most sought after actor.

When he took the lead role as journalist Michael Blomkvist, he had not read Stieg Larsson's books, but it was impossible to identify himself with the characters.

"I like the guy, we have the same morale. But I'm more fun than Blomkvist. He is a bit boring," says Michael Nyqvist, as he slips down in a chair, thanks for coffee and excuses the outfit; Worn college sweater and a sigen jogging suit.

"I have practiced Thai boxing training and did not go home to change."

After the triple success of the Millennium films, "everyone" is looking for Michael Nyqvist. He can choose film and theater roles at home and abroad. The background of child-minded children, adoptive children and divorce children makes it difficult for him to believe that it is true.

"I'm walking and waiting for a brick to fall on my head. The old feeling of being taken away is still aloft."

The first time Michael Nyqvist told of his childless childhood was in a summer program on Swedish radio in 2007. Through the main roles in films such as "The Guy in the Grave Next Door" and "As It is in Heaven" he was already a folk-loving actor.

What he said attracted a lot of attention - and was not a fuss either, for how many Swedes have a marvelous Sicilian landowner for a grandfather?

"Yes. He had a cargo in Sicily where they produced oil and wine. Then he witnessed a trial in which the mafia was involved. When he left the courtroom, a man rose and showed him four fingers. It was the mafia's way of telling him that he was ostracized for 40 years. Ten years for each finger. When he got home, the farm was burned. He took the family and fled and ended in Casablanca, Morocco. Fifteen years later, he had to go to Sicily for a business meeting. When the plane had landed in Palermo and he was down on the ground, a man came and shot him in the head," sums up Michael.
Through Stieg Larsson's Millennium movies, Michael Nyqvist has become famous throughout the world. Today he knows where his genes are from. In his book he tells about the difficult journey before he came so far.

Until Michael was five years old, life was straightforward. Without remembering that he had lived in a orphanage, he lived a safe life with mom and dad at Lidingö in Stockholm. Michael was a cheeky little screw that made theater of situations he did not correctly understand, and he wrote a book about "How Kids Really Do It." His father was a lawyer and his mother a secretary for the insurance company Trygg Hansa.

In the summer of 1966, Michael's parents took their little five-year-old on a road trip to Italy. Michael remembers what happend while they were in St. Mark's Square in Venice. At first he got as much ice and soda as he wanted. Then he got the truth: That mom and dad were not his real parents, but that they had picked him up at a orphanage in Stockholm when he was 1½ years old. They reported that his father was Italian and that his Swedish mother was too young and poor to take care of him. A shock to the little boy - but no worse than he could handle it.

What made it difficult was that he was not allowed to tell anyone. "This is our family secret," the mother impressed him.

"Bearing that secret made me mentally isolated. All the time I was afraid to say something wrong. It felt like I was walking around with a bomb belt that could explode at any time. In addition, I thought that child welfare could come and pick me up if I did not behave properly."

When Michael was seven years old, his parents separated. His father left them.

"The divorce is the worst thing that has happened to me. I missed my father enormously. From seven to 11 years, there was not a lot of order on me, but in the sixth grade we got a teacher who we called Red beard. One day he took me aside and said, 'Micke, you who are such a smart boy, why do not you sharpen?' Until then, I had identified with the losers, but after that it turned out,"

At 17 years old, he went to the United States as an exchange student. At the school theater he tried acting. At home again he fell in love with a girl who was a ballet dancer, and searched for a dance school.

After half a year, he left the ballet and started at the Theater College in Malmö instead. Today he is a permanent employee at the Royal Dramatic Theater in Stockholm, besides being regularly involved in television shows and films. Career-minded, the curve has been steadily rising, with a huge upswing in recent years. Private, his life has never been as stable as now. To treat childhood and adolescence, he went to therapy several times a week for many years.

When he became a 30-year-old father, it occurred to him that this child was the only biological relative he knew. In the book he writes: "What if my daughter asks me where I was living as a baby? I who give her support and strength cannot answer the easiest question of where I come from."
Michael began to search and finally found his biological mother. Reluctantly, she agreed to meet him. During their brief meeting, she told her that she met his Italian father in Paris in 1958. For her sake, he came to Stockholm where he started at the Royal Institute of Technology while working as a dishwasher at Operakällaren (exclusive restaurant). But eventually, he experienced Sweden as a racist country and returned to Morocco.

"About my biological mother, I still do not know anything. I only met her once. She did not want contact."

A few years passed. Michael married and divorced, went to therapy and met his new wife. When his second child was on his way, he had the urge to find his father. All he had was a name: Marcello Lo Cicero. Michael sat down with his PC and phone and started calling all embassies in Europe, for Lutheran help, for men in Italy, France and Morocco. It was crazy. Only when he lied on a hereditary genetic disease, it loosened a little. One track led him to a pharmacy in Florence. Michael went on impulse, visited the pharmacy and asked for Marcello Lo Cicero. He was on vacation in Ireland, a young lady behind the counter told him. Two weeks later, at home in Sweden, the phone rang: "Cia, e ti padre!" "Hi, it's your father!"

"It turned out that the woman behind the counter was my half-sister Beatrice. Two months later my father came to Stockholm. He knew he had a son in Sweden, but nothing more.

Michael's biological father, a pharmacist with a doctorate in chemistry, told him that he was married, had two children and lived in a Florence villa. An uncle of Michael was a professor in Arabic and another uncle drove with theater in Paris, Michael was told.

"One of the first things my father told me was the story of my grandfather. It seemed so unlikely and godfather-like that I almost had to laugh. Should my son Arthur travel to Sicily and make a vendetta now? I flipped. But for my father, it's serious. He will never travel to Sicily. He does not dare," says Michael.

Today, Michael, his wife Catharina and the two children have regular contact with the Italian part of the family.

"When my sister Beatrice got married, my family and I were invited to meet the family. There were 300 guests there and everyone spoke in the mouth of each other. When I arrived, it suddenly became quite quiet."

With a glimpse in the eye, Michael tells about his uncle Pierrot who slowly walked towards him and put his arm around his shoulder, raked a bit and then announced in a loud voice: "This is real Lo Cicero sperm!" People smiled broadly at Michael. Then they started talking again. He was accepted.
"I have not written this book as some therapy. On that side of the case, the psychoanalysis stopped. But I'm a narrator and now that I know my story, I want to share it with others in the same situation. The difference between before and now is that now I accept my life. I no longer see my destiny as a defect."

It happens that Michael Nyqvist wondered what direction his life had taken if he had never been adopted? If he had not had to keep the adoption secret? If the adoptive parents had not divorced?

"But really, there's no point in thinking about it. We humans are fine sometimes and bad sometimes, that's how it is. What I know is that the hunt and the search has given me a seriousness that influences my acting style. The more you know about yourself, the easier it is to be an actor. Another thing I know is that if you look long enough, you can reach quite a long way.
[Edited translation]