Source: L'Uomo Vogue
Date: January 2012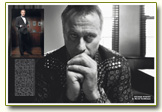 He gained world-wide reputation thanks to the success of the Swedish filmmaking of Stieg Larsson's Millennium Trilogy, in which he played the stubborn detective journalist. In the new American version, his character is played by Daniel Craig. But most cinephiles remember him for his role as the violent father in Lukas Moodysson's Together. Michael Nyqvist, Swedish with Italian origins, will now be Tom Cruise's antagonist in the new Mission: Impossible - Ghost Protocol. "Bad roles are more fun," he jokes, "and then, if you are a European actor in Hollywood, they ask you to interpret those. In John Singleton's Abduction, for example, I play a super-villain."

In the thriller Disconnect, however, he is suspected of stealing the identity of protagonist Alexander Skarsgård, another Swedish actor who is breaking through. "We have good actors in Sweden," Nyqvist says, "And excellent schools and a long tradition of theater and cinema. For us to become an actor, you must have followed a four-year course. And then when winter comes, it's so cold here that there is nothing else to do except to tell stories; otherwise, you'll go crazy. " In addition to his roles for cinema and the Royal Theater of Dramatic Art in Stockholm, Nyqvist's projects include a directorial debut based on his own screenplay.

This interview took place at the Gramercy Park Hotel in NYC. Michael is wearing a Prada shirt and a Longines watch.