Source: RES Travel magazine [Translated & edited]
Date: May 2016
Sweden's foremost actor Michael Nyqvist talks about his favorite destinations in the world. New York and Paris are his two favorite cities, Capri is the favorite island, Caffé Greco in Rome is where he goes for a cup of coffee, New American Bar in New York for meatballs. To Tuscany he goes to drink wine.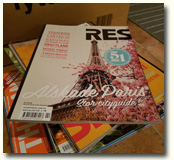 City

New York and Paris. Two gastronomic metropolises, which I cannot really choose from. I have lived in New York for six years and still live in Paris in a neighborhood that feels like a city in the big metropolis. The butcher almost runs out and talks about life when he sees me. I like cities like Paris where you know the wings of history, but I like New York too. There every street corner is a movie. I like walking around the city, especially along the East River and I imagine how I'm in different movies. In addition, both cities have their parks that allow you to breathe.
Beach

The beach of Hossegor on the French Atlantic coast. You can go there until you die, the beach never ends. It is often crowded on land, but full of surfers in the water. It is also a good place for fishing.
Island

Capri. I was there the first time when I was eight years old and I still think it's a blend between Gröna Lund and the South Sea. Here is San Michele, Axel Munthes old farm, which is amazing, and the Blue Cave (Grotta Azzura), the quay of the sea, and as people have gone in since the 18th century to be amazed at its beauty. The island is a classic destination for Italians as well as tourists and has not adapted to its visitors. It is genuine and "cheesy".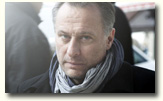 Café

Caffé Greco in Rome. Here are the magnitudes that Vivaldi and Churchill have been in and the story is in the walls. They have a serving car with small incisions on which the coups roll in. It feels very outdated, but fun.
Bar

Old American Bar in New York. An incredibly nice, old 19th century bar where you always get a friend. Upstairs they serve food, and the menu contains simple dishes such as meatballs.
Hotel

Uma in Bhutan. It is wonderfully beautiful, halfway up in the mountains with unobtrusive views. The place is characterized by its friendliness, the staff are pleasant and the food good. There is a field where you can practice shooting with bow and arrow, the country's national sport. In the evenings when they come to arrange the room for the night, they do not put any chocolate on the pillow but they light a fire!
Restaurant

Le Pré Verre in Paris. My neighborhood hook that does not look much for the world - it's like a beer hake - but they have the best kitchen in the world.
Park

Pildammsparken in Malmö or Hyde Park in London. Two incredible oases, both of which have a mixture of tuktat and otuktat. You can see the vanity of man here, but also the strength of nature and how it overcomes the will of man.
Store

As soon as I come to a big city like Paris, London or New York, I'm looking for small stores. I almost never buy anything, but it's a pleasure to go in there talking about oils for the chin with the staff that are unique.
Wine Land
Tuscany. I like Italian wines because they are linked to food - they are designed to lift the dish. Tuscan wines have a wonderful aroma. When you smell the wines, you will sense the spices that grow on the ground. I am especially fond of the grape Sangiovese, which means Jupiter's blood. It cannot get better.
Packing

I always have a book, a script and something to write in. I usually pack a pair of underwear, socks and a toothbrush, even if the luggage is gone.
Museum

Galleria degli Uffizi in Florence. Every time I'm there, I'm being taken by a new board. I can watch paintings for hours and then suddenly it's a masterpiece in front of me. Gender to enter usually always be very long if you have not purchased tickets in advance. Sometimes you can wait for up to six hours. But it may be worth it because it's always an incredible commerce going on outside. The Mannerhei Museum in Helsinki is another fun museum. Here you can walk around with a guard who is afraid of something to do. He is very attentive and solemn, on the verge of being a comic.