Source: Side3.no [Translated and edited]
Date: March 11, 2009

Michael Nyqvist has traveled over 20 hours from South Africa just to host the premiere of "The Girl with the Dragon Tattoo" in Oslo.
The attention of Stieg Larsson's books has been enormous. It was also no less when Michael Nyqvist and Noomi Rapace were cast to star in the three films.
After February 27, interest has exploded. The first weekend the film sold as many tickets in Denmark as in Sweden. That has never happened before. Now the film is premiering in Norway with 500 copies, far more than they've ever received for a "Harry Potter" film.
Though Nyqvist has spent time making a German film in South Africa, he says he has also spent time taking long walks along the beach, drinking fine wines and simply staring into nothing all alone. He calls it psychic Feng Shui.
At first Michael Nyqvist did not want to play Stieg Larsson's protagonist, the investigative journalist Mikael Blomqvist.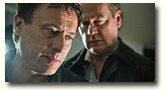 Michael: "I wanted to run the opposite way. I did not think that they could make a good movie. I thought that there was probably someone who just wanted to make even more money. But then I met director Niels Arden and I became convinced. The project attracted me."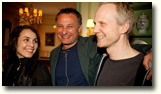 His namesake, Mikael Blomqvist, is a fairly normal guy, a guy who has morality, integrity, intelligence, who is against violence, but maybe a little too much of a ladies man. As some reviewers have pointed out, the film version has reduced his female relationships to chiefly Millennium magazine's Erika Berger, played by Lena Endre.
As far as Nyqvist's relationship with actress Noomi Rapace, he says, "We do not know each other. We decided that during the 18 months of filming, we would just meet in front of the camera. I stood next to her at the premiere and said, a little awkwardly, "Such a nice dress you're wearing".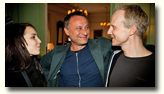 Michael Nyqvist previously did "Naboer" with Pål Sletaune and the "Kautokeino Rebellion" with Nils Gaup. Both jobs gave him more pleasure to work in Norway. He likes the Norwegian lighting.

Michael: "And I love to sit at Aker Brygge and have a beer in the spring sun."