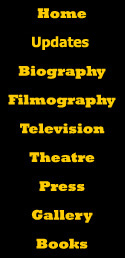 10:10 (Short Film - 2000)
Synopsis
The management behind the Göteborg Film Festival got the idea for the relay movie "90 Minutes of the 90's" during the festival in 1989. The idea was that Sweden would be depicted year by year by ten filmmakers in about nine-minute-long short films. The premiere of the final product, a feature film in ten parts, would take place in 2000. "10:10", in which Michael starred, was the final film of the project.

The interest among the films turned out to be very large, and as a partner, the Swedish Film Institute and Sveriges Television in Gothenburg were chosen. Annually, SVT showed the project's current 90's film. In addition, all relay films were shown each year as part of the film festival's program.
Film Details
Cast
Cecilia Bergqvist - Bosses tjej
Anita Bornebusch - Ingrid
Björn Ekelöf - Torsten
Cecilia Frode - Anki
Maria Heiskanen - Kia
Rebecka Hemse - My
Björn Kjellman - Gustav
Kjell Lennartsson - Holger
Ulla-Britt Norrman-Olsson - Berit
Michael Nyqvist - Magnus
John Svensson - Bosse
Beata von Oelrich - Angelica

* * * * *
Director - Daniel Alfredson
Cinematography - Peter Mokrosinski


Commentary
Gunnar Bergdahl, Festival Director (1994-2002):

An impossible project. Which nevertheless was to be. The Festival (the idea was born out of conversations between Freddy Olsson and yours truly) mirrored a passing decade as part of our growing focus on Swedish film.

SVT screened the films and the Swedish Film Institute funded Roy Anderson's terse aesthetic rebirth, Agneta Fagerström's dysfunctional family, Björn Runge's racists on the beach, Gunnel Lindblom's profetic reflection, Lisa Ohlin's dreamlike celestial journey, Hans Alfredson's fairytale, Eva Bergman's restaurant kitchen culture clash, Reza Parsa's solidarity with '90s kids, Rolf Börjlind's theatrical expressionism and Daniel Alfredson's summarizing final note. Disparate? No doubt! Seen in that light, it was a fragmentation typical of the times. But seen through the lens of the time that has passed, we also glimpse the key to our own history after the facts: climate crisis, racism and human rights turned into political commodities.