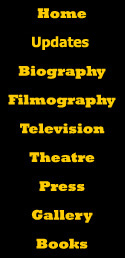 Millennium - TV SERIES - 2010
(Dragon Tattoo Trilogy)
ROLE: Mikael Blomkvist

GENRE: Crime thriller

COUNTRY: Sweden, Denmark, Germany & Norway

SWEDEN PREMIERE: March 20, 2010
Synopsis
Millennium is a Swedish six-part television mini-series based on the three Stieg Larsson film adaptations - The Girl with the Dragon Tattoo, The Girl Who Played with Fire, and the Girl Who Kicked the Hornet's Nest. There were extended scenes, adding more depth in both the stories and the characters. The series was divided into six episodes, with each episode 90 minutes long, making the TV series about 110 minutes longer than the movies.
It was broadcast on SVT1 from March 20 to April 24, 2010. On November 11, 2011, it was released on a DVD and Blu-ray box set titled Millennium Trilogy. Music Box Entertainment released the English version in the US on December 6, 2011 under the name Dragon Tattoo Trilogy: Extended Edition.
It received an Emmy Award for "Best TV Movie" in 2011.
Film Details
Michael Nyqvist - Mikael Blomkvist
Noomi Rapace - Lisbeth Salander
Lena Endre - Erika Berger
Peter Andersson - Nils Bjurman
Michalis Koutsogiannakis - Dragan Armanskij
Annika Hallin - Annika Giannini
Jacob Ericksson - Crister Malm
* * * * *
Director - Daniel Alfredsson
Screenplay - Jonas Frykberg
Based on the novel by Stieg Larsson
Cinematography - Peter Mokronsinski
Music - Jacob Groth
540 minutes
Production Notes & Photos:
When he was first called in to talk about the role, Michael says he was "afraid of playing a character for two years. And I hadnít even read the books. I never seem to read books that everyone else reads. I read my own peculiar choice of novels."

After talking it through with the filmmakers, Michael was convinced. "I thought it could be great. I did have concerns that we were making a film from a book whose readers had formed their own ideas Ö and the character is difficult to play. Mikael has no special physical characteristics, no disability, he doesnít get violent, and he is always under pressure."

Michael relied on his earlier training at a Malmo film school, where his teachers were Russian, Polish and Rumanian acting coaches with very strict disciplines in the Stanislavski method. "I just tried to look through the eyes of my character."

He had only met his co-star Noomi Rapace once briefly when she worked at his theatre. "I also made a film with her husband but we never said more than hello until making these films." From the start, they agreed to only meet in front of the cameras. He added, "We didnít go out to dinner or anything. We agreed to see each other only on the set, and to surprise each other as actors."
Publicity Stills