I've updated the "Books" section by adding the Norwegian version of Michael's autobiography. The title is very similar to the original Swedish version. It's called, "När barnet har lagt seg", published by Cappelen Damm in February 2010. Same cover photo.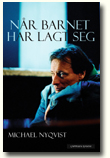 At the time of the publication, Michael visited Oslo to promote his book. Thomas J.R. Marthinsen of ABC Dyheter reviewed the book. Here are some excerpts from that review:
"Nyqvist clearly has more talents than playing other people in front of the camera. He has written a naked, sore and straightforward depiction of the pursuit of his own identity... It's all told in a tight, emotionally neutral language. Sometimes the story should have had more meat, but mostly the short-haired language works to bring out the great lack that exists in the protagonist's life."

"The jumps made between present, past and the actor's life could have been more clearly defined. What comes on the next page often feels a bit random. In short, the book could be both longer and broader... It is probably the publisher who should take the blame for the book being no longer than it is. Perhaps they thought that it should be published as soon as possible, for there is no doubt that the author's career as an actor has contributed to the publication."
"Despite these objections, this is a nice small book. Michael Nyqvist demonstrates that he can write. But even more, he manages to show an adult life that is vulnerable, sensitive and difficult. He clearly shows that we all carry a children's edition of ourselves in our interior. This reviewer only wishes he had gotten a little more resistance, so it could surely have become an even better book."
An anonymous blogger wrote, "I have just attended the launch of Michael Nyqvist's book. It was a great event where Nyqvist talked with Vibeke Nilsen about topics from the book. Personally, I very much liked it when the author himself read the passages from the book. He put together a good selection of text from the book, and the parts he had chosen set a good mood for conversation between Nyqvist and Nilsen, though it never went into depth. Of course not. A room full of people may not be the setting to touch the most sensitive parts of an upbringing. But Michael Nyqvist is a charismatic man. It is easy to listen to him for over an hour. And definitely worth it."
The following photos were taken on his visit to Oslo. He looks quite tired in some of them, but that's to be expected when 2010 was an extremely busy year for him.
* * * * *
On working outside of Sweden (2012 interview):

He is a permanent employee of the Dramaten, but in recent years Michael Nyqvist has been working in Hollywood. There it's about long work shifts and the atmosphere is radically different compared to Sweden. "In the United States, it is more isolated, and anxious," he says. When the homesickness becomes too strong, Michael Nyqvist listens to the sea weather report on P1 (Swedish radio). The sea and water have a great significance for him... He continues, "I am in the prime of life and if you get the opportunity to meet colleagues in other countries, then you should take the chance. I have filmed in South Africa, Taiwan, Chile, Prague, Dubai, Norway, Germany, Canada, New York and Denmark throughout the 21st century. It has been so much fun to see how others work."

Nyqvist believes that it is not the juicy Hollywood wages that have attracted him there. "I have been well paid in Sweden too, so that is not crucial," he says. He has discovered that the filming differs greatly between Sweden and Hollywood. "When we film in Trollhättan, for example, it resembles some sort of collision existence. In the United States, it is more isolated - and anxious. The actors are like large corporations. Or as an elite athlete, surrounded by coaches and dieticians. If you have dinner with a colleague, then you definitely do not talk about work. The attitude is that you can be stabbed in the back. I would never go and take a beer and talk shit about the director as we do in Sweden."
This is NOT a photo of Keanu Reeves and Michael talking shit about directors Stahelski and Leitch. (laughing)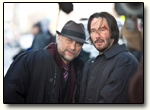 An interesting piece of artwork of a "John Wick" poster -