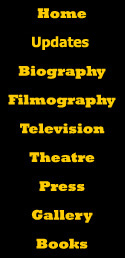 December 2018 Updates
The Michael Nyqvist Archives
December 21, 2018
The following photos were taken in September 2012 when Michael was in NYC. I especially like the first one where Michael is standing along the East River wearing a Yankees hat with the Brooklyn Bridge in the background. In the second one, he's shopping in Times Square, and, in the last one, he poses with Alexandra Pascalidou.
* * * * *
This set of photos comes from Michael's personal trainer, Anna Christiansen.
The last photo shows the two of them four years ago at the Kampsportsgalan event on March 22, 2014. Michael was there to present an award to Janni Exban-Larsson. He said he felt incredibly honored when he was asked to be a presenter with boxer George Scott. In an interview with Jonathan Broberg, Michael said, "I exercise a lot in martial arts for my job as an actor. When we recorded the scene with Keanu Reeves in John Wick, we were shooting for two consecutive days." He added, "The training for my job is that it looks good in the film, smooth like a dance. I also exercise a lot in martial arts to keep fit. Most of my training is jutsu and Thai boxing and also ordinary exercise at the gym."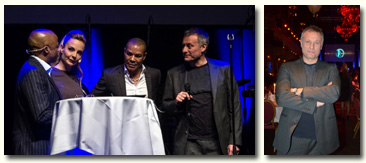 December 18, 2018
It's that busy time of the year with the holidays upon us so I have not had the time to do much work on the MNA. Today I'll post a few new photos. The first photo below is part of the Hogtryck magazine shoot that took place at the end of August 2016. I prefer it to the other three because his stare into the camera is riveting.
* * * * *
A month later Michael was caught trying to figure out this "street magic" along the sidewalk in Stockholm. Always the curious man.
* * * * *
An off-screen collage of our "Mikael Blomkvist":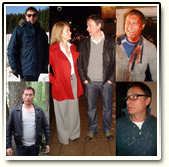 * * * * *
You must remember Michael's fun-loving nature and how he enjoyed playing around with Photoshop so this was the photo he posted during the holidays in 2016.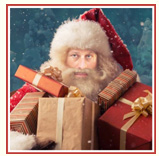 * * * * *
There's an audio interview via acast.com with Michael by Ronnys Rullar at this link. The podcast took place in the fall of 2016. It's in Swedish and even if you don't understand it, you might enjoy hearing his voice again.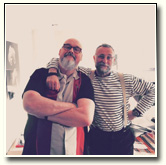 December 12, 2018
VERANDA FÍR EN TENOR (1998), has been added to the filmography section. There are no publicity shots of Michael from the film as he had a very minor role. Actor Krister Henriksson received a Guldbagge for Best Actor and nominations were given for Best Film, Best Direction, Best Supporting Actress and Best Screenplay.
* * * * *
Remembering Michael
SVT's film critic Fredrik Sahlin has described Michael as "a unique actor, and also a fun, smart, and sympathetic person." He added, "Nyqvist was a guiding star in the naturalistic spectacle. He had the ability to portray that tension field that arises between an attentive calm surface and a turbulent interior."
*
Journalist Jan Lumholdt wrote that he missed not only a talented actor, but a person with great knowledge about other art forms. He would often meet up with Michael at their local grocery store, standing together in the same queue and almost always talking about music, even Moroccan music.
*
The unnamed fellow in the photo below had the pleasure of being Michael's stand-in in the film I.T. He called him, "A lovely man, very chatty, great fun." Familiar adjectives...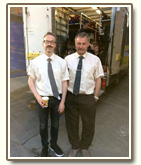 * * * * *
And here's a new photo with Michael and Keanu Reeves during a read-through for "John Wick". There were some that thought Michael's accent was more Swedish than Russian but it was his charisma that won over the audience.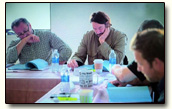 December 2, 2018
There were rumors back in 2009 that "The Girl with the Dragon Tattoo", known in France as "Millenium" (note the one "n"), would open the Cannes Film Festival. The film was not even invited to the festival for whatever reason. Nevertheless, it is one of the most famous Swedish films in Cannes in recent years. The reason is, of course, that sales of the three Stieg Larsson books were in the millions around the world, especially in France. When "Millenium" was about to be screened in 600 French cinemas a few days later, Michael and co-star Noomi Rapace flew in with director Niels Arden Oplev. The photos you see of Michael and Noomi at a theater screening actually shows them as guests at the premiere of "Un Prophete", not their film.
Don't you just love his red pants! Michael was happy to talk to the Swedish press, Noomi was not as interested in it, but they did it for a short while at Scandinavian Terrace, the Nordic Film Institute's joint office/party store. The press got the sense that the two leads were not very close to each other even though they had made three films together. From everything I've seen and read, I believe that's an accurate observation. You'll note that in nearly all the Cannes photos Michael and Noomi keep their bodies apart and we all know that Michael had no issues with intimacy. Check out the new additions to the 2009 Cannes gallery. Here's my favorite: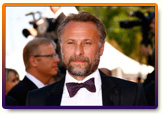 * * * * *
This photo below was posted by journalist/lawyer/politician Maria Abrahamsson back in the summer of 2011 when she and Michael attended a party at Stockholm's Grand Hotel. She wrote, "As a Stockholm politician, one must prioritize the opportunity to meet voters. So festive when Michael Nyqvist and I agreed on the smoked salmon, the pink lamb fillets, the air dried hams, the tarts, the exclusive wines and the mature cheeses."