Though adopted by Swedish parents, Michael learned as a child that his biological father was Italian. Thus began his journey in finding his father and his desire to embrace his Italian heritage. As an adult, he eventually succeeded in meeting his father and has since participated in many family visits to Italy. Among the many things he learned about his patriarchal roots was that his grandfather was a wine-grower in Palermo, Sicily. He was told that the wine had been bottled with the family name Lo Cicero and that the family had moved to Tuscany. This is where Michael ultimately found his father Marcello working as a pharmacist and their conversations often focused on wine.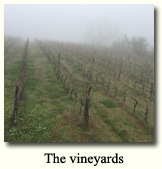 A few years ago Michael purchased a small vineyard between Pisa and Siena. It is run by Sorelle Palazzi. They are organic farmers who began the vineyard in 1973 in the small village of Morrona di Terricciola in Chianti. The farm's total of 24 hectares includes nine hectares of olive groves and eleven hectares of vine growing.
In 2013, Michael joined Mikael Christiansson in establishing Picky Drinks, which launched his wines in the Swedish market. Located in the Old Town of Stockholm, the office is extremely modest: a table, an armchair in one corner and a cozy kitchen, a bit like a student apartment. But then down a steep, whitewashed staircase is a basement with tall wax candles, a robust wooden table, and wine from floor to ceiling. Under the name of Collezione Lo Cicero, Michael sells two red wines - Cin Cin Chianti! and Cin Cin Brachetto d'Acqui! He refers to himself as a wine ambassador, describing this side project as a tribute to his Italian heritage. He is proud to say that his family's traditions live on.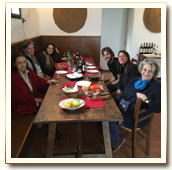 Above: The wine growers at Sorelle Palazzi with Michael's wife Catharina and daughter Ellen in the far left corner

On the left is Michael with daughter Ellen & on the right he talks with the Palazzi nephew Guido

The labels for the bottles are made by his daughter Ellen, who graduated from Central St. Martin's, an art and design school in London. They immediately conjure up the idea of classic film history with Michael dressed as death in Ingmar Bergman's "The Seventh Seal." Very apropos!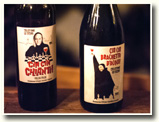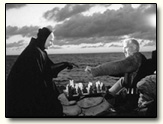 His long-time interest in wine has grown mainly in connection with his interest in food. He says when he's on location, he doesn't usually stay in a hotel but rather an apartment so he can cook. He enjoys going to the market and picking out his own fresh foods. He confesses he stays away from meat but cooks a lot of fish and pasta.