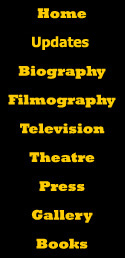 The Michael Nyqvist Archives
2017 April Updates
April 26, 2017

The film page for one of Michael's most successful Scandinavian films, ÄIDEISTÄ PARHAIN, a Finland/Sweden production released in 2005, has now been completed. The Finnish title translates to "Mother of Mine" and the Swedish title of "Den bästa av mödrar" means, "The Best of Mothers". During World War II, Finland fought the Soviet Union twice between the years of 1939 and 1944, forcing more than 70,000 Finnish children to be evacuated to neutral Sweden to avoid the conflict. Based on the novel by Heikki Hietamies, the film depicts the vivid and challenging journey of a young Finnish boy named Eero, who is sent to a foster family in Sweden.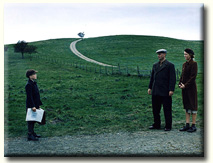 Directed by Klaus Härö, the film received excellent reviews and captured several international awards and nominations. It was screened at many film festivals around the world and was Finland's submission to the 78th Academy Awards for Best Foreign Language Film. You can view the trailer at this link.
Its first screening was on August 25, 2005 during the Helsinki Night of the Arts, but it received international attention when it premiered at the Toronto Film Festival on September 14th. Two weeks later it had its theatrical release in Finland, and then on November 4th, it opened in Swedish theaters. In Sweden, the film attracted much interest before its premiere and with two of the country's most highly regarded actors - Maria Lundqvist and Michael Nyqvist - there was a readiness to embrace the film.
Despite the rave reviews, there was still some low-key criticism about how the movie looked too beautiful or was too emotional or too overpowered by its soundtrack complaining the music was too "fierce" or "dramatic". When the director heard of this criticism, he joked that in Finland anything beyond a solo instrument is considered excessive, although in Sweden he could get away with a quartet. Personally, I think the music is quite lovely and have purchased it through iTunes. And I highly recommend this beautiful and heart-rendering film. In the US, it is available through Amazon's video streaming services.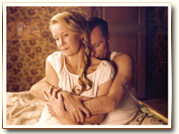 Certainly, the critics agree that the film belongs to Maria Lundqvist whose performance is so touching as the boy's foster mother. For several years, I was a foster parent to more than a dozen children so I'm quite familiar with "letting go". This is definitely a two-hanky film. In an interview in Oslo in May 2005, Michael discussed his role as the Swedish father.
"I play a man who is empathetic, but unable to acknowledge what is difficult. Hjalmar chooses the easy way. He makes himself popular rather than tackling the problems. I don't like that and would never behave like that in reality. That was difficult for me." he says.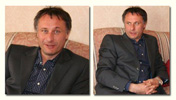 Michael accepted the role because the film addresses important universal topics in a good way. He emphasizes that the historical drama is a film everyone can recognize, even today. And it's precisely those projects that Michael deliberately takes part in. He says, "I want people to wake up and grab their own lives."
He continues, "I want people to open their eyes to how we treat children. We must realize, first of all, that children are human beings, no matter which country they come from or what language they speak. Children understand much of what is happening around them, and something you understand differently when growing up. I think everyone, from South Africa to Finland, can understand the subject in the film. It is largely about not being respected for who we are."
According to Michael, everyone should be touched by this story. He adds, "Those people who don't like puppies and babies or a movie like this are not properly put together." I absolutely agree!

On a side note, the grandfather role in the film was played by Brasse Brännström, who passed away in September 2014. The fellow actor was a longtime friend of Michael's and at the time of his death, he shared how the two had become closer after working together in "Mother of Mine" and had last met in 2012. He described Brasse as "witty, humble and very wise." Michael related how they often talked about works of literature, a strong common interest, and how they were both admirers of proliterian writers, Moa Martinson and Ivar Lo-Johansson. The photos below show Michael at Brasse's funeral, where he read from one of Gunnar Ekelöf's mystical "Ferry Song" poems.
April 24, 2017

Here is the newest poster of DU FORSVINDER - great reviews!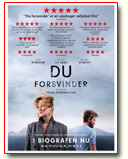 In yesterday's edition of Denmark's Berlingske, there was an article about Michael regarding the film. Since I have no subscription, I can't share it but these photos were included. Still no beard. However, I believe he will be sporting a mustache for his next role.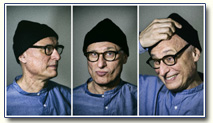 Slowly, but steadily, I am building The Michael Nyqvist Archives as an English-language source of information on this talented actor. Most commentary on his work found online is in Swedish and since he has become an international star over the past few years, I hope this web site educates visitors worldwide on his outstanding career.
April 20, 2017

The Imperial Cinema in the heart of Copenhagen hosted the premiere of DU FORSVINDER yesterday. Michael did not attend. [Updated - later photos show he did attend] The photo to the left is his portrait as lawyer Bernard Bergman. Audience satisfaction will probably vary with whether or not one feels lectured rather than entertained, though the critics are looking upon it favorably. Most complaints appear to be centered on the voice-over. Think "Blade Runner". Certainly, the film begs reflection for it focuses on a

complicated and complex subject. Film critic Henrik Queitsch of Ekstra Bladet ponders, "How much of our actions are due to free will, which we must, of course, be responsible for, and how many are due to chemistry and biology and is, therefore, something we are not master of?" Uffe Stormgaard of Cinema Zone was most enthusiastic commenting, "Let me say it right away: 'Du forsvinder' is exciting like a psychological thriller in the champion class". Tillkkye!
| | |
| --- | --- |
| Cinema Zone | |
| Ekstra Bladet | |
| B.T. | |
| Berlingske Tidende | |
| Jyllands-Posten | |
| Politiken | |
| Ekko | |
* * * * *

There has been much speculation among cinema sites as to whether Michael will be seen in Terrence Malick's upcoming WW II drama, RADEGUND. Initially, he was listed as a cast member playing Bishop Joseph Flienes, but there has been no confirmation to this date. The film follows Austria's Franz Jägerstätter (August Diehl), a conscientious objector who was put to death at the age of 36 for undermining military actions. Supposedly in post production, it should head to Cannes next month to try and secure international distribution.

April 18, 2017

It is anticipated that this year will see Michael's directorial debut with his film, EN VETERINÄR FÖR MYCKET (Just Another Vet). According to one of the film's producers, Börje Hansson, the project has been delayed a year because one of the sponsors had to pull out due to company reorganization and acquisitions and the filmmakers did not want to shoot in the winter. The film is being produced by Bright Moving Pictures, Film West, SVT, North Swedish Film Entertainment and Twentieth Century Fox. Principal photography should start in the upcoming weeks.
News of this film was first announced at Film West's presence at the Cannes Film Festival last May. Michael referred to it as a comedy drama in the spirit of Britain's "All or Nothing" or "Funny Bones". He will also play the lead role as the declared provincial veterinarian named Edward, who's tired of healing sick pets and dreams of sailing around the world. Michael told the press, "It will be fantastic to be able to make a film with Anders Tempelman's wonderful script about poor Edward stuck in life, but who gets a chance to take a short cut to freedom, which I think many dream of."
The actors in key roles as the veterarian intern and the female pharmacist, who serves as a love interest, have not been announced. Filming will take place in the Västra Götaland region, which is located on the southwestern coast of Sweden. Personally, I can't help but be reminded of one of my favorite British comedy series called "Doc Martin" about a medical doctor who resides in a seaside village in Cornwall.
Michael admits this film project is one he has been planning for 15 years. He looked for a particular narrative and imagined the story taking place in a small town in Sweden, a place where few have jobs and cannot afford to get away. The photos below were taken at Film West's press conference in Cannes on May 14, 2016.
* * * * *

Here are some interesting photos taken on January 21, 2016 of our Swedish film star, once more in France, dressed in a race car suit, sponsored by Volkswagen. The opening ceremony of last year's World Rally Championship in Monte Carlo was offered some extra flair when celebrities from a number of the organizing countries were on hand to ride in the right seat on a specially built track down in the Monaco harbor. Sweden was represented by former alpine queen Pernilla Wiberg (pictured above) and Michael, who got the chance to go for a ride with French world champion Sebastian Ogier. It was a ride that Michael will never forget.
He related how as a child he had the opportunity to ride with Carl-Gunnar Hammarlund, one of Sweden's champion race drivers. "We were neighbors," said Michael, "so he threw us kids in the car and it was really fun." But that was nothing compared to his ride with Ogier. Definitely impressed, he exclaimed, "Wow, what adrenaline. Your stomach and head change places. You are in God's hands. At the same time, it's an incredible adrenaline kick." You can watch a video of his ride at Aftonbladet as well as an interview at YouTube. The first photo below shows Michael with Norwegian race car drivers Andreas Mikkelsen and Molly Pettit.
April 10, 2017

DU FORSVINDER (You Disappear) will open in Denmark on April 20, 2017. The film is based on Danish author Christian Jungersen's bestseller of the same name, a novel that many have described as a psychological thriller. Written and directed by Peter Schønau Fog, the film features Nikolaj Lie Kaas and Trine Dyrholm as the married couple and Michael as their lawyer. The photo below shows the director on the right with his cast.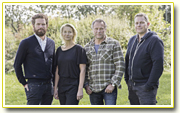 The only Swede in the acting ensemble, Michael prepared for his role by studying Danish during the summer of 2015 after receiving the screenplay. In an interview, he says, "I thought I got it. It sounded sexy. But when filming began in Denmark, everyone looked at me as if I had a cleft palate. No one understood what I said." To avoid being viewed as a Dane with a speech impediment, he was allowed to speak Swedish with a few Danish words.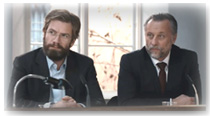 Having never played a lawyer in his career, he admits it was a dream role. But the role is somewhat familiar because his father was a Swedish defender who hoped Michael would take an interest in the profession. Michael grins, "I'm glad he was not a pathologist," as he preferred watching "Perry Mason" on TV. He continues, "My character is married to a Dane who is also brain damaged after a car accident that the couple were involved in. He managed to save himself but is left with a scar on his forehead." Showing the scar, which is made to look a bit redder for the film, he reveals it's his own having gotten a nasty blow during a stunt scene in "John Wick" in 2013.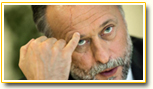 So what's the story with that scar?
Michael says that one of the stuntmen apparently was very nervous and a bit stressed by the directors (who are stuntmen). He says if you're going to be physical with someone, you should have eye contact but somehow this stuntman struck him so that he flew across the entire room. He says, "It was so damn fast that I barely knew what happened. Suddenly I was on all fours and I was bleeding like crazy."
He ended up in a NYC hospital where he underwent a brain scan and received 80 stitches and 20 staples in his head. The plastic surgeon was actually Elizabeth Taylor's doctor so he believed he was in good hands. However, he admits, "I thought I was going to die. I was as pale as desk paper" especially when he heard someone say, "We have to call his family." Then he began to sway. He says, "It's scary when it's your head. You get afraid. I was conscious and I was really lucky. It was not a concussion."
After the injury, he was forced to rest before he finished shooting. The final scenes were reworked so that his scars were not visible. The scars are not something he is ashamed of and boasts that now he looks pretty tough, great for villain roles. This wasn't the first time Michael was injured on a shoot. He also suffered three cracked ribs while filming "Mission Impossible" when Tom Cruise pushed him into a car.
* * * * *

Michael's most recent television work in the US is MADIBA, a BET mini-series, which aired February 1, 8 and 15, 2017. Directed by Kevin Hooks, the series chronicles the life of Nelson Mandela with Laurence Fishburne in the title role. Michael plays Hendrik Frensch Verwoerd, a South African professor and politician, who became the prime minister of Apartheid-era South Africa from 1958 until his assassination in 1966. The cast also includes Orlando Jones as Oliver Tambo, president of the African National Congress, David Harewood as Walter Sisulu, secretary-general of the African National Congress, and Terry Pheto as Mandela's second wife Winnie. It has garnered decent reviews but the consensus is that it suffers from a script that is perhaps too linear and conventional at a time when TV scripts have become increasingly imaginative and daring. The series is available via Amazon Video and DirectTVNow.
* * * * *

Back in January Sweden held the equivalent of our Oscars ceremony - the Guldbaggen - and Michael won for Best Supporting Actor for his role as Markel in Den allvarsamma leken (The Serious Game). The photos below show him at the press conference on January 4th at Stockholm's Vasa Theatre where they announced the nominations. You can view that event at this link. The awards ceremony was held on January 23; unfortunately, Michael was not able to attend due to a conflict with his filming schedule. He previously won a Guldbagge for Best Actor for Grabben i graven bredvid (2002) and was nominated for Best Actor for Tillsammans (2000) and Äideistä parhain (2005) and for Best Supporting Actor for Så som i himmelen (2004).
In an Expressen interview at that time, the paper commented that when he made his entrance on the stage at the Vasa Theatre, it was almost hard to recognize him. He had a whole new look with his cap on his head, dark complexion and a slimmer body, far from his character as editor Markel in "The Serious Game". When asked if this was a conscious change, he dodged the question by saying he tries to live a healthy lifestyle and he runs for exercise. He explained the tanned look was from working in a country where there was a lot of sun and from his Italian heritage. He was about to head to Arlanda Airport but could not reveal what film he was working on so it will remain a secret for now. He shared how he was overjoyed with the nomination and so proud of the film and director Pernilla August.