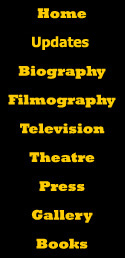 SEPTEMBER 2018 UPDATES
September 26, 2018
Michael was interviewed in the October 2016 issue of Goda Vänner in which he spoke about the launch of his own wines and the roots of his Italian family. He confessed that his love of wine was rooted in his interest in food. When away from home shooting a film at various locations, he preferred renting an apartment rather than staying at a hotel so that he could cook. He said, "It's like meditation for me to cook." You can read the interview at this link.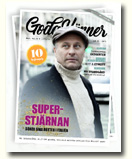 Then eight months later on June 28, 2017, the magazine featured this editorial at the time of Michael's death:
I wanted to interview Stellan Skarsgård but his agent informed me that he was too busy. But there was an alternative: I could talk to Michael Nyqvist instead, if I wanted to. Today, this meeting that led me to meet Micke is something I'm hugely grateful about.

Said and done, I traveled to Stockholm, stepped into an unfamiliar location without having much hope. Two hours later, I was totally overwhelmed with warmth, humor and had experienced a contact that's so hard to get with anybody. But that's the way he was. I do not think my meeting with him was unique. He could have charmed any of the chairs.

And now he is no longer and it is so sadly sad. I look back at pictures from the day that remind me again that this is a sorrow that affects everyone. The chronicles and words of praise I have read speak about his character and his acting and I cannot help but agree.

When we met, I did not know he was sick. When I found out that he had died, the shock came, as it usually does, along with the difficulty of understanding that a person who was obviously present in the same world as yourself is no longer alive. But how do you deal with the grief for a person you really did not know, a person you shared a few hours with? I liked Michael Nyqvist but I did not know him.

My reaction was right, I quickly surfed Systembolaget and bought 11 bottles of Michael Nyqvist's two wines (Cin Cin Chianti and Cin Cin Brachetto d'Acqui) in the virtual shopping cart. It was the wine we drank together as we talked, and that was my way of commemorating the memory of someone who made an impression.

Rest in peace Micke.
In a 2015 article in Varldens Viner, Michael shared:
"I come from the family Lo Cicero, an old wine family in Palermo, Sicily. Here the grapes grew on the sun-drenched hills and then bottled under our family name. Grandfather Cesari trampled his wine, tasted his aperitif and fell in love with Francesca, my grandmother. Over time, grandmother became a well-liked sommelier and she had a well-traveled cantina for many years. Everything was peaceful and happy until grandfather was forced to settle in Casablanca because of the Mafia."

But eventually, the family returned to Italy, then to Tuscany when Michael Nyqvist's own father Marcello studied to become a pharmacist and chased good wines.

"I have walked in his footsteps and finally found him when I found the vineyard with the very best Chiantin. A wine, already at the cork opening, provides scented associations to La Cucina Rustica, the Tuscan cuisine which, with its musty, sunbreaked flavors, requires its Chianti. The family's traditions live on."
September 22, 2018
I've added an article to the press section from UK's The Times regarding Michael's career and his death. Adoption doesn't have to be a traumatic experience but for Michael, his parents certainly did not handle the situation well. It's always heartbreaking to read how Michael's childhood was so affected when he was told to keep his adoption a secret. He says, "Bearing that secret made me mentally isolated. All the time I was afraid to say something wrong. It felt like I was walking around with a bomb belt that could explode at any time. In addition I thought that child welfare could come and pick me up if I did not behave properly."

* * * * *
Another of Michael's theatre productions has been checked off. In February 2004, he appeared in the play "Terrorism" at the Royal Dramatic Theatre. Directed by Stefan Larsson, the play has been described as "a black, black comedy looking at terrorism in the micro-perspective." Written by Russian brothers, Oleg and Vladimir Presnyakov, it is the duo's best known and most widely performed play.
* * * * *
Joking around for the camera in May 2016, Michael looks happy and healthy just a year before he died.

September 18, 2018

On January 28, 2005 a short film called "Skuggvärld" premiered. At only 5 minutes, it was indeed short. Filmed in Stockholm in black and white, it was written and directed by Niklas Olsson and starred Michael, Jessica Forsberg and Cilla Thorell. It can be viewed in full at this youtube link. I thought it was interesting that the assistant production manager turned out to be Sam Skarsgård, the only one of the five oldest Skarsgård boys who didn't become an actor, but rather a doctor like his mother.
* * * * *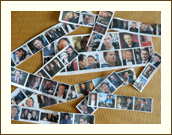 * * * * *
Nordstjernan, September 18, 2013:

Actor Michael Nyqvist has turned author. His first book, "När barnet lagt sig" deals with adoption and Nyqvist's personal search for his biological parents. In his new novel "Dansa för oss", he digs into questions regarding the choices he's made in life, which has led him to where he is today. "The book has been in my head for three, four years and was written while I was traveling: in airplanes, during film shoots and in my loneliness in New York," Nyqvist says. Writing, he states, is very different from acting. "In my writing I am responsible for everything that's put on the paper. I can't blame anyone for a particular cut or bad lines." He also says he's been too shy to talk about his writing with other actors, but that by writing he wants to "change the world from the inside out." "I want to show what's human in the hopes that it will help others to see themselves and to be angry at the same things I am angry at." Nyqvist's books have whet his appetite and now he's looking forward to a new project: "I am curious about lies; how they are used as power tools and as a phenomenon in general," he says.
September 15, 2018

In 2003 a book was published called "Krigsbarns erinran" (War Children Recalling Memories), which was a collection of war stories put together by Sinikka Almgren. Two years later Michael played the role of a foster father to a Finnish boy seeking asylum in Sweden in the heartbreaking film "Mother of Mine". The photo above was taken in 2007 with Michael endorsing the book. His personal interest comes from the fact that his mother received Finnish children at Skeppsbron and his own history of being adopted also heightens his interest in these children who were separated from their parents.
* * * * *
When the publicity begins for a film to premiere and too many posters are flooding the market, I start to get a bad feeling.
* * * * *
I finally received confirmation from a Swedish fan that these photos are indeed Michael's final resting place in the Katarina Church Cemetery in Stockholm. It's quite a beautiful park-like cemetery.
September 11, 2018
A 2010 copy of Norwegian magazine, NORDEN, featured these photos.

In the article, Michael discusses his book and the enjoyment of writing. He says, "It's so comfortable to write and I like the discipline you develop as an author. I love going to Paris to write. I love to do such things. And then spend a whole week at the Louvre and look at art." He says all this with a childish glimmer in his voice.
Then he points out some of his favorite Norwegian authors, such as Aksel Sandemose, Matias Faldbakken, and he admits to reading Knut Hamsun's book Sult (Hunger). Then he's on to music with a wide range naming both romantic composer Edvard Grieg and the "deathpunk" band Turboneger.
He also confesses to having some kind of religious awakening in being very present in the moment. He admits that he would often show off a "clothesline" of accomplishments to define himself but he says, "Now that I'm turning fifty, I no longer feel that I need to show it." He emphasizes that it's a huge freedom. He continues, "I do not need to impress people. I do not need to be a movie star if I do not want to. I want to be here and there and feel humble about it."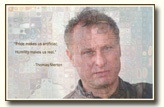 * * * * *
More photos have been added to the gallery for the "Abduction" premiere, which took place in Los Angeles on September 15, 2011.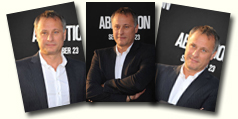 * * * * *
It's all in the genes! After finding Marcello, his Italian biological father, Michael wrote in his book that when he looked in the mirror, he could see the face of his father without the beard. It's a shame there are no photos of the two of them that have been publicized. Michael further claims that his charm is also a legacy from his dad.

September 7, 2018

Some of Michael's screen time in his early films amounted to cameo appearances, such as in the 2001 short film ANXIETY (aka Hr. Boe & Co's Anxiety), directed by Christoffer Boe. It was actually a graduate film by Boe made while attending the National Film School of Denmark. During that time he directed a trilogy of short films 20 to 30 minutes long with the same storyline - a young male is obsessed by a beautiful woman and then trapped in his own logic of what love is. "Anxiety" received the Prix Decouverte de la Critique Francais and was screened in Critic's Week in 2002.
I viewed the film online, and though it had English subtitles, it wasn't very watchable. Besides having to endure a shaky camera, the photography was very dark and grainy. I assume the original would have better quality. Michael plays a hotel clerk and his whole screen time is probably less than a minute with a few lines of dialogue. His co-stars are all familiar names, people he has worked with before. In fact, when it was screened at the Stockholm Film Festival, it was described as - "The dream team of Nordic cinema are gathered in Anxiety - Erland Josephson, Pernilla August, Michael Nyqvist, Maria Bonnevie and Nikolaj Lie Kaas."
* * * * *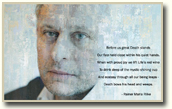 September 5, 2018
A new interview from 2007 with Michael has been posted in the press section. The subject matter was his role as Harald Edelstam, Sweden's ambassador to Chile during the 1970s. The film was called "The Black Pimpernel". Michael told the press that he was fascinated by Edelstam's unscrupulous virtue and morality. He wondered how he would have acted adding, "I would have been afraid to die."
Directors Ulf Hultberg and Åsa Faringer felt that it was important for them that the film was recorded in Chile, partly out of respect for the victims, but also as a reminder for those who still deny what happened during the Pinochet regime in 1973-1990. Filming took place outside the presidential palace La Moneda and at the infamous National Stadium. "It was incredibly brave to film there," says Michael. "You were in a place of execution. Many of the Chileans on the team had relatives who had died there. You heard them say, 'Inside the seven, my dad was sitting' ...then I felt stupid. But then I felt I had to do this; otherwise, it would not be right for all those who died."
In playing the heroic ambassador, Michael said, "What I've mostly learned about Edelstam is you need to ignore your own comfort, dare to stand up for an opinion fully, but at the same time, keep a cool head. A hero can accomplish so incredibly much from the small things in everyday life to changing an unfair law."
After doing this film, Michael joined Lottie Knutson and others as jury members for Svenska Hjältar (Swedish Heroes) in 2007. The pair indicated, "For us, it is a honorary mission to join!" It was a campaign where heroes are nominated by the Swedish people and then a jury is chosen to appoint the winners. Before the gala event in December when the winners are awarded a star-packed night on television, four programs are broadcast telling about the winners and their heroics.

* * * * *
Last November a magnolia tree was planted in Michael's memory in Vitabergsparken, one of the nicest parks in Stockholm. I don't believe it was at the family's request but was perhaps a friend's gift. It sounds like a lovely place to be remembered - it's green, lush, clean and quiet. The winding, meandering paths zigzag across the hill. A dozen hidden staircases take you down from the hills onto the street, and quaint red-painted cottages dot the edges. It's a perfect place for sunrises and unbeatable for sunsets.
September 4, 2018
I can finally see the end in sight as far as completing the Michael Nyqvist Archives. I suspect it will be finished by year's end. If and when "Radegund" is ever released, I will post whatever updates are needed to complete his film work. The MNA will remain online for years to come and it will forever honor Michael's accomplishments and keep his spirit alive.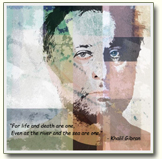 September 3, 2018
Greek-Swedish television hostess (plus Nyqvist good friend) Alexandra Pascalidou interviewed Michael shortly after his first book "När barnet lagt sig" was published. The first photo is a newspaper clipping from that event and the rest of the photos were taken at the same time on September 15, 2009. I wonder what the "A" stands for.

These two photos show Alexandra with Michael's wife Catharina at the premiere of "Jägarna 2" on September 5, 2011.
Finnish journalist Annika Hällsten remembers Michael:
"Michael Nyqvist was a star without airs and graces. As an actor, he managed to shine in any role. I saw him for the first time in a guest show at Esbo Stadsteater (the International Theatre of Finland) in the early 1990s. There he played in a Jean Genet production with the same frenzy and seriousness he brought to all his roles. I had the privilege of interviewing Michael Nyqvist several times and met a superstar - free and talkative."

"Thanks to the marriage of a Finnish-born Catharina Ehrnrooth, raised in Sjundeå, Nyqvist had a good eye for Finland. Here he was happy and here he willingly cultivated Finnish-speaking expressions. 'I do not know' was a favorite."

"As an actor, Michael Nyqvist was one of Sweden's foremost. Director Klaus Härö had the privilege of working with Nyqvist during the recording of "Äideistä parhain". Like many of his Swedish colleagues Michael Nyqvist had worked with, Härö was shocked by his death. 'I'm dumbfounded and sad and find no words,' said Härö."
* * * * *
Can anyone tell me the story behind this photo? E-mail me at coymooncreations@yahoo.com.