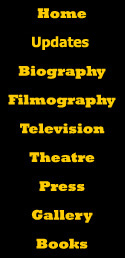 NOVEMBER 2018 UPDATES
November 25, 2018
There was from a photo shoot in Italy on September 18, 2009 with several nice photos of Michael but I just came across this pose that I had never seen before. Definitely one of my favorites.
* * * * *
A little tidbit: Michael's widow was invited to share the Thanksgiving holiday here in the states with Anthony Edwards in Connecticut [just 90 miles from my home]. He serves on the board of The Michael Nyqvist Foundation and is married with four children. The Foundation erroneously has his name as Anthony Ewards.
* * * * *
These three photos were posted by Portuguese photographer Ivan Da Silva (shown in the second photo). The first one was taken at the Marc O'Polo fashion event on March 2, 2012 and the other two were taken at the Stockholm premiere of "The Girl Who Played with Fire" on September 14, 2009. In Ivan's posting, he wrote, "One of the best actors. A warm and kind person I only have nice memories of."

Back in September, I asked help in providing information on a photo. Many thanks to a fan from the Netherlands who was able to identify it as the work of Swedish photographer Morgan Norman. I've added a new second photo as well which portrays our Swede looking quite suave and sexy with his cigarette. Norman is known for doing several photo shoots with Michael through the years.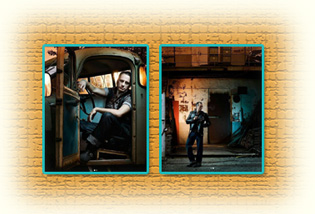 November 15, 2018

One of Michael's forgettable performances was in the 2004 British thriller LONDON VOODOO. It was helmed by writer/director Richard Pratten, who has a short filmography, having only directed two features in his career. The film won the Audience Award at Cinenygma 2005 in Luxembourg, Best Feature at the Festival of Fantastic Films in Manchester, England 2004, Best Feature at the Horror Fiesta 2004 in Warsaw, Poland, and the Jury Award Best Feature at the Boston International Film Festival 2004.
In the tradition of The Exorcist, London Voodoo tells the story of an average family who have their lives turned upside down in a horrifying fashion when they re-located to London from New York and discover a voodoo grave beneath their new home.

In February 2003 Michael and Sven-Bertil Taube were cast as employees of a Swedish company that hire Lincoln Mathers, played by a California actor named Doug Cockle.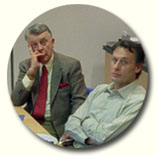 These business scenes seem so far removed from the storyline of Lincoln and his wife's interest in voodoo. They feel totally unnecessary. This was Michael's second international assignment. He and his family were about to leave for London for filming, a trip he was not looking forward to as he was concerned with the recent terrorist threats.
* * * * *
I'm not sure if I like this photo. What do you think? It was created by Carina Eva Lindholm.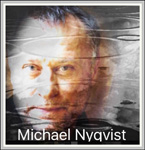 November 10, 2018
This year Michael's memorial prizes went to a Swedish theater institution and an international actress whom Michael had worked with. Each received cash and a very odd statuette that resembled a Pygmy from the Congo without arms! There was supposedly a message with it that was lost in obscurity.

The first prize was $5000 awarded to the Arab Theater in Stockholm. This is a photo of artistic director Helena Al-Janabi accepting the award on behalf of the theater from Alexandra Pascalidou.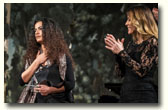 Helena thanked the MN foundation saying, "For the Arab theater, it is a big responsibility. Responsibility to create great theater and film here in Sweden in Arabic. Responsibility to try and influence a better society and good life for the many new arrivals, refugees and Arab countries living here now. Responsibility to portray our lives here in the theater scene and in movies. Responsibility to honor Michael Nyqvist's memory in our work."
The second award was presented by Anthony Edwards, a board member and co-star of the dreadful ABC series, Zero Hour. The recipient, actress Vicky Krieps of Luxembourg, was not present but her father accepted the $3,000 award. The board was motivated "by her luminous acting and the pursuit of authenticity." They further stated, "She does not rely on her ego, but her ability to be transparent and curious. Language barriers do not limit her because the truth she seeks is universal." You may remember her as Daniel Day Lewis's muse in The Phantom Thread and as Ursel, a fellow cult-member in Colonia. Here is a photo of Michael with Vicky at the film's Berlin premiere on February 5, 2016.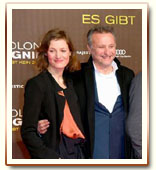 Attending the ceremony was Michael's wife Catharina, daughter Ellen and son Arthur. Call me a prude but considering the occasion, perhaps a bra would have been more respectful than baring one's breast.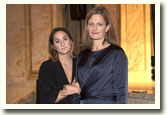 November 8, 2018
58 years ago today Michael Nyqvist was born. In celebration of his birthday each year, his memorial foundation will give two awards. They will be given this evening at the Theatre Confidencen with one going to an organization or group and the second to a thespian. The awards consist of money as well as a statuette. Nothing new was revealed in the media outlets except the repetitious statement from the family that Michael was not aware he could die from lung cancer. How could he not know that! 85% of cases are due to long-term tobacco smoking.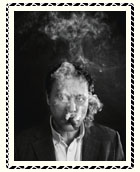 Note from photographer Johan Bergmark: "Micke Nyqvist 2008. This was taken during the filming of Kvinden der drÝmte om en mand. I took a picture of Micke where he would be himself. Not the character, but Micke. I allowed him to pull a whole cigar for the sake of the picture."
The photo below shows it as part of Bergmark's photography exhibition at the TylŲsand Hotel in 2016.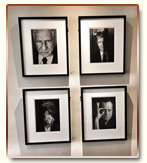 November 1, 2018
This week Malin Berghagen paid tribute on Instagram to her mother artist Lill-Babs Svensson and Michael. Both died of cancer last year. Both have been hailed as warm and thoughtful people who put others before themselves. In Malin's latest post, she shared this photo of the two. She dreams that her mother is in heaven and is in good company. She writes, "I'm a little jealous that these two are hanging out on the other side of the clouds."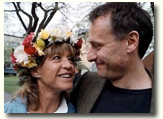 * * * * *
Though many of the film critics have been harsh in their comments about HUNTER KILLER, audiences love the submarine thriller scoring 85% at Rotten Tomatoes. A blogger who happens to be a fan of our Swedish actor saw the film this week. He writes, "Then I saw Michael Nyqvist and I smiled. I knew the movie couldnít be too bad. Anyone whoís seen the Millennium Trilogy knows who Nyqvist is. Here he plays Russian submarine Captain Andropov. His relationship with Butlerís American Commander Joe Glass turns into one of the true delights of what is otherwise a good, but not great film. Butler is actually pretty good as Commander Glass. This is primarily due to his interactions with the eternally forlorn Nyqvist. They form a bond that is essential during the most tense parts of the film. It gives a dimension that keeps your eyes and mind from wandering, even if youíve seen most of it before. There are no amount of words that can describe the unique quality of Nyqvistís acting here. He says more with his sad eyes than a room full of Oscar winners could with a thousand pages of script. It is a genuine pleasure to witness it for it's likely the second to last time. I will be there when Malick releases Radegund."
* * * * *
Hunter Killer review from the Georgetown Voice:
"Midway through their rescue mission, the crew of the Arkansas find the bombed-out remains of a Russian submarine on the ocean floor, and Glass orders his crew to rescue the survivors. One of the survivors is the shipís captain, Andropov (Michael Nyqvist). When the two commanders end up needing each other, their respective loyalties to their countries complicates their relationship. The tension between the two Captains is made all the more palpable by the excellent performances by Nyqvist and Butler, whose close, off-screen bond translates onto the screen with ease. One of the main themes of the film, the role of trust, is born in part of the relationship between Glass and Andropov. Whether trust will prevail would be an easily answered question in a stock, predictable action movie, but here, the complexity of the characters and the precarious relationship between Glass and Andropov especially keeps the audience guessing the ending throughout the whole film.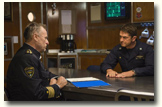 Review from Keagan Miller, The Battalion:
"The one performance I was impressed with came from Michael Nyqvist, who played Butlerís counterpart captain in the Russian navy. His stoicism and the complexity of his character made for the one performance in the film that I wasnít expecting, but that caught me off guard in all the right ways. Nyqvist unfortunately died last year after his parts in the film were complete but well before the movie was released. He took a film that couldíve been interesting on its own and made it into something better."