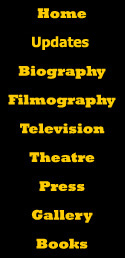 January 2018 Updates
The Michael Nyqvist Archives
January 30, 2018
A Local Act For Peace is a global peace project begun in Sweden in 2016 that seeks to encourage positive action and share information and data that proves, despite the headlines, that there is hope and potential for transformation through small acts of kindness. Last year Michael participated and there's a short video where he shares a personal story about his experience as a pacifist. It shows him walking in Regents Park in London while speaking directly into a camera. The Swedish version is at this link and if you're a Facebook member, there's a Facebook English version.

January 29, 2018

"Ladies Night" was a touring show performed between 2006 and 2012 where only women were welcome in the audience and only men on stage. The show focused on the differences between men and women with a mix of comedy, music and acting. In 2009, over 60,000 women saw the show, and 15 performances were performed in 14 cities around Sweden. In 2006 Michael performed in their first show, which was directed by Fredde Granberg. He was joined by actor/writer/comedian Peter Magnusson and singer Martin Stenmarck. The tour had its premiere in Västerås on September 1. Thirty thousand women bought tickets. You'll never guess what Michael told the press - "We hope they go home to their guys and make a kid afterwards."

From the photos below, you can surmise that it was a very zany event. One act was the three men in a sauna, dressed only in towels, talking about why girls get nicknames. Some of the music that evening included Edwyn Collins' "A Girl Like You", Pointer Sisters' "It's Raining Men", "When a Man Loves a Woman" and a little Elvis, of course. Don't you wish you were there!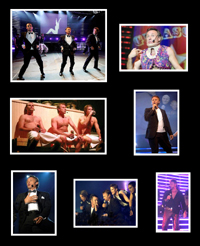 Good-natured Michael didn't flinch when told he was getting a lot of flack for participating in such a show. He said, "In this damn climate, it's extra wonderful. Now it's all about gender and it's totally politically incorrect to run such a show. Everyone thinks it's terrible and condemning and yet they want to hear what we're doing." Laughing, he continued, "In the drama circuits, we sit and discuss Brecht, and so I say that I will sing for a lot of girls in an ice cream hall. Then people wonder if I'm stupid in my head."

January 26, 2018
The Oscar nominations were announced this week and the Danish film, "Du forsvinder" was, unfortunately, not among the selections for "Best Foreign Language Film". However, another Scandinavian film was nominated - Swedish film "The Square". It was 13 years ago when "As It is in Heaven" was an Oscar contender. With news of that movie's transition into a musical, director Kay Pollak was asked about the main role. Had Michael lived, he would not have been offered the role. Pollak said, "We need someone to sing. It could not have been Michael, but he was very good at everything else. I think of him almost every day with gratitude."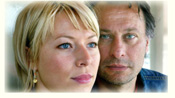 * * * * *
On September 13, 2014 Michael and his wife attended Ernst Billgren's wedding held at the Café Opera in Stockholm. Doesn't Michael look super cool in his black & white tuxedo? It was a small affair, about 100 guests. And now a little gossip. Billgren, who had been married for 30 years with three children, created a scandal for the tabloids when he began a relationship with an art student 25 years younger than him. Divorcing his first wife, also an artist, he married Julia Hellberg. The last photo shows the pair at Michael's funeral in July. I vote for "To love and to cherish until death do us part."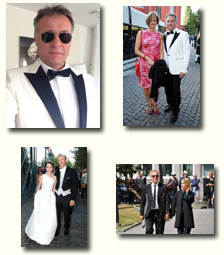 And here's another wedding photo taken on September 5, 2009 showing Michael and Catharina at the wedding of fellow actors Morgan Alling and Anna-Maria Dahl in Sickla, outside of Stockholm. I'm happy to report that the newlyweds now have four children.

The photo below shows Michael on the "Arn" set with Morgan.

January 22, 2018

In 2008 Alexandra Pascalidou, a Greek columnist, television hostess and author, compiled a book of 23 stories from taxi drivers from all over the world. She also served as director when her book was broadcast on Sveriges Radio that year. Several Swedish actors participated including Michael. Pascalidou also appeared briefly in The Girl with the Dragon Tattoo as a Swedish TV reporter covering the protagonist's trial.
Last June she recalled her relationship with Michael - "Micke was the big brother I always longed for. He treated me like a sister after our first meeting at Örebro University where we lectured in the late 90's. Micke was my first strong theatre experience... It was that feeling of exclusion in our childhood that tied us together. [She immigrated to Sweden at 5 years old] He never understood how loved, praised, honored and sought after he was. It was good and bad - for the ignorance made him so human. So available."
Pascalidou also remembers her Skype conversations with Michael when he filmed Mission Impossible in Dubai. He loved Hollywood gossip but she had to promise not to leak anything he said about Tom Cruise. He warned, "I have signed a contract with a confidentiality clause. If you say something, we'll go to prison." Yes, Tom and his entourage.
When Michael was diagnosed with cancer, he again asked her not to tell anyone. In his last week, he texted her - "I'm fighting. But it turns." Pascalidou describes her friend as always loving, generous and an amazing person and artist. She also shares that among his favorite music was "Songbird" by Oasis.
As you can see from the 2008 photos compared to more recent ones, Pascalidou has undergone some serious face sculpting procedures. She better be careful before she turns into another Joan Rivers.

January 18, 2018

Michael's Du Forsvinder co-star, Nikolaj Lie Kaas, recently spoke to Swedish newspaper Aftonbladet about their relationship. The Danish actor has a role in the upcoming HBO Nordic fantasy series, Britannia. During filming, Nikolaj received support from Michael. He says, "For a short period, he meant everything to me. When doing Britannia, he called me and asked how I felt and wanted to hear how my life was. He said nothing about his illness." Nicolaj was crushed when he received the news of his death. The fact that Michael did not want to talk about his cancer came as a surprise to him. He explains, "It was because he was proud. I understand that. At the same time, I was shocked and a little disappointed that he would not tell me."
One major reason why Nikolaj loved making "Du forsvinder" was because of Michael. Despite the seriousness of the film, they laughed through the scenes. He says, "He was so calm. I really miss him. There are no words for how kind and generous he was. He was one of the most generous I have ever met."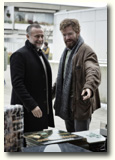 * * * * *
BTW, if you're a big fan of Så som i himmelen (As It is in Heaven), you might like to check out this web site of Screenshots.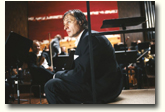 One of the images on this web site shows an album of family photos and the child shown is Michael as an adorable toddler.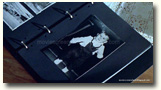 January 14, 2018
Last week a show was aired on Swedish television called "Together Against Cancer" with Michael's widow Catharina as a guest. She spoke about her heartache losing her husband to lung cancer in June and about how he handled the diagnosis.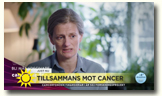 She said, "Micke was absolutely sure that he would be fine. He had so much hope and power." After the diagnosis, they spent a lot of time together. She added, "We suddenly were very much together and did everything together as we always wanted. It was a very good time."
For Michael, it was important that he did not become his illness. He would keep working. Catharina described how they both had difficulty understanding how serious it was. She couldn't understand how he had lung cancer when he was always healthy and sporty and never smoked.
At the end, he suffered from pneumonia and became very ill. He was not hospitalized but received home care. A nurse told Catharina the night before he died, "I just want you to know that pneumonia is very serious and there is a risk that it cannot be reversed."
Tearing up, Catharina explained how he had gone to the bathroom and asked for help because he felt very dizzy. She went to help him and then he fainted. She said, "I did not think he could die."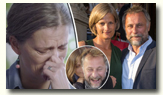 She wanted to participate in "Together Against Cancer" to show that being alone doesn't help. She said, "I know I called a lot of friends and suddenly the house was full of people... Together we can help each other... We lived together for 23 years so he was my best friend. The only thing that has worked is being with other people."
January 12, 2018
Though Michael has a very minor role in the 2008 historical film, KAUTOKEINO-OPPRÓRET (The Kautokeino Rebellion), I would recommend it for its compelling story, its haunting soundtrack and magnificent cinematography. The film is based on the true story of the Kautokeino riots in Kautokeino, Norway in 1852 in response to the Norwegian exploitation of the Sami community at that time. The Norwegian Sami director Nils Gaup was born in Kautokeino and descended from one of the insurgents.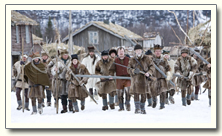 Among the mainly Norwegian cast, the film features three major Swedish actors. Besides Michael, it stars Mikael Persbrandt (Day and Night) and Peter Andersson (The Millennium Trilogy). Though some of the cast has the same last name of the director, they are not related. Michael plays the preacher Lars Levi Laestadius who founded the Laestadian pietist revival movement to help his largely Sami congregations, who were being ravaged by alcoholism. Gaup wanted to follow up this film with one that focused entirely on this character. He said, "I see a role figure like Amadeus in front of me. And Michael has the charisma needed. We have already talked about it." Alas, the project never came to fruition.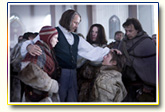 The cinematography by Philip Øgaard makes the film well worth watching especially in its sweeping panoramas and the way it captures the snowy landscape and the grandeur of the reindeer herds. To match the action, the soundtrack provides what I would call new age music composed by Mari Boine, Svein Schultz & Herman Rundberg. It all blends together beautifully.
When co-star, Norwegian-Sam actor Mikke Gaup, received the news of Michael's death, he was among those who expressed great sorrow: "It's an unbelievably sad message to get. Michael was a very talented and distinctly Swedish actor. In the top spot for many years."
January 7, 2018
A new film page! If any of you have viewed HEM LJUVA HEM (Home Sweet Home), you know it's not an easy film to watch except to see an explosive Michael Nyqvist play a distinctly dislikable character. It was a low-budget film (0.9 million Euro), which debuted in 2001, about a wife-beating husband with terrible outbursts of rage. It was a partly autobiographical story by young first-time director Dan Ying, a former film editor and stunt coordinator.
For the second time, Michael played an abusive husband and this time he also displayed violent behavior toward his son. In Luke Moodysson's highly successful film "Tillsammans" [Together], his anger is the reason why the family flees to a collective.
Michael saw the difference between Rolf and Kent - "One says sorry immediately while the other regrets nothing. These films give a voice to what you do not talk about. The violence and stupidity that can be found behind the beautiful façade with family, villa and car. Kent is unemployed, has lost control of himself, is completely fucked-up. There are such people. Every twenty-four minutes a woman in Sweden is being beaten."
Playing an abusive husband and father was tough for Michael. He admitted, "I never go into a role half-heartedly. I liked the feeling in the script. I knew that Kent really loved his wife and child but I couldn't forgive him."
He explained that his own grandfather, who died in the 1930s, is his family's black ghost in the closet because he used to hit his children with a stick. Michael said, "Personally, I have never hit a single person throughout my life."
Five years later Stasse Soulis, who plays Kent's son Stefan, and Michael went on to play another father and son pair in the film "Underbara älskade" [Suddenly]. Working together they formed a lasting friendship and Stasse was quite saddened and surprised by Michael's death. Here's a photo of him at the July funeral. You'll note from his name that his father was Greek but his mother was Finnish.

He recalls, "We had a pretty special relationship. In a certain way we became father and son. I have not learned as much about acting from anyone else."
Stasse talks about how Michael took him under his wings and helped him with his career, giving him advice about stage school. He also fixed agents for him - the same as he himself had. That was who called him on June 27th with the news of Michael's death.
The last time Stasse saw Michael was at the premiere of "A Serious Game" during the fall of 2016. Soulis says, "He was his usual happy self so I had no idea. And then... It was damn, damn tough when his death happened so unexpectedly... I will remember him as my greatest source of inspiration, my mentor and my idol."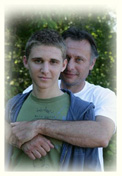 January 1, 2018
Each year, Scandinavia House in NYC presents the films chosen by Nordic countries to compete for the Oscar nomination for the Best Foreign Language Film. This year the series will feature Du forsvinder (You Disappear) on Friday, January 5 at 7 pm. The Danish film will be presented with English subtitles.
* * * * *
This past week Dagens Nyheter ran an ad placed by his wife Catharina and his children Ellen and Arthur. The family wanted to thank everyone who showed support in their difficult time. The ad read, "Thank you to all those who attended Michael's funeral and made an unbearable day a little brighter." In addition, the ad confirmed that the Michael Nyqvist Foundation has become a reality - "Special thanks to those who donated to the Michael Nyqvist Foundation, which enables us to advance Micke's conviction of acting as a healing power in society. Each year, the Foundation will appoint an actor who works in his spirit. All contributions to the Foundation are welcome".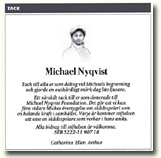 * * * * *
Here's the photo the IMDB used for Michael in their "In Memoriam". I'm glad they didn't use one from the Millennium trilogy but I would have preferred a better photo.