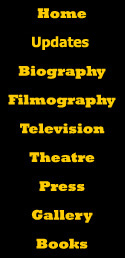 FEBRUARY 2018 UPDATES


February 27, 2018
In October 2014 Michael gave this list of tips on how to become a happier person. He was obviously a very introspective man.

1. Dare to feel doubt. Become a friend of your doubts. Daring to doubt is even more important than learning to fail.
2 Listen to each other more. With listening, comes presence. I find that women more often than men dare to talk without having a complete answer.
3. Take it easy. Take one step forward and two back. I think so much about that. Take it easy and take the time to catch yourself before moving on.
4. Be curious. Never lose your playfulness and childhood curiosity.

5. View feelings. Recognize your weaknesses and show your feelings. Many people are afraid but feelings are not dangerous.
6. Everyday life. Hang out with your friends, eat good food, drink good wine. We will live - not just survive.
7. Do not be terrified of failures. It is important for our development as a human being to dare things, fail and then learn something along the way.
8. Dare to accept too, but you should not expect to be rewarded by a failure. You just have to accept what has happened and hopefully come out on the other side both wiser and better.
* * * * *
Adding to Michael's list of television appearances is an episode of the Swedish series EN DAG I TAGET (One Day at a Time) entitled "Panikangest" (Panic Attacks), which aired on November 22, 1999. The series was meant to enlighten people on addictions and disorders, such as alcohol and drug abuse plus eating and anxiety disorders.
February 22, 2018
To Michael's Swedish fans - the 2016 documentary called "Michael Nyqvist - ett porträtt" will be available on SVT1 and SVT Play on Wednesday, February 28. In this informative film, he talked about his childhood and adoption as well as his teenager eating disorders. He also discussed his discomfort of walking on the red carpet and how he managed to stay close to family while filming. In addition to the participation of his two children, there are interviews with Pernilla August, Florian Gallenberger and Trine Dyrholm. You can watch clips at the SVT link and on Facebook.
February 20, 2018
WGN America announced today that its much-anticipated crime drama 100 CODE will premiere on Tuesday, May 29 at 10/9c. It stars Michael as Swedish detective Mikael Eklund and Dominic Monaghan as NY detective Tommy Conley. The 12-episode series, created by Academy Award winner Bobby Moresco (Crash, Million Dollar Baby) and shot in Stockholm, is a crime thriller following the hunt for a serial killer who targets young, blonde and blue-eyed women. For more information, check out the show's TV Page on this site.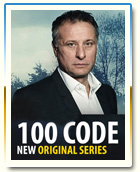 I've watched several episodes on my DVD copy and I absolutely agree with many reviewers. Dominic Monaghan is so atrociously miscast that it deeply affects the quality of the series. His attempt at a New York accent is so flawed that it becomes very frustrating at times to watch his scenes. He definitely doesn't fit the "tough guy" role. He is better suited as the hobbit Merry Brandybuck in Tolkien's "The Lord of the Rings".

With so many American crime shows, it is refreshing to watch a Nordic version with Michael playing a reassuringly grumpy Swedish detective. He is always brilliant!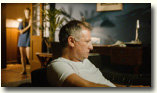 I've posted a new interview that took place in March 2015 when Michael was in Vienna promoting the series in Europe. I agreed with what he had to say about America.
"I lived in New York for six years. And I noticed that they never asked me what I did, always, what will I do next. With us, we must always be prepared to be asked what we have done. We still have such a class system here. They just do not have it there in the States. America is such a money-bound country. Money is what you talk about. It is difficult to talk about having a king. But we have it now... In America, the principle of materialism takes precedence. With which action do I make the most money. That differentiates us in the cultures. We in Sweden are almost ashamed when we have to talk about money."
February 14, 2018
This photo shoot took place on May 19, 2015 during filming in Budapest on Pernilla August's "Den Allvarsamma Leken (aka "A Serious Game"). You'll note that Michael has a thicker beard for his role as Editor Markel.
At the time of filming, Michael was asked why he joined the cast. He responded, "Mainly, it was about working with Pernilla. We have previously acted together. As a director, she has become one of the foremost. Much is about the overall way of seeing the work while having spontaneity and curiosity. The other reason is that it is Hjalmar Söderberg. The story is a real classic." Of course, we now know that he went on to win a Guldbagge for his outstanding performance.
Below is a photo that Michael tweeted on March 20, 2015 with the caption - "Spring in Sweden on my way to Budapest."

February 10, 2018
The photos below comes from the No. 12 issue of Hogtryck magazine dated October 2016.
February 6, 2018
About a week ago, the Swedish media published an article about a 2006 campaign in which six actors wrote personal letters thanking movie buyers for supporting Swedish films. Copies of these letters were put into about four million DVD cases. The actors were Sven Wollter, Kjell Bergavist, Cecelia Frode, Felix Herngren, Katarina Ewerlöf and Michael. Michael wrote, "Thank you for helping me keep up with what I love." Apparently, some folks are still finding these letters in old DVD cases. Here's a copy of Michael's letter:

* * * * *
In the gallery, I've added a photo shoot from December 8, 2015. You may have seen some of these photos before.
* * * * *
Last week columnist Matt Rooney was comparing two of the Mission Impossible sequels - "Ghost Protocol" and "Rogue Nation". He made some interesting comments that I wholeheartedly agree with. This is what he wrote: "Michael Nyqvist was a fantastic actor and made a great villain in JOHN WICK. But here he is probably the weakest element of the film. He's one of those villains who are just sort of 'around'. He doesn't get an opportunity to do much other than show up during some sort of action bit, and his malicious personality isn't quite fleshed out. He brings some pedigree to the 'maniacal baddie bent on nuclear war' archetype, but he's a better performer than the role lets him be."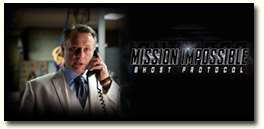 From Michael's own words in his 2013 book, Dansa för oss, we know what a disappointment the film was to him when they minimalized his role by editing out some of his best scenes.
February 2, 2018
In 2007 Sweden's Radio P1 presented a summer program of different hosts called "Sommarprat" and Michael participated in a July program. Besides introducing music favorites, he spoke about being adopted from an orphanage and his search for his biological parents. When Michael died last year, the radio station opted to broadcast it again on July 1st. Program Director Bibi Rödöö commented, "Michael Nyqvist's summer program from 2007 is a moving and true story. His emotional, very personal and thus courageous story touched many listeners in depth.

For the first time since the beginning of 1959, the Swedish Radio's summer program came out in book form that year. 20 of the hosts published their script from the program with personal photographs. The book was released on November 26, 2007 with proceeds going to Radiohjälp's work against trafficking.
Music program:
Sten Carlberg: "Sommar Sommar Sommar"
Brett Anderson: "Dust and rain"
Monica Törnell: "Faster fantasias visa"
Turbonegro: "Her kommer vinteren"
Weeping Willows/Andy Bell: "The burden"
Teddybears Sthlm/ Swingfly: "Hey boy"
Martha Wainwright/Kate Mcgarrigle/Brad Albetta: "Dis quand reviendras-tu"
Gianna Nannini: "I maschi"
Brett Anderson: "The infinite kiss"
Rachid Taha/Christian Olivier: "Tékitoi"
Hole: "Celebrity skin"
John Legend: "Show me"
Robert (10) Johnson: "The persuaders"
Evert Taube/Anders Börje: "Så länge skutan kan gå"
Elmo Glick/ Ben E King/ John Lennon: "Stand by me"
Michael had previously done a show in 2001. Before hosting, he told the press, "In my summer program, I'm going to tell you about Uncle Gustav and Tant Greta, about the Beatles, chopped potted plants and experienced words and everything else that happens when you're not on stage. The music will fall between Gullan Bornemark and Prodigy."
Music program:
The Beatles" "I'm Only Sleeping"
The Beatles" "I Need You"
Jakob Hellman: "Vackert Väder"
Etienne Daho: "Des Attractions Desastre"
Pugh Rogefeldt: "Finns Det Lite Stolthet Kvar Finns Det Också Hopp Om"
Lou Reed: "Perfect Day"
Dead Kennedys: "Too Drunk To Fuck"
Cornelis Vreeswijk: "Tältet"
The Who: "Five Fifteen"
Eric Ericson: "Die Zauberflöte"
Soggy Bottom Boys: "I Am A Man Of Constant Sorrow"
Savage Garden: "Crash And Burn"
The Beatles: "Glass Onion"
Nazareth: "Love Hurts"
Michael and I definitely agree on Lou Reed's "Perfect Day" which I have on my Trainspotting CD - and such an awesome film! And in 1975 when I was living in Europe, I was deeply addicted to Nazareth's "Love Hurts".