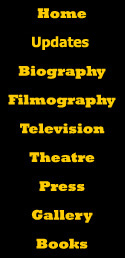 December 2017 Updates
THE MICHAEL NYQVIST ARCHIVES
December 28, 2017
Swedish media has announced that the 2004 film "Så som i himmelen" (aka "As It is in Heaven") will now become a musical. Ten years ago theater producer Vicky von der Lancken contacted director Kay Pollak to discuss the possibility of making a musical based on the film, which won many international achievements. It was nominated for an Oscar in Hollywood for Best Foreign Language Film in 2004. Conversation continued between the two and in recent years tense work began. Now Lancken and Pollak have decided that on September 13, 2018, the musical of the film will premiere at the Oscar Theater in Stockholm.
The title track, "Gabriella's song", will be included but Lancken and Pollak have decided that the performance in its entirety will be filled with moodful music in a broad spectrum. The script is by Kay Pollak and his wife Carin.
"We will fill the musical with newly written songs and well choreographed dances... The vision is a magnificent, beautiful, happy and moving musical. A spectacular musical experience to remember, filled with love, dance and song." says Lancken.
Pollak responds, "We are going to make a Swedish Puccini. Both pain and love."
The musical is being produced by Vicky Nöjesproduktion and 2Entertain.
* * * * *
In a tribute to those who have died in 2017, Swedish newspaper Dagens Nyheter featured this photo of Michael.
December 22, 2017
Adding to Michael's filmography, I've posted the film page for the 1999 Swedish comedy, VÄGEN UT, directed by Daniel Lind Lagerlöf with a screenplay by his wife Malin. The English title was "Breaking Out" and the story was inspired by a true event when Jan Jönsson directed Samuel Beckett's "Waiting for Godot" at Kumla Prison and took the ensemble of inmates to Gothenburg's City Theater for a official opening performance. Four out of five of the inmates escaped.
Sadly, tragedy struck the director at the early age of 42. While doing research for an upcoming movie and taking photos, Lagerlöf disappeared from two other members of the crew, and has not been seen since October 6, 2011. He is presumed dead near Tanumshede on the Swedish west coast.
The film was quite successful in the Scandinavian countries and had a social involvement which created direct associations to the British success of The Full Monty and the classic "One Flew Over the Cuckoo's Nest." It was also released in Italy, Germany, Argentina, Spain and Greece. Lagerlöf received two awards - the Audience Award at the Lübeck Nordic Film Days and Most Enjoyable Film at the Norwegian International Film Festival. The screenplay was nominated for a Guldbagge and the film's star, Björn Kjellman, won a Guldbagge for Best Actor while Shanti Roney won for Best Supporting Actor.
A Chinese fan wrote me recently about one of the cast members in this film - Swedish-Chinese actor Lixin Zhao. When Michael died in June, he posted the following along with this photo: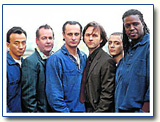 "Michael, dear old friend, your footsteps to heaven come too fast! You big, handsome and happy man, wherever you went, those beautiful girls smiled at you like sunflowers. The scene of us running on the field feels like yesterday... Now go old friend, we will meet sooner or later. May your whistle in heaven be loud."
December 17, 2017
As an actor, Michael has always looked for unique and creative projects, never afraid to try something new. In 2014 he participated in Meriç Algün Ringborg's 32-minute video called "A World of Blind Chance", which became part of her exhibition at the Frieze Art Fair in New York. In an exercise in constrained writing, she composed a script for a theater play using only the Oxford English Dictionary's exemplifying sentences. All the lines in the monologue were delivered by Michael and all his moves and details of the set were dictated by Algün Ringborg in her attempt to explore the act of writing and creating by not writing or making anything. It was a look at authorship, language and creativity. Very heady and existentialistic. The film was also screened at the Stockholm Literature Festival at the Modern Museum.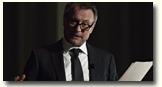 In an interview with Algün Ringborg, she explained the process: "The off-screen voice is the author/director character that both narrates the situation but also commands the actor in what to do and how to do it. I see this dictating and authoritarian side of the narrator as a force that creates a tension between all parties involved. In this version of the performance, I worked with Michael Nyqvist, who has been a stage

actor at the Royal Dramatic Theatre for a long time, but he wasn't allowed to rehearse the script beforehand. So the half-hour video is basically edited from his first few takes, where he is reading from the script and trying to get a grasp of it whilst acting it out the way the off-screen voice narrates. The struggle that he is going through, trying to understand this rather nonsensical ramble and make the lines into his own whilst performing put him in quite a vulnerable position. And I was, in a way, after that vulnerability as I wanted equally to explore what happened in between the lines, and if within these in-betweens there was the expression of the self, the individualistic traits of that person."
December 13, 2017
In 1996 Michael joined the cast of Bille August's epic period piece JERUSALEM in a very minor role, so minor that he didn't even have a name. He was referred to as Carpenter 1 in the cast list. The movie was based on the two-part novel of the same name by Selma Lagerlöf. It was also broadcast as a TV series and the Scandinavian co-production was headed by Svensk Filmindustri. The film was selected as the Swedish entry for Best Foreign Language Film at the 69th Academy Awards, but was not accepted as a nominee.
The cast is quite stellar with many familiar names who have acted with Michael in other films - Max Von Sydow, Pernilla August, Maria Bonnevie, Hans Alfredson, Sven-Bertil Taube, Björn Granath and Lena Endre, who won a Guldbagge for her performance.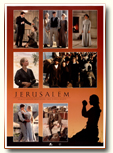 The novel and the film were inspired by real events from the end of the 19th century, a time when many people left Europe to find a better life abroad. The cinematography is lovely. The Swedish countryside is bleakly beautiful, and the film's Mideast sequences, actually shot in Morocco, range across desolate, rocky, sun-broiled deserts. These places are allegorical, expressions of the inner torment, renunciation, and uncertainty that the unsmiling God of Jerusalem insists on.
As I said, Michael's role is extremely brief with a couple lines of dialogue, but it's certainly a worthwhile watching. The entire film can be viewed [in Swedish] at YouTube.com. The links are given on the film page.
On a personal note, my favorite film from Danish director Bille August is "Pelle the Conquerer" with Max Von Sydow. This endearing film rightfully won the Best Foreign-language Picture Oscar in 1987. Highly recommended!
* * * * *
In July I posted some photos of Michael appearing as a guest on the Swedish TV cooking show "Pluras Jul", hosted by musician Plura Jonsson. It was aired around Christmas a year ago and last week it was broadcast again. You can view a clip from the show on Plura's Instagram page at this link.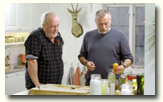 In a recent interview with Expressen, Plura shared that during that recording, Michael had told him he had cancer. Plura says, "I thought that he would be fine. He was young and healthy. Then less than a year later he was dead. I took it quite hard."
Plura said he had met Michael last year months before he was a guest on his October 2016 recording. He had come to PA & Co to ask Plura if he could play bass in his program. He apparently played bass guitar. That first meeting grew into a nice friendship. The two of them continued to hang out and talk on the phone every now and then. Michael used to call from different hotels rooms around the world. Plura recalls, "He was very much out in the world. He used to call in the middle of the night from a hotel room in Moscow or Los Angeles. He was an amazing person, kind and caring."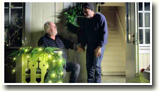 December 9, 2017
Keeping his positive spirit alive... A year ago Michael posted this holiday photo of himself. So cool! Did he know it might be his last Christmas? While we miss his presence here on earth, I'm sure he's dancing with the angels this year.

* * * * *
In the "Books" section, I have added a review of "När barnet lagt sig" by the Vancouver Observer. It reads:
The book is a charming compilation of memories from his childhood and his experiences in theatre school at a young age. He recounts being mesmerized by the magic of theatre after performing a dramatic scene from Crime and Punishment, and getting some positive feedback from highly acclaimed actors.

Nyqvist was only a few years old when his parents told him he was adopted, and that his father was from Italy. Throughout the book, the reader gets to follow his tireless quest to find his biological parents. Nyqvist sends a touching letter to his mother beginning with: "I want to thank you for me being here...". When he finally meets his mother, she refuses to reveal any details about his father and they are not able to connect with each other on a deeper level.

Through meticulous and fearless research, he finally succeeds in finding his father in Florence, Italy, and to his surprise and joy, he is welcomed with open arms into his Latin family.

There is an under layer of sadness throughout the book, and even though he succeeds in finding his roots, the emotional turmoil of finding out he was dropped off at an orphanage as a newborn has left deep emotional scars.
Nyqvist pours his heart into his writing, much like he does with his acting, and the result is a beautifully written book that showcases his gentle, reflective personality. His writing also highlights his determination and willingness to go to great lengths to perform his craft, to find out where he came from and where his place is in the world.
You can view a video interview at this link in which Michael discusses his first book in 2009. Here's a photo of another interview in April 2010 with Sharon Jåma.

In September 2009 Aftonbladet featured an article on the book. Michael wrote about how a child listens to adults speak in another room. Then you hear how they suddenly lower their voices. You understand that what they are talking about will affect your whole life, but you are completely powerless. He understood there were secrets but he didn't know what they were. He compared his lack of knowledge on where he came from like sitting on a train without a seat ticket not knowing where to sit. He says not knowing terrified him.
He admits his book is not fine literature. Asked what he thinks will be the public's reaction, he responds, "I have a favorite writer named Walt Whitman so I'll quote him 'I witness and wait.'"

December 5, 2017
When Michael was in British Columbia filming the fourth installment of "Mission Impossible", he was interviewed by the Vancouver Observer. No need to translate this time! It's a lengthy interview and much more revealing than the ones found on Swedish web sites. The photos below show him arriving at Vancouver Airport on December 2, 2010.
What's endearing about the man is that he easily confesses his love for his wife and family and expresses a deep humility despite his stardom.
"I love spending time with my wife, and she is my best friend. She is the one I tell everything to: my thoughts and ideas, everything that goes through my mind. I am still amazed every morning when I wake up and find her beside me. She is so perfect and I sometimes wonder what she sees in me."
December 2, 2017
A new addition to the MNA is an interview from the May 13, 2013 issue of Vision Hoglandet at this link. Michael tends to be rather philosophical in interviews and this one is no different. Having just published his second book, he focuses on how self-doubt has plagued him since his childhood and how fame is very much two-sided.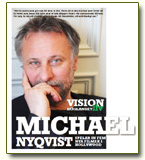 * * * * *
In 2011 Michael made the cover of the June issue of Scan magazine, an English-language showcase for Scandinavian countries. You can read the article by clicking on the third set of images below. Journalist Signe Hansen writes, ""Dressed unassumingly in a dark suit jacket and blue jeans, it is the actor's charisma and renowned, intense gaze that catch your attention." I'm sure of that! At the end of the article, Michael makes this remark - "I would love to stand on a stage when I am 102 years old playing a ghost - maybe Hamlet's father." And Ms. Hansen adds, "Well, in case he is still standing at 102, we would not mind a couple of the front row seats - he is sure to make an unusually intense ghost."