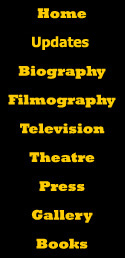 MARCH 2018 UPDATES
March 27, 2018
In May 2013 Michael had just finished shooting "Min så kallade pappa" (My So-Called Father) and was asked to meet buyers during the Cannes Film Festival. During one of his interviews, he shared his interest in doing a Coen brothers film, which showed his penchant for quirky humor. I wonder if he had a favorite. Mine would definitely be "Raising Arizona" (1987). When asked about his success since doing the Millennium trilogy, he replied, "Yes, I'm recognized now, wherever I go. People come to me to talk offers, ask for autographs or simply stare."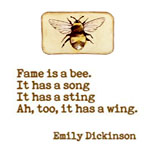 And what are foreign journalists curious about? He answered, "They want to know what I'm working on or something about Sweden or 'Millennium' and if I know Ingmar Bergman. Then I usually say he is dead and then they say, 'huh'." Since he worked with both Tom Cruise and Katie Holmes, a reporter wanted to know whom he likes more. A sticky question. He laughed and replied, "I like them both. Katie is wonderful. I recently lived in New York while filming the 'Zero Hour' TV series, and Katie and I would hang out and talk about life." Lastly, he describes the whole Cannes scene as "breathtaking" but personally prefers to stay away from the red carpet.
* * * * *
The photos below were taken at the premiere of "Safe House" on February 13, 2013 in Stockholm.

March 24, 2018
HUNTER KILLER, one of Michael's last films, will receive a wide release this fall! The action thriller, starring Gerard Butler, Gary Oldman, Common and Linda Cardellini, will hit American theaters on October 26th. Directed by Donovan Marsh, the screenplay was adapted by Arne Schmidt and Jamie Moss from the 2012 Don Keith and George Wallace novel, "Firing Point". Butler plays an untested American submarine captain named Joe Glass who teams with Navy SEALS to rescue the Russian president after he is kidnapped. Michael plays Captain Sergi Andropoyov, commander of a Russian submarine.
The film has had a quirky journey to the big screen. It was originally developed at Relativity Media in 2015 before the company filed for bankruptcy protection. It then became the object of a fierce dispute. Millennium subsequently took over the project and the film was shot in London during the summer of 2016. Millennium then sold off the North American rights to Lionsgate.
This is a photo Michael took on location of his uniform in his trailer.

March 22, 2018
I found more photos from the 2014 film, "DAYS AND NIGHTS". It's amazing that such a prestigious cast signed up for this Chekhovian script by actor/writer/director Christian Camargo. In my opinion, it's the worst film Michael has ever made - so pretentious but mostly boring. One movie critic cited it as the "single most insufferable film of 2014" and wrote, "This is the worst kind of art, deriving all of its meaning from the cultural cache of other, older, works. There is nothing wrong with intellectualism in cinema, but here, pages and pages of Chekhov can't paper over a fundamentally empty core." With such a plethora of negative reviews, I was surprised by what David Friend of Vanity Fair wrote. You had to wonder if he saw another version. He wrote, "Camargo's film, with a haunting score by Claire van Kampen, and one of the most delightfully cacophonous dinner-table scenes in memory, is that rare discovery that is usually beyond the means of the medium: a tragedy for a contemporary audience, brimming with sparkling dialogue, pathos, and, mercifully, humor."
Movie critic Nicholas Bell of Ioncinema had nothing good to say about the cast noting that some cast members gave "rather bizarre, over-the-top turns like Michael Nyqvist, and particularly William Hurt as the dying brother, at one point slapping on a wig in a scripted moment of delirious silliness." There was a time back in the old days when I wouldn't miss a William Hurt performance but here he's unbearable to watch.
For Michael, perhaps filming at the abandoned theater camp in Kent, Connecticut had some perks. Co-star Katie Holmes, just weeks from giving Cruise the axe, said, "It was a lot like camp. It was this tiny little town with one chocolate store and a little tiny bookshop." The director told the press about the sense of camaraderie the cast enjoyed while living and working together during filming. He said, "We went swimming, we went canoeing, we had cookouts. It wasn't the sort of studio environment where everyone goes home. We were there the whole time." I think this must be the closest I have ever been to Mr. Nyqvist, who was about 53 miles from my home.
When interviewing director Camargo, Nick Leyland from The Movie Network told him that one thing he was hoping for was that Camargo would have given Jean Reno a thick Boston accent or something because his French accent is so... The director agrees - "I know, the accent, and then Michael Nyqvist was from Sweden. I had to rewrite a few things to sort of get their mouth around certain things. It didn't start off this way, but I'm so happy that we have this international kind of feel to it, because it sort of breaks it out about being too preciously American, if that makes any sense."
An especially handsome photo -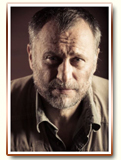 I do think the photo below was an interesting idea - having the director seated around the table reading the story just as in the 1898 photo of Anton Chekhov.
Here's an animated gif featuring a scene with Allison Janney. Happy to see Ms. Janney win an Oscar earlier this month. Wonderful actress. Loved her in "American Beauty" (1999).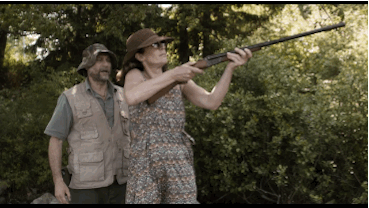 * * * * *
The "Press" section has two more interviews translated from German. They were both done in 2015 during Michael's publicity tour for "100 Code". The first one took place in Munich for Madame magazine and the interviewer makes mention that Michael has an excellent sense of humor and an open nature. Those are very attractive qualities. I often sense that he's both sweet and even naive at times like when he confesses that when he gets drunk, he becomes melancholic and almost cries. That's my kind of man! The second one was for Sky when Michael was in Vienna. Again, he talks about the differences between Americans and Europeans and brings up the fact that Americans don't always use their fork and knife. And that is so true. When I lived abroad many years ago, I had to learn to eat pizza and sandwiches, such as the Dutch uitsmijter, with a fork and knife. My husband continues the custom.
March 17, 2018
Two interviews have been added to the MNA. The first one was done in 2013 after Michael's second book was published with much of the conversation focusing on "Dansa för oss". The second interview took place in March 2015 during the shooting of "100 Code" in Stockholm. Being that today is St. Patrick's Day in America, it seems appropriate to share this snippet about Michael's language coach who happens to be Irish. This story appears in both interviews: For his role in "Mission Impossible", Michael relates, "I told him that I would use classical Oxford English. It was easy enough I thought. 'It's very hard,' he said. But I thought I could easily do that. So he asked me to read a page from 'King Lear'. I read. I asked if he liked it. Then he said, 'Michael, it's better to have a good shit than a bad f**k.'"
* * * * *
During his lifetime, Michael spoke of his Christian faith on several occasions. In a 2009 interview, he described his vision of God as "the feeling of wonder, love, empathy and the beautiful". He confesses, "I began with a baby faith but the image of God has naturally matured. I have been in analysis, played theater, had children, traveled and become familiar with different religions." He told the press that he has shared his faith with his children, taken them to church and talked about Jesus and how he lived. Michael admitted in the end that when it comes to faith, he would rather be surprised by God. And I'm sure he was!

March 13, 2018

Michael was interviewed in the October 2005 issue of Runner's World magazine. This is an overview of what he discussed. He began exercising as a teenager and has since included judo, aikido, volleyball, and soccer. He does yoga as well but admits it's not a sport. Running has always been important to him. He tries to run about four times a week, usually eight miles. He prefers Hellasgården (a leisure area outside of Stockholm) but mostly runs around Södermalm and Årstaviken.
He says, "Yes, I subscribe to Runner's World. When I read it, I think there are friends out there. It's fun to read about all the different training programs. It's inspiring. Running is central to me. There's something original about running, pure stone age joy, I think. Every time I'm out, I get that feeling, how happy and healthy I am."
He had planned to run a marathon with a couple of his friends - actors Figge Norling and Hasse Lindqvist. However, during one of his last performances in the play "Terrorism", he injured his leg. He explained, "I played an idiotic and incredibly near-sighted fireman sitting on the floor with crossed legs in a yoga position and then 19 kilos of Torkel Pettersson fell on one knee. When I left the scene, it felt like the lower leg was loose. At first I thought it was meniscus and went for an X-ray, but it was the ligament. At about the same time, Figge discovered that there would be no marathon walk so it didn't matter."
Michael always brings jogging shoes with him when he travels. He explained, "Running is good for my psyche. When you get up to my age, it doesn't matter what you do because you look the same anyway. So now it's more about keeping your body together, making sure that everything is working."
The photo below shows Michael running in November 2012.

March 11, 2018
Next month marks the first anniversary of this web site. It is my goal to complete the Archives covering all of Michael's film, television and theater work. It can sometimes be depressing when you realize there will never be any "new" work. I had a friend who created the Alan Bates Archives and after Mr. Bates passed away in 2003, she continued to keep it online for several years. I now understand that kind of commitment and the sadness that goes along with it.
I continue to add new television pages although some have limited information. The following have been added: På sista versen (1999) and Bekännelsen (2001).
* * * * *
In a recent Collider interview with Bobby Moresco, creator/director of 100 Code, he was asked, "How was it to tell a story that spans between New York and Sweden, especially with actors like Dominic Monaghan and Michael Nyqvist?" He responded, "They're fantastic actors. Michael Nyqvist, God rest him, was as talented an actor as I've ever worked with. What a great guy." Remember it premieres on WGN America on Tuesday, May 29 at 10/9c.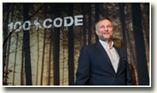 * * * * *
I came across a new photo of Michael as Prime Minister Verwoerd in the 2017 Madiba TV series. He looks so distinguished.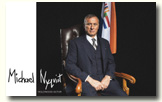 March 9, 2018
I'm sure many of you have viewed the YouTube video of Michael on the Alex Schulman Show back in 2013. It's in Swedish. Toward the end of the show, Michael speaks a little English when he's asked to relate a funny story about Michelle Pfeiffer at the 2009 Cannes festival. Hilarious!

Alex Schulman is a journalist and radio/television personality and that same year he put on a show called "Alska Mig!" at the Maximteatern. The following photos show Michael at the premiere on March 7th along with Alex's brother Calle, who's much shorter than Alex but quite a look-alike.
Also, at the Maximteatern on October 19, 2016 was the premiere of "Macbeth" starring Mikael Persbrandt. The last photo is a close-up of the second one. Michael is now living with the knowledge of his lung cancer and you can detect deep sadness in his face. The woman in the first photo with Michael and Catharina is Agneta Villman, a Swedish theater producer and director.
The photos below show events sponsored by Ms. Villman. The first one was taken at the Medea Theater Prize event in 2015 and the second was at a celebration party for Villman Productions in 2010. The last photo is from the 2005 play, "Geten eller vem är Sylvia" at the Vasteatern showing Michael with actor Albin Flinkas. Ms. Villman posted this photo on Instagram last summer after Michael died.

March 5, 2018

Today Scandinavian media expressed their disappointment that Hollywood did not include Michael in their Memoriam at the Oscars last night. And rightly so. When the Academy includes names of hair stylists and publicists, how many people among the millions watching have ever heard of these people? Besides Michael, there were several other famous celebrities omitted such as Dorothy Malone, Bill Paxton, Powers Boothe, Glen Campbell and Jim Nabors. And Michael went on to become world famous with the Millennium Trilogy. Aftonblad's film expert Jan-Olov Andersson finds it strange that his countryman was not remembered. He writes, "There were really many I've never heard of before and Michael Nyqvist has made films with both Tom Cruise and Keanu Reeves. He was also featured in a series of smaller American films and was a well-known name in the industry in the USA."
New Zealand journalist Tim Wilson also questions the omission of Nyqvist: "It hurts me that so wonderful an artist like him is not honored," writes Wilson.
Journalist Brendan Morrow writes, "Michael Nyqvist was a great Swedish actor who had been on the rise in recent years, but tragically died in June 2017 at just 56 years old. Though he appeared in many Swedish films, Nyqvist starred in some extremely popular American movies over the past decade as well, including John Wick and Mission: Impossible – Ghost Protocol. But sadly, no mention of Nyqvist was made during the show."
March 4, 2018

I've added a new article/interview to the press section that was published on October 19, 2014. Michael discussed his weaknesses and lack of confidence and while reading it, I could understand why he succeeded so well in interpreting the insecure CEO in "Om Stig Petres Hemlighet". In the interview, he explains how he takes on a role and pours it through his own personal filters. There was definitely a strong connection between Michael and Henrik, the factory owner.
There are some new additions to that film page - production photos such as this one. Check them out here.