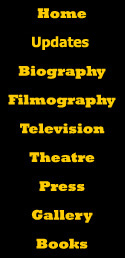 July 2017 Updates
The Michael Nyqvist Archives
July 26, 2017
As I announced earlier this month, the MNA will continue to expand with regular additions until it is complete and will then serve as a library of Michael's life and career. His filmography now includes the film SÅ SOM I HIMMELEN (As It is in Heaven). It has been a joy to create this page for the Archives because its meaning is now much more powerful. Like his character, Michael Nyqvist has attained heaven and all its glory.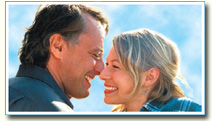 Micke was about 21 when his friendship with director Kay Pollak began and they often talked about authenticity and presence. When it came time for Pollak to cast his film, he hesitated in offering the lead role to him because they were so close as friends, but when he read the script, Micke said, "I want to do this." Pollak describes him as generous in every scene and that's what characterized him as an actor. He says, "There is a scene at the end when Daniel finally says, 'I love you' to Lena. The dying conductor knows heartbreak. He cries and laughs. It's such a beautiful scene. There he gives 100 percent. You stand behind the camera and cry yourself and are grateful that this is on film and for the fact that other people can also see this. Micke also took violin lessons. So typical of Micke not cheating on anything. He always sought the truth in his acting. I am grateful as an director that I met an actor like Micke. That's a big advantage."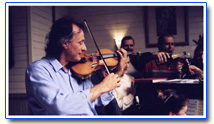 The 2004 film captured the hearts of the Swedish audience and became one of the most successful films in Sweden. In February 2005 the film was screened at the Berlin International Film Festival in the series, "Berlinale Special". It received an Oscar nomination for "Best Foreign Film" and was also nominated for no less than eight Guldbagge Awards and shockingly failed to pick up any! In Australia it played for two years straight at Sydney's Hayden Orpheum Picture Palace. A sequel was made in 2015 with Frida Hallgren in the same role as Lena, who gives birth to Daniel's child. It's called "Så ock på jorden" (Heaven on Earth).
July 21, 2017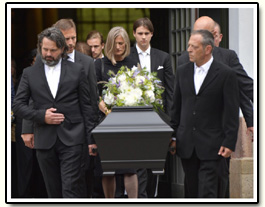 Friends and family gathered today at Katarina Church in Stockholm to celebrate the life of Michael Nyqvist. At his burial service, there were many familiar faces, which included film colleagues he had worked with over the years, such as Sverrir Gudnason, co-star in both "A Serious Game" and "My So-called Father", Shanti Roney, Anastasios Soulis, who played Michael's son in two films, Mikael Rahm, Kay Pollack, Ewa Fröling, Lena Endre, Rafael Edholm, Anthony Edwards, Eva Dahlgren, Mona Sahlin, David Dencik... In the photo below are actress co-stars Vera Vitali, Pernilla August and Ingela Olsson.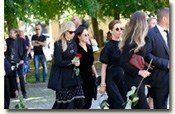 In describing the church service, actor Leif Andrée said, "It was a fantastic, absolutely outstanding funeral. Pompous, lovely, dramatic and fun and nice. Just like Micke was. His amazing big heart pervaded this as well. It was like a pulsating heart."
On the cover of the funeral program distributed to all visitors, there was a portrait of Michael drawn by his daughter Ellen. Poems were read and included "Gunnar Ekelöf's "Envoi" as well as a poem written by Michael himself. Among the songs performed were a Lutheran psalm called "Lovely is the Earth" and the beautiful "Amazing Grace" was sung by Barbara Hendricks. The Weeping Willows singer Magnus Carlson ended the ceremony with an interpretation of "Blackbird" by Paul McCartney and John Lennon.
July 14, 2017
The film page for COLONIA has been completed as well as the photo gallery for the screenings in Toronto, Berlin and Vienna. The 2015 political thriller was a Germany/Luxembourg/France production and was partially based on true events in Chile during General Augusto Pinochet's regime. Michael played ex-Nazi Paul Schäfer, an evangelical megalomaniac, who headed a cult-like sect called Colonia. Schäfer was eventually charged with sexually abusing boys while colluding with Pinochet to torture his prisoners. Co-stars Daniel Brühl and Emma Watson portray a journalist and his girlfriend and the storyline of their imprisonment and escape are fictional.
After several years on the run, Schäfer was finally arrested in 2005. Coincidentally Michael was in Chile at the time filming "The Black Pimpernel", another drama about the Pinochet regime.
I admit it's a difficult performance to watch, but one that received and deserved much praise. Michael's performance is quite chilling and menacing, quite a contrast to many of his previous roles. It's amazing to see the transformation of this handsome and charming actor into this bellowing and disgusting monster.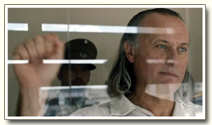 In February of last year when the film premiered in Vienna, Michael was interviewed by Die Presse. Here is how he answered some of their questions:
What was your reaction when Florian Gallenberger offered you this role?
There were many thoughts that went through my head. Why should I do it? And how? The film is also a documentation in a way, so I had a responsibility to stay close to who he was. It was a great challenge for me to step into this dark side of life. I think as an actor I also have a responsibility to give the world a mirror and tell of life. That such people also exist.

What was it like to play Schäfer?

It was really hard. I felt sick every day. I felt like a dangerous animal. But he was probably a charismatic preacher... The most sinister thing was that all these people put their lives in his hands. I've dealt with Charles Manson, all those sect leaders, even Pol Pot, to find out who they are. They all have one thing in common: They say the truth in their own way. And do not care to be polite.

Did he think he was a personification of God?

I think so. Many people consider themselves to be omnipotent, most of them as teenagers. If you still do this as an adult human being, that is not good. And then he also abused children. I said that I cannot play such a scene, because then a child experiences something like that. And I cannot do it. I am a father.
Did Schäfer have a master plan or did he act out of his gut?

I do not think he had a plan. Every day was a new day. I believe that if you inflict so much suffering on people, you cannot analyze what you did yesterday. He just looked forward, which is a dangerous thing. One step forward, two back: This is the right path for me. We must not forget that these people came from the destroyed Germany. He was in the Luftwaffe, they had all taken this Third Reich thinking, authority, rules, laws. He probably used it. It was like a camp, you were constantly punished. We have this scene in which a person must confess, and then everyone begins to hit her. This is a scene you had to do again because it is filmed from different angles... I played with a lot of extras, and you could feel the speed of the situation derailing. I told Florian that we had to stop because two people were about to go crazy.
How did the role affect you?

It was a depressing time. I've looked at many documentaries about preachers and the world war. In a break, I went to Bhutan to trek with a Buddhist monk from monastery to monastery. That was nice.
July 12, 2017
Today more information was released on the Foundation that has just been created in order to carry on Michael's legacy. His family has appointed Thomas Perlmann, a professor at the Karolinska Institutet in Stockholm, to be the organization's spokesman. The board will consists of both film colleagues and friends from Sweden and the United States. The names announced so far include Pernilla August, Ingela Olsson, Christian Camargo, PG Nilsson, Jens Orback, Michel Comte and Anthony Edwards. Michael's widow will also serve on the board. Acting as a means to conflict resolution interested Michael and the foundation will operate under this vision. The plan is to award scholarships or otherwise support people who work in this spirit but the foundation is still undergoing construction and its activities and statutes will soon be defined.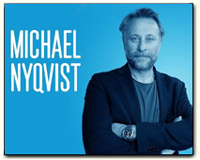 July 11, 2017
I have added a page to the Archives devoted to the Guldbagge Awards. You will find photos from the years Michael participated, sometimes as a presenter, and his nominations and awards. You may be surprised that he didn't receive a nomination for the Millennium trilogy, for which he's most famous for throughout the world. He admitted publicly that he was greatly disappointed. Here he is back in 2003 receiving his first Guldbagge for Best Actor in "Grabben i graven bredvid".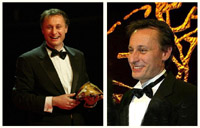 * * * * *
Since Michael had a summer residence in the northern Swedish archipelago, he naturally had an interest in boats and two years ago he purchased a Ockelbo B18. In an interview with a magazine, he shared his passion for boating and some of these photos were taken at that time.
* * * * *
Sweden's Expressen has published a special magazine of photos devoted to Michael. They appear to be mostly from his films.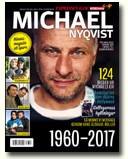 * * * * *
And from journalist Carina Nunstedt: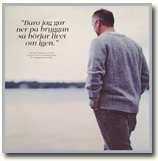 July 8, 2017
In a death notice published today, it was announced that Michael's burial service will be at 2 pm on Friday, July 21 at Katarina Church in Stockholm. An invitation to close friends for a memorial will follow. The family expresses their appreciation to ASIH, a part of Ersta Hospital, which offers care at home in the final stages of life. In lieu of flowers, the family invites donations to "Michael Nyqvist's Stiftelse för främjande av skådespelarkonst som enande kraft" [Foundation for the Promotion of Acting Art as Enormous Power".
This poem was included in the notice:
I stepped on the train.
There you sat in the most beautiful cabin
Ellen Arthur Catharina
I refused to let go of my ticket.
Now we are at the next station.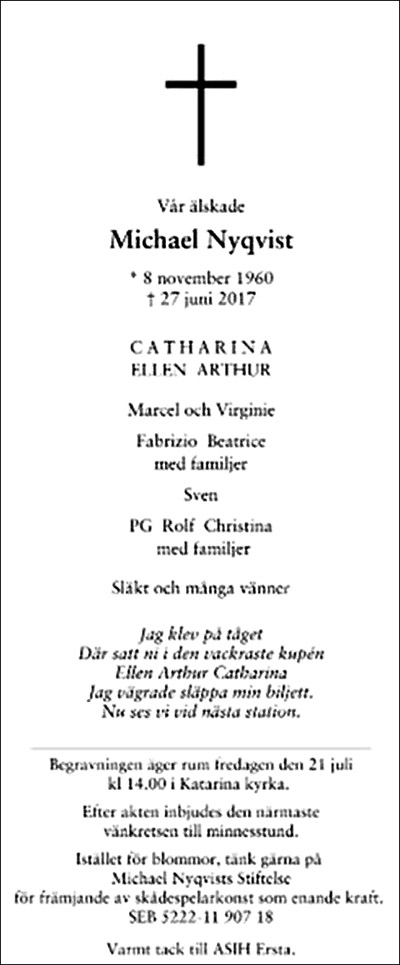 July 6, 2017
I have recently discovered that I was mistaken when I said Michael did not attend the premiere of DU FORSVINDER on April 19th at the Imperial Cinema in Copenhagen. At the time there was no mention of his attendance. I wish I had been corrected. Since Michael's passing, photos have surfaced proving he was indeed there. Sorry for misinforming you. I aim to be accurate. There is an e-mail address on the home page if anyone wishes to make corrections to the Archives. The premiere was Michael's last public appearance.
Here are some new photos of Michael from the film. Looking forward to seeing it when it's released on DVD.
* * * * *
It appears that Michael had a host of ideas and projects which will sadly never come to fruition. We now know that he continued to write after authoring "När barnet lagt sig" (2009) and "Dansa för oss" (2013). According to Adam Dahlin at Forum Book Publishing, Michael was working on a third autobiographical book as well as a children's book with another publisher.
The debut novel dealt with his adolescence as an adoptive child, while his second book focused on his career and how it shaped him as a person. This third book was focused on his Italian heritage.
Dahlin says, "He was a very skilled writer and had the ability to express feelings, not only on stage but on paper as well. He had a highway between his heart, stomach and brain, and he could experience feelings that few of us can. It's the secret to his greatness, I think, and it appears in his writing, on stage and in movies."
He continues, "Although he was always out in the world making movies, he kept up writing. I perceived it as important to him. I think he found an incredible calm in his writing... I once kidded him that he would eventually be known as "author Michael Nyqvist" and not "actor Michael Nyqvist ".
Dahlin believes that the cancer took a lot of his energy. Unfortunately, the book was far from being finished.
* * * * *
Still no word on Michael's burial but I have read that in Sweden it is common to wait one to three weeks. And funerals tend to be small and private though Michael's notoriety would at least deserve a memorial or tribute in the near future.
* * * * *
This artwork by Thron Ullberg was acquired by the Swedish National Museum in 2014. There has never been any information on Michael's affiliation with any church but since Sweden's population is 73% Lutheran, we can assume he may have embraced Christianity. I'm not particularly enamored by this photograph but it is interesting.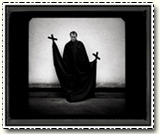 * * * * *
The Black & White Gallery has now been updated with many new photos such as these:
July 4, 2017
Last night Swedish pop singer Lotta Engberg paid tribute to Michael on her TV show, "Lotta på Liseberg". If you've seen "Så som i himmelen" ["As It is in Heaven"], you're familiar with the beautiful "Gabriella's Song". Last Wednesday Lotta decided she wanted to pay some kind of tribute to Michael. His death has touched so many and people associate this song with him so tonight it was performed. The audience responded with resounding applause and standing ovations.

Lotta says, "It was so nice. There were many in the audience who fought back tears." She admits she cried. Though she has never met Michael, she says, "It does not matter whether you have met him or not. I think we all feel concerned."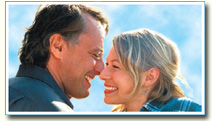 You can access this song with English subtitles along with clips of the film at this link.
July 3, 2017
The Archives will continue to grow as a tribute to Michael and will cover the release of his three upcoming films. The international media has been flooded all week with lovely messages from so many of his colleagues in the film industry. What is strange to me is that there has been no word from Noomi Rapace, the Dragon Girl who starred in three films with Michael. She's never been grounded so I guess we can chock this up to her idiosyncratic nature. You have to wonder what their working relationship was during the shooting of the Millennium trilogy since they were obviously at opposite ends of the spectrum.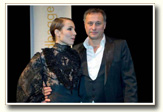 Here's what American actor Gerard Butler had to say about his co-star in "Hunter Killer" - "He's up there as one of my favorites, if not my favorite - like someone with such amazing talent and playfulness, but more than anything else a wonderful humility, warmth and a glimpse of the eye."
Izabella Scorupco:
"He was one of my absolute best friends through life... It's such a pleasure to have worked with him... He had so much left to give. I was so happy when he got the Guldbagge this year... He was one of the most enjoyable people I've met... It still feels like Micke is sitting somewhere and watching us and our sorrow. It feels so hard to talk about this... He was the greatest."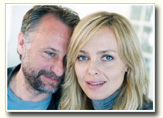 Karin Franz Körlof:
"He was very generous, both as a colleague and as a person. He was always willing to share experiences and tips. He threw himself into the scenes, took risks that many would never dare. But never in a selfish way. He always saw you. He always watched his fellow players. A very nice person to work with."
Pierce Brosnan:
"My heartfelt condolences to Michael Nyqvist's family and friends after his so early passing in life ... a brilliant actor, one of humanity's lovers, so proud to have known and worked with him"

Alicia Vikander:
Heartbroken to hear about Michael Nyqvist's passing. Intelligent, compassionate and kind. One of my absolute favorites. Never forgotten."
Director Kay Pollack:
"It was so wonderful to be able to meet an actor who would always go as far as you could go. He was never afraid to go any way to be in a true sense."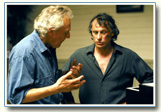 Helen Sjöholm:
"Such a talented and warm person. It was a pleasure to get to know Micke and be close to him while working on the movie As in Heaven - always humble."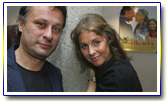 Sven-Bertil Taube:
"He was a nice actor but, above all, a caring, generous and kind person. We worked together in London.. He will be missed a lot. It's very sad."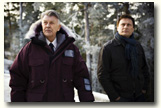 Journalist Gunnar Rehlin:
"Michael Nyqvist was one of the nicest, warmest and most open actors I've ever met. It was so nice and rewarding to sit and talk with him."
Sverrir Gudnason:
I think it's incredibly sad... He was a very open actor and an incredibly nice person... How he lived was reflected in his acting as well. He was incredibly curious."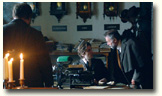 Pernilla Wahlgren:
"It is with extremely heavy heart, I am reached by the sad news that Micke Nyqvist has gone away. This nice, kind, fun, talented & earthy person, whom I had the honor to meet and work with a few times over the years."
Ellen Lamm: (Jane Eyre director at Dramaten)
"I'm surprised and sad... In 2009, I had known Micke for ten years, but never directed him. I'm incredibly happy for that work, he was very good as Mr. Rochester... He was curious, wanted to talk and understand. It was always very stimulating to talk to him. He was very calm and self-sufficient. A self-thinking person who made his own conclusions. He wondered and felt what he thought. His success abroad was so fun for him. It was exciting to follow."
Julia Dufvenius: (Jane Eyre co-star at Dramaten):
"He was generous and present... We talked a lot about life... We called each other for a while and talked about how we would solve different things. I loved working with him, I laughed so much."

Eirik Stubø (managing director at Dramaten):
"I think everybody who met Michael took a deep impression of his personal courage and eager curiosity, his urgent earnestness and even his overwhelming humor. He knew a lot about both life and art."
July 1, 2017
A 2016 SVT documentary called "Michael Nyqvist - ett porträtt" was shown this week on Swedish television. It was originally aired on October 16, 2016. The 58-minute film is unfortunately not available online and is without English subtitles. Perhaps in the future it will be released for audiences outside of Sweden.
It was shot about a year ago and though Michael could have included the diagnosis of his lung cancer, he chose not to reveal it. In the documentary, he discussed his teenager eating disorder, his thirst for new roles, the discomfort of walking on the red carpet and how he copes with being away from his family. Here are a couple quotes he gave:
"I'm afraid of every new job, every new role, and feeling I'll die with it."
"I had never really dreamed about or imagined that Hollywood thing. I never thought they would listen to me. It has opened lots of doors for me and there are doors that I did not know existed. I've done things that I think are fun."
Also included is a tour of his childhood neighborhood (I've watched this part) and clips from some of his films. Also participating in the film is Pernilla August, Florian Gallenberger, Trine Dyrholm, his children Ellen and Arthur, but not his wife.
As of this time, there has been no word from her as to Michael's funeral or memorial. Had his death been an accident, it would be understandable but considering the months she had to prepare for the inevitable, the silence is uncomfortable. Has he been buried yet?
I don't know how many of you are aware that Michael's daughter Ellen was from a previous marriage. I don't see much resemblance between father and daughter but in all their photos together, he appears to have been a devoted father taking her to premieres and fashion shows. The photo below comes from a screen shot of Ellen with actor Daniel Craig in the American version of "The Girl with the Dragon Tattoo". Can you believe it? When the production team was filming in Stockholm in October 2010, they happen to hire the cafe where she had been working for the past year. Thus, she ended up being the one chosen to wait on Daniel. How neat! And yes, she did end up telling him who she was - the other Blomkvist's daughter.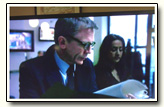 On June 24th I introduced the wine history page to the Archives. This past week there were several articles relating to Michael's winery in Tuscany. Here is a photo of Guido Beltrami with the specially-designed labels. Guido manages Sorelle Palazzi where Michael's grapes are grown.