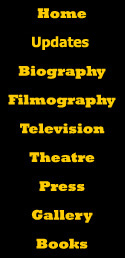 November 2017 Updates
THE MICHAEL NYQVIST ARCHIVES
November 29, 2017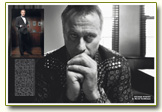 This photo was featured in the January 2012 issue of L'uomo Vogue along with this short article:
He gained world-wide reputation thanks to the success of the Swedish filmmaking of Stieg Larsson's Millennium Trilogy, in which he played the stubborn detective journalist. In the new American version, his character is played by Daniel Craig. But most cinephiles remember him for his role as the violent father in Lukas Moodysson's Together. Michael Nyqvist, Swedish with Italian origins, will now be Tom Cruise's antagonist in the new Mission: Impossible - Ghost Protocol. "Bad roles are more fun," he jokes, "and then, if you are a European actor in Hollywood, they ask you to interpret those. In John Singleton's Abduction, for example, I play a super-villain."

In the thriller Disconnect, however, he is suspected of stealing the identity of protagonist Alexander Skarsgård, another Swedish actor who is breaking through. "We have good actors in Sweden," Nyqvist says, "And excellent schools and a long tradition of theater and cinema. For us to become an actor, you must have followed a four-year course. And then when winter comes, it's so cold here that there is nothing else to do except to tell stories; otherwise, you'll go crazy. " In addition to his roles for cinema and the Royal Theater of Dramatic Art in Stockholm, Nyqvist's projects include a directorial debut based on his own screenplay.

This interview took place at the Gramercy Park Hotel in NYC. Michael is wearing a Prada shirt and a Longines watch.
* * * * *
The movie that never was! In May 2015 entertainment media announced that Michael and Famke Janssen would star in the independent thriller "Every Good Boy Does Fine". Finnish filmmaker AJ Annila was expected to make his English-language feature-film debut on this project with filming to begin that summer.

Written by Jonathan Dees, the story was about a young boy named Brian, who was verging on adolescence, a little angry, and quite possibly a piano prodigy. But he hates practicing and playing, that is, until he meets music professor, Mr. Anderson. Elegant, sophisticated, brilliant, Mr. Anderson fixates on Brian and recognizes the untapped potential in the boy. He becomes Brian's mentor and the father figure he needs. If only Brian didn't increasingly suspect that Mr. Anderson is the serial killer that has been targeting musicians. A classic cat-and-mouse story, the story is about artistic perfection, unrealized dreams, and the terror that can sometimes come with finding one's voice.

"We've been working hard on this project for several years and are thrilled to bring it to life," said producer Jana Edelbaum. "Every Good Boy Does Fine is an original, sophisticated script full of suspense which is the perfect fit for helmer AJ Annila who has a unique visual style and loves to experiment with different genres. The producers have assembled a talented cast with Michael Nyqvist and Famke Janssen who both have appeared in successful studio franchises and bring commercial appeal to the project."
It's disappointing that the film was never made. I think Michael would have made a cunning Mr. Anderson!
November 26, 2017
Here are some photos of Michael and his wife at the Polar Music Prize Awards at the Stockholm Concert Hall in 2011 and 2013. The award was created in 1991 by the late Stig Anderson, the musical entrepreneur and company manager behind ABBA.
- August 30, 2011-
- August 27, 2013 -
You can watch a brief interview with Michael at this YouTube link when punk poet laureate Patti Smith was honored in 2013. It was noted that Michael was wearing Stephen F that evening. Did you know the fashion designer outfitted our man in the role of Viggo Tarasov for the film "John Wick"? The photo below shows Stephen and Michael on location in New York. It looks like he still has a black eye from that accident with the stunt man.

The next two photos show Michael wearing a Stephen F blazer on the Swedish talk show Hellenius Hörna in November 2013. Of course, the guy is handsome in whatever he wears.
November 22, 2017
Is everyone aware that over the years Michael has narrated the following four audiobooks?
2004: I morgon du by Lars Weiss
2009: När barnet lagt sig - autobiography
2010: Den vita lejoninnan by Henning Mankell
2013: Dansa för oss - autobiography
* * * * *
I have added another interview that was conducted by Susanne Bark in September 2014. I have finally discovered what his tattoo drawing means. Michael explains, "The old man is my son's first drawing."
November 18, 2017
"When you breathe in the same room and in the same second as the whole audience, you feel like an ambassador on stage. This is the strongest drug... You never have that in front of the camera." ...Michael Nyqvist
I've added another interview to the Press Page. It was done in Munich in March 2015 by Katja Kraft when Michael was doing some promotion for the TV series "100 Code". Check it out.
* * * * *

Next year "Hunter Killer" will be released. The American action thriller was directed by Donovan Marsh and is based on the 2012 novel "Firing Point" by Don Keith and George Wallace. The film stars Gerard Butler, Gary Oldman, Billy Bob Thornton, Willem Dafoe and Michael, who plays Captain Sergi Andropoyov, commander of a Russian submarine. This is a photo Michael took on location of his uniform in his trailer. It makes me sad.

Butler made news last month when he reluctantly had to shave his beard for the first time in almost a year in order to complete additional scenes for the film.
November 15, 2017
In the fall of 2012, Niklas Palmklint began to film and photograph people along with their favorite word. Young and old, famous and less famous. Ordet är fritt (the word is free) was a humanistic project and an artistic initiative to promote the desire to read and write. There were a couple exhibitions but ultimately a book of over 200 photos was published. The remaining proceeds were donated to BRIS (Children's Rights in Society). Michael chose "morning dew". It's actually close to what I would have chosen - "birdsong". You can view a short video of him at youtube.com.
* * * * *
In an interview with Nikolaj Lie Kaas, who stars in "You Disappear" (Du forsvinder), he was asked about his experience working with Michael. He replied:
"I worked with him when I did my first movie. It was a short I did for a friend of mine in film school. It must have been 1998. I worked with Michael and we just clicked. I couldn't stop laughing. He was hilarious. When we met again, it was the same. There's a picture someone took from a court scene in You Disappear where in between takes he was making me laugh. It's a perfect image of what it was like to work with him. He was very giving. He was very caring. We hung out a lot when we worked together. I was devastated [by his death]. It was the first time apart from my parents, that I was so heartbroken when someone close to me died."
There is a newer trailer at youtube.com that features more scenes with Michael.
November 12, 2017
Peter Birro, a critically acclaimed scriptwriter of contemporary Swedish cinema and TV teamed up in 2002 with director Ulf Malmros in creating a kids movie for all ages. Malmros, using colors as well as playing with the supernatural, has previously made films with children or teenagers in focus, always avoiding the sentimental smear of Hollywood productions. In "BÄST I SVERIGE" [English version - We Can Be Heroes!], the duo tells the tale of ten-year-old Marcello who dreams he can excel at something. Michael plays his quirky Italian dad Giuseppe. Just as Michael in real life had an Italian father and Swedish mother, Marcello's mother is also Swedish. It's an extraordinary film in all its simplicity with delightful imagination. Jan-Olov Andersson of Aftonbladet wrote, "Few Swedish family films are made with such humor, warmth and charm."
* * * * *
Meet Charlie Nyqvist! Family life was very important to Michael and it included his beloved black Cocker Spaniel named Charlie, born on May 27, 2008, according to his passport.

* * * * *
Sweden's RES travel magazine ran a feature on Michael in 2009 called "Best in the World". Michael was asked to give his holiday favorites:
City: Valparaiso in Chile - dirty, dangerous and sexy!

Holiday: Maitencillo north of Santiago, at Vina del Mar. We lived in a Tarzanhydda built of driftwood and grilled seafood, drank Chilean wines and saw sea lions and penguins all day long.

Beach: Mandrem Beach in India. There can be anything dive, a dolphin or a wild hippie. But most of you are alone on the beach. As I jogged in the morning, an Indian sat and waved at me.

Island: Corsica. Napoleon comes from there and they speak French so you get what they say.

Cafe: Ingrid Bergman's favorite Antico Caffé Greco in Rome. I love their incisions served on a silly dish.

Hotel: Hotel Ritz in Uddevalla. Have you survived one night there, you know that you can manage the most. It's like entering the hell. You are sleeping in a cell that smells of old nicotine. For breakfast, you can enjoy cornflakes or crusts.

Nightclub: Artists Association in Moscow. Actor and singer in a single mess. A whole house of high promille and full of people singing and crying.

Airline: Air France. Everyone is friendly.

Airport: Lake Placid in Canada. At the airport there are stuffed cleaners and woolen sweaters to buy. So Nordic. You feel at home, but away.

Spa: Ystad Saltsjöbad - lonely and luxurious.

Promenades: Hampsted Heath - so English. Here, London has been filmed for forty films. My favorite Michelangelo Antonionis Blow-up was recorded here.

Store: A specialized shop on straight brushes in the Jewish quarter of Paris. They have made straight brushes since the sixteenth century.

Museum: The Uffizians in Florence, all masters are there. Leonardo da Vinci and the boys. In addition, two films have been recorded there - Hannibal and Details.

Restaurant: Mariefreds steam boat. Fantastic steak. The stream carriage at Slussen is also good - because it's so good though you're in the middle of stressed Stockholm.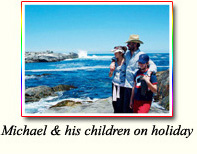 November 8, 2017
In 2014 Schnayderman's Shirtmakers and The Non-Violence Project presented Shirts for Peace – an initiative to promote positive social change and non-violence for children around the world. The knotted gun logo was originally created as a memorial tribute to John Lennon, and since then it has become one of the world's most recognized symbols for non-violence and peace. Here is Michael wearing one of their shirts. For his donation, he chose a school in Mexico.

* * * * *
More good news for US fans. TV series 100 CODE will premiere in 2018 on WGN America! Check your local cable company for the channel. I added the two photos below to the TV page. In the series, Michael's wife has died of cancer but they needed family photos for pictures frames in their home so they made up these photos showing the Eklund family. The actress in the center is Felice Jankell who plays Michael's daughter Hanna.

November 5, 2017
The following dedication was written for the Stockholm Film Festival, which will honor Michael's memory on November 12, 2017.
Born in 1960 in Stockholm, Michael Nyqvist has proved himself to be one of the most important Swedish actors of his generation. Equally adept at plunging the lower depths of the human soul as delivering heartfelt portrayals of sweet-natured characters, he has moved between on the one hand his work as part of the ensemble at the Royal Dramatic Theatre and, on the other, the countless roles he made for film and television. He is also the author of two autobiographical novels.

As a consequence of his versatility as an actor, Michael had the ability to reach out to people of the most diverse backgrounds. While critically lauded for his theatrical work with Lars Norén and dramatic roles in films such as Together and A Serious Game, he was also an actor that touched the hearts of the large audience like few others. With the performances in The Guy in the Grave Next Door and As It is In Heaven, he portrayed the ordinary man of the countryside with a sense of both authenticity that resonated with people from all over Sweden.

With his iconic portrayal of Michael Blomkvist in the Swedish adaptations of Stieg Larsson's best-selling Millennium trilogy, he attracted serious attention from international film producers. This propelled his career toward roles in increasingly bigger productions, and no one knows where he could have ended up had his career not ended so abruptly. Yet, even with only a handful of international titles, he managed to make a lasting impression.

Interestingly enough, Michael made two films dealing with the history of Chile. Starring alongside Emma Watson and Daniel Brühl, he skillfully captured the chilling callousness of Paul Schafer and his rightwing, pseudo-religious cult during the years of the Pinochet regime in Colonia. A contrast was his heartfelt and gripping portrayal of Harald Edelstam in The Black Pimpernel, where he celebrated the Swedish ambassador and human rights activist who protected hundreds of oppositional Chileans during Pinochet's coup.

Despite these forays to the international world of film, however, Michael was first and foremost an influential voice and presence in Swedish film, television and theatre. His memorable performance as Markel in A Serious Game, Pernilla August's adaptation of Hjalmar Söderberg's classic novel, was one of his last. It earned him a Guldbagge Award and provided a fitting, albeit much too early, legacy of his considerable acting talents. In a handful of scenes, he manages to perfectly nail the world-weary yet humanistic outlook of the editor-in-chief who has met countless disappointments but holds on to his belief in the power of journalism.

Even though the career of Michael Nyqvist came to a premature end, we have yet to see his very last performances. Starring in several forthcoming films, including Radegund by the legendary director Terrence Malick, there are still a few more titles to be added to his long list of achievements, no doubt enhancing his growing legacy as one of the greatest Swedish actors of his generation.
* * * * *
On November 3, Variety reported the following:
Gravitas Ventures has acquired North American rights to Peter Schonau Fog's "You Disappear" (Du forsvinder), the Danish candidate for the foreign-language Oscar race. Gravitas plans on releasing the film in Spring 2018. The film will be screening for Academy members in L.A. throughout November and December.
November 3, 2017
I've added a new gallery called "A Passion for Fashion" which highlights some of Michael's appearances at various fashion events. Perhaps there are some photos you've never seen.
* * * * *
Two years ago, the city of Turku, Finland decided to promote the city's tourism with a campaign called "Kiss my Turku". Over 100 people participated, including several celebrities - such as Michael Nyqvist. Two of his films had been shot there - "Mother of Mine" and "The Girl King". The first photo shows the poster at Turku Airport.
The first two photos below show Michael in his dressing room at Turku Castle with a better view of his tattoo. The third photo he posted himself with the explanation that in Italian it says - "illumina d'immenso", which translates to "it enlightens me immensely." The child's drawing was done by his son.