I originally posted the film page for "Abduction" in October 2017, but since then I have amassed more information on the production. In casting Michael for the role, producer Lee Stollman said, "We had seen The Girl with the Dragon Tattoo and we all fell in love with Michael in that movie. He's completely unexposed here in the US and we felt that he was a great fresh face. He can appear sinister, but he's also a handsome, charismatic leading man." Producer Doug Davison agreed - "We were looking for a European villain and I had recently watched Dragon Tattoo, which he's terrific in. We found out that he's Swedish, and since he speaks Swedish in that movie, we needed to know how strong his English was. And it was terrific! He was our first choice. We went after him, he was available and we got him. We feel really fortunate to have him in the film."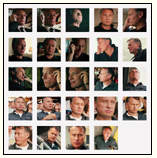 There is no doubt that it was the Millennium trilogy that made the American film industry look up to our Swedish favorite. It certainly opened doors for him. At the time Michael told the press that he was not specifically investing in a Hollywood career but that he was looking for interesting assignments where he could develop.
Michael recalled his response to the casting call - "I've always been attracted to the question of finding your roots (referring to the script), and I love John Singleton's work. He called me and we started to talk about it. I read the script and thought it was well written. Plus the part I play is a bad guy, and that is so fun to do... It's a scary cold-blooded person, a real psychopath. At the beginning of my acting career, I played 'bad boys' in Sweden as well. We have so far only talked to each other over Skype. I have not asked why they chose me, but I understand that he [Singleton] has seen several of my films."
In an interview with Urban Cinefile, he commented, "I play a bad, bad boy. It's so much fun. I get to hit people, kick people. I try and kill Taylor Lautner. I kill his parents... and I get paid for it!" He described how 300 girls turn up at the shoot everyday screaming for Taylor Lautner (Twilight franchise). And added, "John Singleton is SO good to work with. I love it. . . he's so graphic. I love his films."
While on location, Michael lived in an apartment at the Cork Factory, located on the Allegheny River in downtown Pittsburgh in the heart of the "Strip District". It's described as a vibrant neighorhood with an eclectic mix of wholesale merchants, boutiques, sidewalk vendors, restaurants and nightclubs. Michael said he enjoyed his stay there - "It was an older part of town. People liked to walk there instead of using their car. It was almost like being in Europe."

The film's ending took place at PNC Park, home of Major League Baseball's Pittsburgh Pirates. It was shot on August 22, 2010 during a real Pittsburgh Pirates-New York Mets game with a live crowd of over 26,000 fans. The production crew had their work cut out for them because the game happened to be unusually short ending an hour earlier than planned. [Love this silhouette of him in the stadium]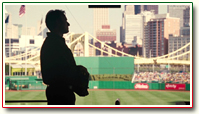 Sadly, the film bombed at the box office and didn't initiate a bright start for Michael in the US, nor elsewhere. It amazingly was screened in at least 50 countries but continually suffered negative criticism. I'm sure expectations were high considering it was a John Singleton film. Critics mostly bashed Taylor Lautner for his dreadful wooden acting and indicated their disappointment in writer/director Singleton, who debuted in 1991 with one of the films that defined an era - Boyz N the Hood. The 24-year-old became the youngest person, and the first African American, ever to be nominated for an Academy Award for Best Director. He also scored an Oscar nomination for Best Original Screenplay. His follow-ups were not quite on the same level but they were ambitious and showed that the talent was still there. Since the failure of Abduction, Singleton has only worked in television, both directing and producing a handful of series.
Most of the reviews made little mention of Michael and that may have served him well. Here are a few positive excerpts:
Jennie Kermode, UK's Eye For Film:
"There are some fantastic supporting players in this film. Alfred Molina is wonderful as always, even if his CIA agent character doesn't have a lot of depth. Sigourney Weaver has fun combining two of her stock characters as a thoughtful psychiatrist who doesn't take any shit. And Michael Nyqvist breathes life into a formulaic villain, doing great work in his brief scenes even if one gets the impression he was only cast for his blue eyes."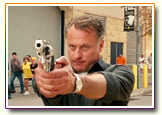 Tom Russo, Boston Globe:
"Also undergoing some Hollywood beta testing is Swedish star Michael Nyqvist semi-effectively cast here as a Serbian nasty on Nathan's trail. For a guy who alternately got to play crusader, hunk, and sidekick in his signature role, Abduction is a stock gig, but Nyqvist makes the most of it. 'I don't understand this game at all,' he says during a climactic set piece at a Pittsburgh Pirates game, equal parts menacing and wry. 'But I like popcorn.'"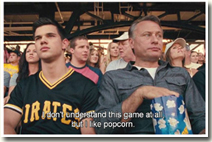 Rene Rodriguez, Miami Herald:
"The main villain, played by Michael Nyqvist is a textbook example of sleazy Eurotrash heavies, although at least he seems to be aware of the movie he's making and has some fun with his role. If he had a mustache, he would twirl it into a pretzel."
Jay Stone, Vancouver Sun:
"The mafia is represented by Kozlow, played with far more subtle menace than the picture deserves by Michael Nyqvist. The question of how Hollywood lured him with this role is more interesting than any of the issues raised in the movie itself."
Here's Michael in his Pirates T-shirt (perhaps a gift from the team) working out at the gym with his trainer Kalle.