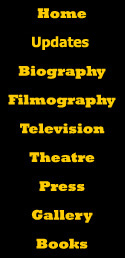 August 2018 Updates
August 30, 2018
The film pages for the two upcoming submarine movies have been posted. It's surprising that Michael was on location in France shooting THE COMMAND just weeks before his demise. It's also surprising that nowhere in the media was there any indication that Michael underwent any treatment for his lung cancer including chemotherapy. Perhaps it was diagnosed at such a late stage that nothing could be done or he opted for less invasive procedures so he could continue working. Many folks survive a lot longer than a year with the right treatment, sometimes even ten years like MLB broadcaster Jerry Remy. Michael's widow Catharina discussed her experience last January in the Tilsammans Mot Cancer campaign sharing old photos.
* * * * *
Some new additions to the Cannes 2013 gallery:
August 26, 2018

Swedish fans have recently been able to view the "MADIBA" TV series on SVT and SVT Play. That was the original title but SVT's presentation is called "Mandela - en kamp för frihet" ("a struggle for freedom"). The first episode was broadcast on July 9th, which was the first time Swedish viewers saw Michael in the role of Hendrik Verwoerd, the man who was South Africa's prime minister from 1958 until murdered in 1966.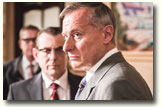 * * * * *
2018 Release dates for "Hunter Killer"

Netherlands: October 25
Singapore: October 25
Romania: October 26
USA: October 26
UK: November 2
Lithuania: November 2
Germany: November 8
Italy: November 8
Portugal: November 8
South Africa: November 23
France: December 12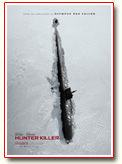 August 24, 2018
Back in 2010, the Swedes decided to copy our "Inside the Actors Studio" hosted by James Lipton and they created their own version with Stina Lundberg Dabrowski interviewing at Filmhuset. Their first guest on April 8th was French actress Catherine Deneuve. Among some of Sweden's actors who wanted to take the opportunity to see and listen to the famous beauty was Michael and he came alone. According to reports, the French star looked at Stina with wrinkled forehead and wrinkled nose and objected to most questions. Yes, Stina did not look so comfortable when Catherine Deneuve denied every statement and questioned each question. I'm sure Michael was greatly disappointed.
August 22, 2018
Michael's filmography includes a 1996 comedy called SÅNT ÄR LIVET (Such is Life). It had to be a very minor role because there is no mention of him in reviews nor any movie stills of him. Writer/director Colin Nutley is one of the best-known names in modern Swedish cinema and this Englishman has given some very insightful views into the Swedish way of living and thinking with a sharp eye for oddities and particularities. Hence, the tools for comedy.
Nutley uses his regular leading actress (and real-life wife) Helena Bergstrom as the star of this dramatic comedy about love, broken promises and fulfilled dreams. Overall, critics called it a fine piece of filmmaking, with Nutley once again taking a clear-eyed outsider's view of his adopted country and its inhabitants. It's bleak subject-matter but told in a darkly humorous way.
Among the cast members was Lena Nyman, who starred with Michael in the theatre production "Å ena sidan". I just found this photo of the pair back in 2001 at the time of the play.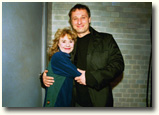 Lena also joined Michael for a quick shoot on SVT's "Kobra" show in October 2005. You can watch it at this youtube link. Commenting on his involvement, Michael said, "I think 'Kobra' is a crazy program so I was very happy when they called." The second photo shows Michael with "Kobra" co-stars Lena and Kristina Lugn.
* * * * *
From an online archive is this photo dated January 1986 described as "newly recruited students to the theater school in Malmö."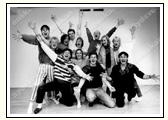 These two photos show Michael's graduation photo in 1989.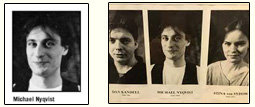 When Michael was admitted to the school in Malmö in 1986, he met Krister Henriksson, whom he later co-starred with in one of the Wallender episodes. When Michael died last year, Krister spoke about his colleague. He said, "He came to me when he was at stage school and I was initially a teacher to him. That's what our relationship was. I was the teacher and he the student so we never became friends without that particular relationship between us. I saw an enormous talent in him. We worked at the same theater but never with the same productions. I think Micke was a little shy with me. I was an authority in his eyes." He added, "The great thing was the uncertainty he always brought with him, which he often spoke about. He was adopted and abandoned in early years and I think that uncertainty is something that forms a whole life. Being abandoned by his mother, it is clear that it creates some will to be loved."
During the filming of the "Mastermind" episode in the Wallender TV series, Krister and Michael resided at Ystad Saltsjöbad, a beachfront hotel and spa in Skåne. Krister recalled, "Sometimes we would take an evening walk together. Micke was not a party animal, but extremely disciplined and dedicated to his job."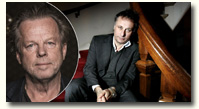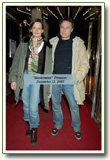 Krister had seen Michael a few months before he died. He recalled, "I knew that he was ill and could tell with my own eyes that he looked sick, so I understood that there was something. But not that he would die. It was not supposed to end like this because he had so much left to give. He was enjoying an international career and still moving forward. Some are already in their 40s thinking, 'Now I'm Here and Here It Will Be'. But Micke always moved forward many thanks to his huge curiosity. I'm sorry that it will end now. I had looked forward to his future."
Krister with his actress wife Cecilia Nilsson at Michael's funeral: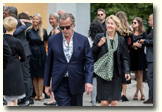 August 18, 2018
One of Michael's earliest theatre appearances was in ANGELS IN AMERICA, which was staged in two parts in 1995 and 1996 at Stockholm's Stadsteater. In 1993 Tony Kushner's play premiered at the Eureka Theatre in San Francisco's Mission District. Within two years it had won the Pulitzer Prize and begun a New York run that would dominate the Tony Awards two years in a row, revitalize the non-musical play on Broadway, and change the way gay lives were represented in pop culture.

Michael played the role of Louis Ironson, who embodies all the stereotypes of the neurotic Jew: anxious, ambivalent and perpetually guilty. Yet that guilt does not prevent him from leaving his lover Prior when he contracts AIDS. Louis's moral journey, from callous abandonment to genuine repentance and sorrow, is one of the key maturations in the play. His awakening of responsibility parallels the awakening that the play seeks to awaken in its audiences. Critics often call Louis a stand-in for the playwright.
* * * * *
The 100 CODE TV series has come to an end on WGN America. I watched it mainly for Michael's performance so I often fast-fowarded scenes, thereby not carefully following the plot. Some characters were terribly annoying like Hanna, Michael's on screen daughter. Her character was so dislikable and her dialogue with her father continually showed unforgiving disrespect and I just wanted to slap her. Who writes this crap? Michael did not disappoint, but at times it was difficult to distinguish this new "Mikael" from the "Mikael" of the Millennium Trilogy. He could have developed a more unique personality. Possibly the script was to blame and it didn't help that the name was the same.
Michael discussed his character in an interview saying, "I did not want to show him tired, but angry. He is afraid of himself." I think he shows him more tired than angry. The series is based on the novel by Irish author Ken Bruens but Michael refused to read the book before filming because he believed his personality should be reflected in the role. Perhaps he would have benefitted had he read the book. On the cultural differences, he made me laugh when he said, "Americans are louder, more vulgar, more brutal. We Swedes live in fear, looking out the window and wondering if God exists."
Co-star Dominic Monaghan's past comments about Michael indicate he had a lot of respect for him as an actor and a friend and appreciated the opportunity to work with him. Dominic told the press, "Looking back now, a lot of my memories were interactions that I had with Micke - laughing and joking and enjoying each other's company. He was a lovely, lovely guy. And, obviously, it was very sad to hear that he got sick and passed away. He was very friendly, very welcoming, very cool. He was generous with his time."
In a recent phone interview, Monaghan said that while filming in Sweden, Micke was his guide to Stockholm, offering dining tips, places to see and people to meet. He continued, "He was kind of my way in to Stockholm. I spent Midsummer with him and his family, which was an unforgettable experience. Everyone has to make a toast to people and sing songs, drink vodka and eat amazing food. I had a great time with Micke. He was a fantastic actor and someone who was really fun to work with because he came prepared with an idea and he played. I like actors that play, and he was very playful. I loved working with him."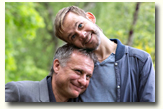 Monaghan also commented on Twitter - "He was a nice man with a contagious smile, a good dad and a good actor."
Here are some new photos taken on location during filming. I love his hat, which he often wore on shoots.
August 14, 2018
With the sixth installment of the "Mission Impossible" series premiering in US theaters a couple weeks ago, it's time to look back at Michael's villainous role in the fourth installment called "Ghost Protocol". What's strange is that after reading over 150 reviews, in the majority of them, he's never mentioned. He should have been thankful for that because if he were discussed, there were unfavorable comments.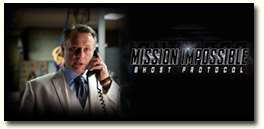 As the baddie Kurt Hendricks, Michael had possibly ten minutes of screen time out of the film's 138 minutes with perhaps twenty lines of dialogue. He and Ethan Hunt don't share one exchange of dialogue throughout the film. Villains are usually the highlight in films of this genre. They give us the most colorful characterization, the most flamboyant performances. As the nuclear war madman, Michael isn't asked to do much more than carry a steel briefcase, look menacing, and fight Tom Cruise, which he does in the parking garage sequence at the end of the film. We know that the original script called for more screen time because in his book Dansa för oss, Michael writes about the devastation he felt at the film's NY premiere when he realized some of his best scenes were on the floor of the editing room.
David Germain from the Associated Press wrote, "Nyqvist shows hints of the unhinged villain he no doubt could play with relish. But he's unfortunately shackled by a few brief scenes that never give him a chance to unleash his inner Blofeld."
Though the present installment "Fallout" has a rating of 97% on the Rotten Tomatometer, "Ghost Protocol" wasn't far behind with 93%. It shows that an undercooked plot and a weak villain ultimately mattered little because director Brad Bird imbued the film with exotic locale shots with wide framing, a focus on glossy style over dark grit, ambitious stunts rather than generic shootouts, a variety of high-tech gadgets, and even a sense of humor.
I don't believe Michael ever regretted doing the film. He must have been paid handsomely, maybe 2 or 3 million, out of the production budget of $145 million. He told the press, "It's hard work to be involved in such a giant project. Sometimes you work for nineteen hours. But it's fun too. In particular, I felt that I would never get to do this in Europe."
After Michael's death last year, several of his close friends shared how he loved discussing Hollywood gossip, such as Tom Cruise's entourage of cult healers and therapists. However, he was discreet in always being gracious when talking about the controversial superstar with the press since there were confidentiality clauses in his contract.
Michael was actually in New York at the time he was offered the role. He had a week off from filming "Abduction" in Pittsburgh. After discussing the five-month shoot with his wife, he signed up. He said he must be "stupid in the head" not to. He first met Cruise in Prague where filming started in October 2011. Cruise wanted to speak with our Swede about Ingmar Bergman. The action star has never shown much complexity, depth or intelligence, so I was surprised he would be truly interested in European art films but perhaps that was his way of engaging Michael.
On working with Cruise, Michael said, "Tom did his stunts himself. Heights are not my thing at all. I was nauseated just by looking out the window. He, on the other hand, would be out there hanging. I told him that 'you have to be born on a ladder. You're supposed to be scared up here'. 'No, no,' he said, 'it's just fun.'"
He also tells this funny story about the Bura Kalifa shoot: "I was in Dubai for a month and I was there when he climbed the tower. The guy is really crazy! I was really impressed. Before I do that myself, I prefer to shoot myself! I read a Swedish newspaper online at the hotel and they had a holiday video from a Swede who filmed his wife in front of one of the windows in the Burj Kalifa. She just said a few greetings to the family: 'Hi, I'm here in the Burj Kalifa, the tallest building in the world, outside you see Dubai - and there's Tom Cruise.' The camera wobbles, the man asks 'what?' and she says, 'Yes, Tom Cruise was just climbing down there.' And then he came up again. He had to take another shot and waved into the camera."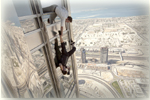 Summing it up, Michael told the press, "'MI: 4' is, in a sense, an American James Bond film. Everyone on the planet knows 'Mission Impossible'. I am honored. The shoot took a long time. It became my life. We traveled around the world and had a great time. I do not know how old I was when I saw 'Mission Impossible' for the first time. Where I come from as an actor, you mainly shoot dramas - that's what I love too. But to shoot an action movie, and then in the US, where you understand something of it, that was a challenge and a kick."
At one point in the film, our villain is shown in some archival footage during the Cold War. For that shoot, these new additions show Michael on location as a younger Hendricks with brown hair instead of his silver gray.
* * * * *
After some investigation, I've discovered the new URL for The Michael Nyqvist Foundation. The domain name used to be michaelnyqvistfoundation.org and now you must access at -
https://anders-tempelman-4n2b.squarespace.com/
I have no idea why they wouldn't continue to pay the measly cost for the domain name. It's up for sale right now. Obviously, Anders Tempelman was a friend of Michael's. He had written the script for the film, EN VETERINÄR FÖR MCYKET, in which Michael was to make his directorial debut. On Anders' web site, you can find this quote from Michael: "The most interesting thing about Anders, isn't what he writes or even how. It's the fact that he writes. This isn't the beginning, not the end, but the start of an ending you didn't think was possible. That's the way Anders is, so good you don't know how it's going to end. Like mogul skiing with mini-skis, hilariously impossible."
* * * * *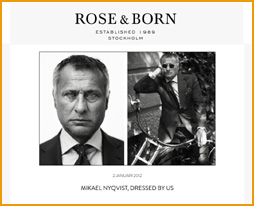 August 10, 2018
Michael's filmography now includes a film page for the 2005 Norwegian psychological thriller NABOER. It actually means neighbor but the filmmakers decided on NEXT DOOR for its English title. I'd love to say Michael is memorable in this movie, but, unfortunately, he doesn't bring anything unique to his minor role. In the lead as John though is Norwegian actor Kristoffer Joner, whom I have previously seen in The Wave, The Revenant and King of Devil's Island. An engaging actor, Joner can bring the right amount of creepiness to his various characters.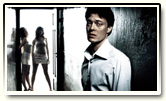 When his girlfriend Ingrid leaves him, John is quite upset. More so than he initially realizes, and Next Door is essentially the story of that realization. Invited into a rather strange apartment by a couple of strange neighbors, things get strange rather quickly. The apartment is inhabited by two attractive women named Anne and Kim, and is laid out in an Escheresque manner that enhances the nightmarish world that John has entered.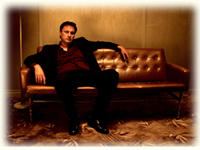 There are a few disturbing scenes as the story delves into the depths of John's sexual preferences that make for difficult viewing. This is more than rough sex. Seamlessly blending in shades of Hitchcock, Lynch, Cronenberg and Polanski, the writer/director pulls the audience into a terrifying and claustrophobic world of one troubled man. Personally, it brought to mind scenes from Blue Velvet and The Shining and evoked the famous quote from Twin Peaks - "The owl is not what it seems".
The movie was highly anticipated in Norway, particularly because of certain scenes earning the film an over-18 rating. Norwegian reviewers were highly positive about the movie. Jon Selås, writing for Verdens Gang, gave the movie six out of six points. Selås called Joner's performance the best of his career. Dagbladet's Inger Bentzrud called the movie "intelligent", and gave it five out of six points. This particularly haunting mix of psychological terror and erotic thriller turned out to be one of the best examples of horror films from Scandinavia. It was screened at several film festivals and had a worldwide distribution.
When the film was screened at the Philadelphia Film Festival, Todd Brown of Screen Anarchy wrote, "It is very likely the best film I have seen all year and I would go as far as to say this is a landmark film in its particular genre, one of the very best films about sexual obsession, violence and paranoia ever made. Next Door is an absolutely ferocious powerhouse of a film, grabbing firm hold from the opening scene and not slackening its grip until the potent final image has faded from the screen. Wow. Just wow. Equal parts Hitchcock and Lynch, this is a dark, twisted, surreal trip into the depths of the human psyche."
* * * * *
There's a new addition to the 2015 photo shoot gallery. Check it out!
* * * * *
I came across these screen captures from the 2016 movie I.T.
"I.T." had a wide distribution internationally but on the review aggregator website Rotten Tomatoes, the film had an approval rating of 10% indicating generally unfavorable reviews. Justin Lowe of The Hollywood Reporter wrote, "Michael Nyqvist, playing a shadowy security expert who assists Mike in dealing with his unwanted admirer, has had many more impressive turns than this underwhelming supporting role" while critic Christian Toto added, "Let us hope he picked up two salaries for his troubles." Ouch! About this time, I think a new talent/booking agent was in order.

When Michael finished filming, he described his role - "Henrik is an IT technician with Asperger's Syndrome so it was a fun and interesting role to play with different diagnoses." I think this was Michael's personal take on the character. He did tell the press that Pierce Brosnan was "very nice" adding "it turned out we had the same theater teacher and also common friends, such as Stellan Skarsgård."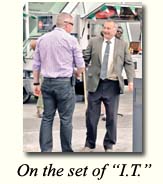 August 6, 2018
Adding to Michael's television work is a page for REUTER & SKOOG, a comedy series starring Suzanne Reuter and Ulla Skoog, who were referred to as Sweden's funniest women. The sketch program was shown for the first time in the winter of 1999/2000 in SVT and became a big success with almost a few million viewers on average. The series was broadcast in 16 episodes in two seasons 1999-2000 and 2001. Michael appeared in two episodes in 2001 - "Framgångsrika kvinnor" and "I sanningens tjänst." A selection of scenes and sketches have been published on both VHS and DVD.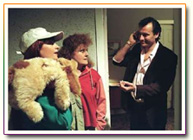 Michael also worked with Suzanne on stage in the 2005 Edward Albee play, "Geten Eller Vem Är Sylvia". Here are a couple more publicity shots from that production.
* * * * *
Happy times... This is a photo taken five years ago showing Michael and wife Catharina celebrating their 15th wedding anniversary at Stockholm's Grand Hotel. It was August 2013 and they are seated in the hotel's beautiful Cadiar Bar.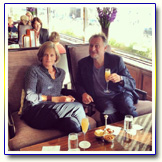 * * * * *
I've added these seven new photos to the "Min så kallade pappa" photo gallery. They were taken on August 18, 2014 when the film premiered at the Swedish Film Institute.
August 2, 2018

Back in the summer of 2015, Michael was involved in some ad campaigns for a boat he purchased, the Ockelbo 18AL. Having grown up with summers in the archipelago since he was little, he knew Ockelbo was a name that was almost holy. He was especially interested in this model and was one of the first to purchase it. Michael was fascinated by its stability explaining that the hull had extremely good balance. You can watch a video interview with Michael in which he discusses his decision to go with Ockelbo.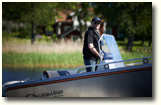 His summer residence in the northern archipelago was a place that he referred to as his "paradise" describing it as "incredibly beautiful". Here are some of his own photos:
* * * * *
The trailer for the upcoming film HUNTER KILLER has been released and can be viewed at this link. On July 19, 2016, Hollywood Reporter announced that Michael had joined the cast of the submarine action film in the role of Captain Sergei Andropoyov. Filming began the following week in London.
Directed by Donovan Marsh, the film stars Gerard Butler, Gary Oldman and Common. Based on the novel Firing Point by George Wallace and Don Keith, Hunter Killer is set below the polar ice cap and centers on a submarine commander who teams with a group of U.S. Navy SEALs to rescue the Russian president that has been kidnapped by a rogue general. It is up to the untested submarine commander and his crew to keep Russia and the U.S. from the brink of a nuclear confrontation.
The following are some screen captures from scenes with Michael. The film is due to be released on October 26 in the states.