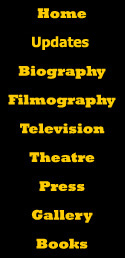 October 2017 Updates
THE MICHAEL NYQVIST ARCHIVES
October 31, 2017
In honor of Halloween, here's a photo from Michael's own stash showing him dressed as a clown. We all know what a wonderful sense of humor he had. I have no idea as to the story behind the photo. He posted it himself with the title of "It" referring to the Stephen King clown. Well, he's a long way from looking scary. Have you seen Bill Skarsgård as Pennywise?

* * * * *
I came across this photo of a young boy trying to imitate the Sanna Sjöswärd portrait. Cute! You can read more about Michael's photo on my September 16th posting.
* * * * *
Here's a new addition - portraits of Michael taken on February 16th of last year at the Berlin International Film Festival. Very somber poses. These portraits were taken in connection with the premiere of Pernilla August's "A Serious Game". He also attended the screening of "Colonia" in Berlin on February 5th.
* * * * *
I happen to notice while browsing the photos from the Guldbagge nomination ceremony in January that Michael was wearing his "f**k cancer" bracelet. The close-up is his own photo.
As most of you know, Michael didn't attend the awards ceremony to receive his Guldbagge for Best Supporting Actor ("A Serious Game") but a video was shown during the ceremony with Michael giving many thank you's. You can view it at this link.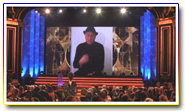 October 27, 2017
What a coincidence that Michael should do a film called DAY AND NIGHT (Dag och Natt) in 2004 and then make a film ten years later called "Days and Nights". The first one was far superior and was quite unique. The action all takes place in one day in a car with two cameras mounted on the dashboard - one facing the driver and one facing the passenger seat. The audience is told by a narrator that Thomas (Mikael Persbrandt) will commit suicide by shooting himself in the head by the end of the day. A six-word description might read, "Two cameras, one car, endless despair".
It's certainly a story of broken souls. Thomas's farewell is his way of banging the nails into his own coffin. The conversations with his passengers confirm his self-hatred and his self-contempt. Everyone he loads into his car are people who gave him love and friendship. Probably the most heartbreaking scene is with his mother, who he abandons on a beach, blindfolded and confused as she calls out his name while he tries to kill himself.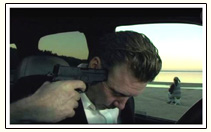 The list of actors who play the various passengers reads like a producer's wet dream of Swedish talent. I especially enjoyed the powerful performances of Lena Endre as Thomas's angry ex-wife and Pernilla August as his tormented sister. Michael plays Jacob, his friend, and perhaps it's the only segment that might make you smile as they stop at a McDonalds and the ravenous Jacob mischievously orders several items and ends his order with a "McThanks!".
Interestingly, the film received 8 nominations for a Robert Award, Denmark's equivalent to the Oscars, but failed to win in any category. The consensus was why should the Danish Film Academy vote for Swedish actors or a supposedly Swedish film. A director who, instead of pursuing his work in his own country, will hardly be rewarded. Screened at various film festivals, it won the Silver Hugo Award at the Chicago International Film Festival.
* * * * *
Back in 2014, photographers Sophia Forsberg and Jesper Hallén decided to do a celebrity calendar where all revenues would go to the City Mission in Gothenburg. Michael agreed to participate and chose to be photographed in a Thai boxing session. Because only 12 portraits could be used for the calendar, all portraits were exhibited and went on sale at the city's library right before Christmas. In March of that same year Michael participated in the 2014 Swedish Martial Arts Awards presenting winner Janni Larsson with an award for being an excellent role model. For many of his movies roles, he practiced several forms of martial arts, such as Jujutsu, Thai boxing and kickboxing.
October 25, 2017
The Scandinavian Film Festival is taking place this week in Hungary and among their list of films is "A SERIOUS GAME", which will be screened on Saturday. Nordisk Film released it on DVD in January for Region 2 without English subtitles. However, an English version is being shown in Hungary so hopefully that edition will be released on DVD in the coming months. You may remember that Michael received a Guldbagge for Best Actor in a Supporting Role in this film.
When filming in the spring of 2015 took place in Budapest, Niclas Trouvé, Sweden's ambassador to Hungary, visited the production. This photo shows him with Michael in costume.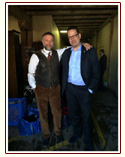 * * * * *
There's a new gallery of photos taken on November 9, 2012 when Michael attended a screening of "Hotel Noir" in NYC with his wife. In some of the photos he poses with the film's star, Rufus Sewell, who he co-starred with in "Downloading Nancy" in 2008.
October 22, 2017
I've added a new gallery called "Cannes 2013". Michael had just finished shooting "Min så kallade pappa" (My So-Called Father) and was asked to meet buyers during the Cannes Film Festival. He was interviewed by Variety Studio at Chivas House on May 19, 2013 and was photographed. Variety did keep that interview online but has since taken it down, but you can access a Cannes interview at this link (in Swedish).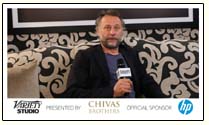 Michael's widow Catharina has seemingly become friends with actress Vera Vitali since the actress co-starred in the "Pappa" film. Vera attended Michael's funeral and when she came to New York earlier this month for the NYFF at Lincoln Center, Catharina joined her. Vera's father Leon, also an actor, is the subject of a documentary called "Filmworker", which was screened at the festival. Vera can be seen in the film as well as Pernilla August and Stellan Skarsgård. Sounds very interesting. Leon evidently surrendered his thriving career to become Stanley Kubrick's loyal right-hand man, almost as an obsession. And he's the one who came up with the "Arbus twins" idea for "The Shining". Clever!
* * * * *
Here are two more photos from the promotional photo shoot for ISKARIOT.

October 20, 2017
Michael has been in three films with actor Gustaf Skarsgård - Arn, Detaljer and ISKARIOT. Gustaf plays a drug addict and in 2008, he himself was addicted to drugs and booze though he pretended to research the subject. Since then, he has come clean. Wonderful!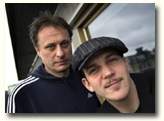 Michael plays a mafia boss called Masen who heads the drug ring. He said he received inspiration from several directions. He told the press, "I was thinking about Svartenbrandt. I remember an interview where he sounded really nice but talked about such nasty things completely unrelated, just like a psychopath." For those unfamiliar with Svartenbrandt, he was described once as the most dangerous man in Sweden, having spent almost 40 years combined in prison for several robberies, violent crimes and prison escapes.
Michael admitted, "The hard thing about doing this kind of role and running around with play guns is that it can easily look a little ridiculous." He decided to play the villain as a sympathetic person with a strong but dangerous ethic. He adds, "This was my own idea. He is mean but he has a moral codex. What drives him is really justice. He is very ethical in the same way that Hitler was. He is a mix of Bert Karlsson and Hitler."
It's interesting to note that when the film was sold to Germany, the title was changed to "Millennium Brüder". Since the "Millenium Triology" was about to be launched, the distributors thought the film would be marketed better with the word "Millennium" slapped on the DVD cover with Michael's face rather than the titling brothers who are the leads in the film. However, they gave him this rather strange blue eye that makes him look like an alien. Not recognizable as Michael Nyqvist!

There's a little story about this next photo. The press was having a standard interview with photos in a hotel room for the film's premiere. According to the photographer, the actors were tired of the reporters' repetitive questions and he was looking for a good shot. He was seated on the floor in front of a sofa with Gustaf, Michael, Helena Af Sandeberg and Jacob Ericsson when Michael slips backward on the couch with his feet on the table giving this fat kick straight into the camera, which immediately flashes. The photographer felt he had gotten an illustration of a gangster at home.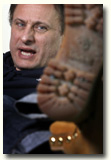 October 16, 2017
I've added a new photo gallery featuring photos from a fashion shoot Michael did for Esquire magazine in their 2012 spring/summer issue.
October 14, 2017
Scandinavia has long been known for its crime novels and one of the most successful of the Nordic authors was Henning Mankell with his series of detective Wallander books. During the 1990s several movies were made based on these books starring Rolf Lassgard. Then the decision was made that some of the stories would be adapted as a television series with Krister Henriksson as the new WALLANDER. The first series consisted of 13 episodes and were shot between 2005 and 2006 with the setting in Ystad, Skåne near the southern tip of Sweden. Michael played the villainous Lothar in Episode 6 called MASTERMIND. Of the first 13 stories, "Mastermind" was one of the three that premiered in cinemas with the rest released as direct-to-DVD movies or shown on television.
The episode is available online with English subtitles at several web sites. I was able to view it on Hulu and get some screen shots of Michael since the producers are reluctant to reveal photos of the "mastermind criminal" in their trailer and movie stills.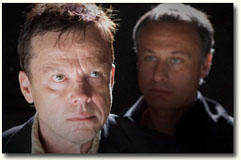 October 11, 2017
About 12 years ago, Michael had a minor role in two films that were part of a Norwegian TV drama series for children. Both films were directed by Thomas Kaiser with a script written by Arthur Johansen. The first was called VEDDEMÅLET (The Bet) and was released on December 4, 2004. The second was called SKATTEJAKTEN (The Treasure Hunt) and premiered on September 24, 2005. Michael played one of the fathers, Ake Sterner. Sadly, there are no photos of Michael from these films. If anyone comes across one, please forward a copy to the Archives. Tack!
October 8, 2017
This web site continues to grow! Such a satisfying project to create this online history of his work, which will keep his memory alive and honor his contribution to the arts. OM STIG PETRÉS HEMLIGHET (About Stig Petré's Secret) was a Swedish TV series broadcast on SVT in three parts beginning December 5, 2004. The series was filmed in Gnesta, which also became the film location for "The Girl with the Dragon Tattoo" four years later. Here are some new photos of Mikael Blomkvist: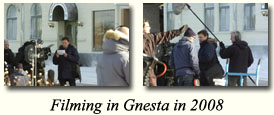 In the 2004 TV series, Michael plays the title role of Stig, who's told he needs to seek some therapy when he starts to unravel as the CEO of a company he inherited from his father. The group sessions are a vehicle for much humor in the series. Michael said, " I got the script in my hand and could not stop reading it." He felt it was a nice blend of humor and tragedy. In fact, he thought it was the funniest script he had read in a long time and was glad to join the cast.
When the series premiered, Michael was interviewed and shared his experience of psychoanalysis. He said, "It was amazing and very rich. Before one felt ashamed to go into therapy so it's good things have changed and it's now acceptable. For me, the years in psychoanalysis have meant a lot."
Michael went to therapy for 11 years, four times a week. He said the reason for his need for therapy was due to his divorce from his first wife Pinita Rodriguez, mother of his daughter Ellen.
October 3, 2017
I've delayed adding ABDUCTION to the Archives because it's such a dreadful film. The reviews were uniformly horrendous. On the film page, you can find links to access his LA premiere interview as well as his interview with Trailer Addict. I don't quite understand why Michael's entry into Hollywood films resulted in a barrage of action thrillers where he plays the Eurotrash villain. In "Abduction", he plays Kozlow, some kind of Serbian spy who spends the whole movie trying to track down Nathan, played by "Twilight" star Taylor Lautner. Michael seemed to relish the role, hamming it up in the final scene at a Pittsburgh Pirates game. He always talks about the fun he has playing the bad guy and he certainly appeared to be having fun in this role.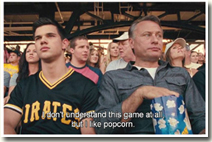 I've also added a new photo gallery highlighting the September 15, 2011 LA premiere of "Abduction".