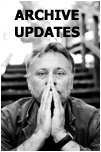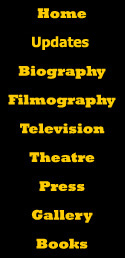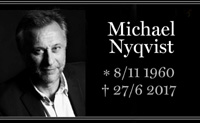 October 13, 2018
Here's an article from a 2007 magazine from the Swedish Film Institute. It's refreshing to hear from a non-Hollywood thespian who thinks of himself as a conduit rather than a mega star. Michael explains, "What I can do as an actor is to make things tangible. It's not about glamour. Our job is to connect, to act as a time machine."
* * * * *
Melodifestivalen is the Swedish music competition which selects Sweden's entry for the Eurovision Song Contest. In March 2016 Michael and Pernilla August participated in the grand finale interpreting Timoteijs "Kom", the Melodifestivalen 2010 entry. You can watch it at this youtube link. Director Edward af Sillen revealed that there was much laughter during the recording as Michael and Pernilla performed the song as a Chekhov drama. He referred to the pair as two of Sweden's greatest actors.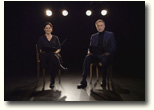 October 11, 2018
Two plays have been added to Michael's theatre works. Both were performed at Dramaten. A reading of the play Dömd (Judged) by Alfhild Agrell had one performance in 2007. And in 2002, En natt i den svenska sommaren (A Night in the Swedish Summer) by Erland Josephson had 56 performances.
* * * * *
Here's another pic from Michael's reading and signing at the Academy Bookstore in Stockholm on April 6, 2013 when his book Dansa för oss was published. He looks especially old and tired.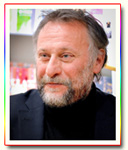 Three years later, he actually looks younger in this photo when he poses with photographer Andreas Hellqvist.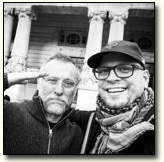 * * * * *
Michael was a guest on an episode of the Bergs Bärbara talk show, which aired on November 7, 2013. A blogger noted that Michael turned out to be an entertaining and friendly person. And apparently with the women. A lady in the audience said she felt that Michael Nyqvist was not just sexy, but even naughty! Oh Lordy, Lordy...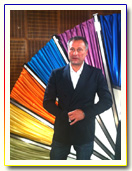 October 9, 2018
More movie stills of Michael from HUNTER KILLER, premiering October 26 in the USA.
* * * * *
When someone dies from lung cancer, you immediately think of a smoker and yet there was no information at the time of Michael's death in regard to his smoking habit. However, the photo below shows him lighting up and even in his own book, he writes about how he smoked cigarette after cigarette while waiting to meet his father. Did Michael ultimately meet his fate through his addiction to nicotine?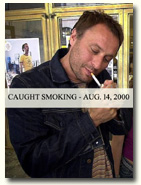 October 7, 2018
There are more pages added under Michael's television work. Almost complete! His very first TV film was Kamraterna (Comrades) in 1982. Bodil Malmsten adapted the August Strindberg play for a television movie. She was known as a poet and novelist but decided to direct the play herself. Sadly, she too died of cancer the year before Michael, but she was 15 years older than him. The play is set in Paris in 1886 and deals with marital problems. Michael's role was very limited and I'm not sure he even had any dialogue as he played a model. In the notes for the play, it says "naked male model". Not sure if Michael kept his clothes on.
In his early days as an actor, he also appeared in one episode in the following TV series: OP7 (1998), Emma åklagare (1997), Zonen (1996), Anmäld försvunnen (1995) and Kvällspressen (1992).
* * * * *
I'm not sure when this photo of young Michael was taken. I would guess he was around ten years old.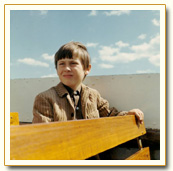 * * * * *
A handsome photo shoot for an unknown magazine:

* * * * *
I found the following fashion blog interesting in regard to the Millennium Trilogy:

Cilla Rörby's overall look for The Girl with the Dragon Tattoo is relaxed and modern. Nearly every character is granted an air of clean European chic, from co-owner of Mikael's left-wing magazine Millennium, Erika Berger (Lena Endre) in immaculate trouser suits and midi-length trench coat, to wealthy Martin Vanger (Peter Haber) in his zipped-up Barbour, to Mikael himself in long sleeve buttoned t-shirts, blue or grey v-neck sweaters, plain white shirt, indigo Lee jeans and trendy short leather jacket.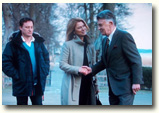 Mikael is an activist not a stuffed shirt; he does not even wear a suit for his sentencing in court at the start of the story. He dons a grey flannel lounge jacket for his postscript with Henrik Vanger (Sven-Bertil Taube) but even that is teamed with blue jeans and white shirt. He is the flipside of Lisbeth because his own vaguely radical style is seen as customary whereas hers is unacceptable. Mikael can be slobby, just like Lisbeth, and is just as comfortable in exposing his body.

In the follow up film, The Girl Who Played with Fire (2009), Mikael remains almost the same in terms of costume from The Girl with the Dragon Tattoo. He wears a new leather jacket with tab collar although the cut is still recognizable, plus the knitted sweaters and long-sleeve t-shirts return. His look is as consistent as his character. Likewise Erika, who in a belted cashmere poncho and wool rollneck is just as elegant as ever.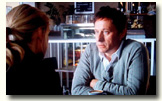 In the final installment, The Girl Who Kicked the Hornets' Nest (2009), Mikael becomes noticeably scruffier during this story. His clothes are changed infrequently; apart from re-emergence of the same leather jacket he wore throughout The Girl with the Dragon Tattoo, much of his original charisma has evaporated.
October 2, 2018
If you've read Michael's first book about his search for his biological parents, the Expressen article I just posted won't give you any new insights into his adoption drama. For those who don't understand Swedish and haven't read the book, you will discover a sad, heartbreaking story. It was featured in the newspaper's July 16, 2017 edition following Michael's death. I think the part about his being a one-year-old in an orphanage with an empty ketchup bottle as his only toy will pull at your heart strings.

* * * * *
Even when it wasn't summertime, Michael obviously loved boating and in this photo, we have his beloved dog Charlie waiting for his master on the pier.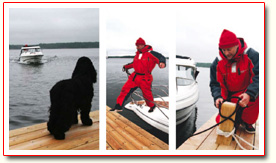 September 26, 2018
Michael was interviewed in the October 2016 issue of Goda Vänner in which he spoke about the launch of his own wines and the roots of his Italian family. He confessed that his love of wine was rooted in his interest in food. When away from home shooting a film at various locations, he preferred renting an apartment rather than staying at a hotel so that he could cook. He said, "It's like meditation for me to cook." You can read the interview at this link.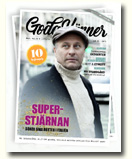 Then eight months later on June 28, 2017, the magazine featured this editorial at the time of Michael's death:
I wanted to interview Stellan Skarsgård but his agent informed me that he was too busy. But there was an alternative: I could talk to Michael Nyqvist instead, if I wanted to. Today, this meeting that led me to meet Micke is something I'm hugely grateful about.

Said and done, I traveled to Stockholm, stepped into an unfamiliar location without having much hope. Two hours later, I was totally overwhelmed with warmth, humor and had experienced a contact that's so hard to get with anybody. But that's the way he was. I do not think my meeting with him was unique. He could have charmed any of the chairs.

And now he is no longer and it is so sadly sad. I look back at pictures from the day that remind me again that this is a sorrow that affects everyone. The chronicles and words of praise I have read speak about his character and his acting and I cannot help but agree.

When we met, I did not know he was sick. When I found out that he had died, the shock came, as it usually does, along with the difficulty of understanding that a person who was obviously present in the same world as yourself is no longer alive. But how do you deal with the grief for a person you really did not know, a person you shared a few hours with? I liked Michael Nyqvist but I did not know him.

My reaction was right, I quickly surfed Systembolaget and bought 11 bottles of Michael Nyqvist's two wines (Cin Cin Chianti and Cin Cin Brachetto d'Acqui) in the virtual shopping cart. It was the wine we drank together as we talked, and that was my way of commemorating the memory of someone who made an impression.

Rest in peace Micke.
In a 2015 article in Varldens Viner, Michael shared:
"I come from the family Lo Cicero, an old wine family in Palermo, Sicily. Here the grapes grew on the sun-drenched hills and then bottled under our family name. Grandfather Cesari trampled his wine, tasted his aperitif and fell in love with Francesca, my grandmother. Over time, grandmother became a well-liked sommelier and she had a well-traveled cantina for many years. Everything was peaceful and happy until grandfather was forced to settle in Casablanca because of the Mafia."

But eventually, the family returned to Italy, then to Tuscany when Michael Nyqvist's own father Marcello studied to become a pharmacist and chased good wines.

"I have walked in his footsteps and finally found him when I found the vineyard with the very best Chiantin. A wine, already at the cork opening, provides scented associations to La Cucina Rustica, the Tuscan cuisine which, with its musty, sunbreaked flavors, requires its Chianti. The family's traditions live on."
September 22, 2018
I've added an article to the press section from UK's The Times regarding Michael's career and his death. Adoption doesn't have to be a traumatic experience but for Michael, his parents certainly did not handle the situation well. It's always heartbreaking to read how Michael's childhood was so affected when he was told to keep his adoption a secret. He says, "Bearing that secret made me mentally isolated. All the time I was afraid to say something wrong. It felt like I was walking around with a bomb belt that could explode at any time. In addition I thought that child welfare could come and pick me up if I did not behave properly."

* * * * *
Another of Michael's theatre productions has been checked off. In February 2004, he appeared in the play "Terrorism" at the Royal Dramatic Theatre. Directed by Stefan Larsson, the play has been described as "a black, black comedy looking at terrorism in the micro-perspective." Written by Russian brothers, Oleg and Vladimir Presnyakov, it is the duo's best known and most widely performed play.
* * * * *
Joking around for the camera in May 2016, Michael looks happy and healthy just a year before he died.

September 18, 2018

On January 28, 2005 a short film called "Skuggvärld" premiered. At only 5 minutes, it was indeed short. Filmed in Stockholm in black and white, it was written and directed by Niklas Olsson and starred Michael, Jessica Forsberg and Cilla Thorell. It can be viewed in full at this youtube link. I thought it was interesting that the assistant production manager turned out to be Sam Skarsgård, the only one of the five oldest Skarsgård boys who didn't become an actor, but rather a doctor like his mother.
* * * * *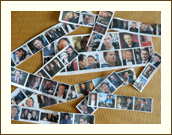 * * * * *
Nordstjernan, September 18, 2013:

Actor Michael Nyqvist has turned author. His first book, "När barnet lagt sig" deals with adoption and Nyqvist's personal search for his biological parents. In his new novel "Dansa för oss", he digs into questions regarding the choices he's made in life, which has led him to where he is today. "The book has been in my head for three, four years and was written while I was traveling: in airplanes, during film shoots and in my loneliness in New York," Nyqvist says. Writing, he states, is very different from acting. "In my writing I am responsible for everything that's put on the paper. I can't blame anyone for a particular cut or bad lines." He also says he's been too shy to talk about his writing with other actors, but that by writing he wants to "change the world from the inside out." "I want to show what's human in the hopes that it will help others to see themselves and to be angry at the same things I am angry at." Nyqvist's books have whet his appetite and now he's looking forward to a new project: "I am curious about lies; how they are used as power tools and as a phenomenon in general," he says.
Archive Updates:

2018: January, February, March, April, May, June, July, August, September
2017: April, May, June, July, August, September, October, November, December