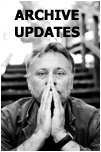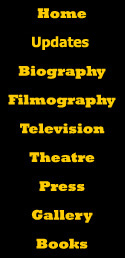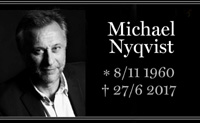 November 10, 2018
This year Michael's memorial prizes went to a Swedish theater institution and an international actress whom Michael had worked with. Each received cash and a very odd statuette that resembled a Pygmy from the Congo without arms! There was supposedly a message with it that was lost in obscurity.

The first prize was $5000 awarded to the Arab Theater in Stockholm. This is a photo of artistic director Helena Al-Janabi accepting the award on behalf of the theater from Alexandra Pascalidou.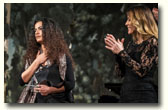 Helena thanked the MN foundation saying, "For the Arab theater, it is a big responsibility. Responsibility to create great theater and film here in Sweden in Arabic. Responsibility to try and influence a better society and good life for the many new arrivals, refugees and Arab countries living here now. Responsibility to portray our lives here in the theater scene and in movies. Responsibility to honor Michael Nyqvist's memory in our work."
The second award was presented by Anthony Edwards, a board member and co-star of the dreadful ABC series, Zero Hour. The recipient, actress Vicky Krieps of Luxembourg, was not present but her father accepted the $3,000 award. The board was motivated "by her luminous acting and the pursuit of authenticity." They further stated, "She does not rely on her ego, but her ability to be transparent and curious. Language barriers do not limit her because the truth she seeks is universal." You may remember her as Daniel Day Lewis's muse in The Phantom Thread and as Ursel, a fellow cult-member in Colonia. Here is a photo of Michael with Vicky at the film's Berlin premiere on February 5, 2016.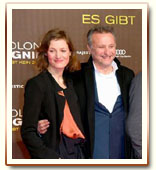 Attending the ceremony was Michael's wife Catharina, daughter Ellen and son Arthur. Call me a prude but considering the occasion, perhaps a bra would have been more respectful than baring one's breast.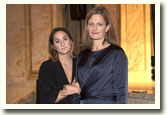 November 8, 2018
58 years ago today Michael Nyqvist was born. In celebration of his birthday each year, his memorial foundation will give two awards. They will be given this evening at the Theatre Confidencen with one going to an organization or group and the second to a thespian. The awards consist of money as well as a statuette. Nothing new was revealed in the media outlets except the repetitious statement from the family that Michael was not aware he could die from lung cancer. How could he not know that! 85% of cases are due to long-term tobacco smoking.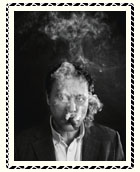 Note from photographer Johan Bergmark: "Micke Nyqvist 2008. This was taken during the filming of Kvinden der drømte om en mand. I took a picture of Micke where he would be himself. Not the character, but Micke. I allowed him to pull a whole cigar for the sake of the picture."
Certainly, I have put in more hours than anyone else since his death in the preservation of Michael's life in words and pictures on this web site. Had he lived, I am sure he would have been both grateful and appreciative.
November 1, 2018
This week Malin Berghagen paid tribute on Instagram to her mother artist Lill-Babs Svensson and Michael. Both died of cancer last year. Both have been hailed as warm and thoughtful people who put others before themselves. In Malin's latest post, she shared this photo of the two. She dreams that her mother is in heaven and is in good company. She writes, "I'm a little jealous that these two are hanging out on the other side of the clouds."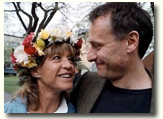 * * * * *
Though many of the film critics have been harsh in their comments about HUNTER KILLER, audiences love the submarine thriller scoring 85% at Rotten Tomatoes. A blogger who happens to be a fan of our Swedish actor saw the film this week. He writes, "Then I saw Michael Nyqvist and I smiled. I knew the movie couldn't be too bad. Anyone who's seen the Millennium Trilogy knows who Nyqvist is. Here he plays Russian submarine Captain Andropov. His relationship with Butler's American Commander Joe Glass turns into one of the true delights of what is otherwise a good, but not great film. Butler is actually pretty good as Commander Glass. This is primarily due to his interactions with the eternally forlorn Nyqvist. They form a bond that is essential during the most tense parts of the film. It gives a dimension that keeps your eyes and mind from wandering, even if you've seen most of it before. There are no amount of words that can describe the unique quality of Nyqvist's acting here. He says more with his sad eyes than a room full of Oscar winners could with a thousand pages of script. It is a genuine pleasure to witness it for it's likely the second to last time. I will be there when Malick releases Radegund."
* * * * *
Hunter Killer review from the Georgetown Voice:
"Midway through their rescue mission, the crew of the Arkansas find the bombed-out remains of a Russian submarine on the ocean floor, and Glass orders his crew to rescue the survivors. One of the survivors is the ship's captain, Andropov (Michael Nyqvist). When the two commanders end up needing each other, their respective loyalties to their countries complicates their relationship. The tension between the two Captains is made all the more palpable by the excellent performances by Nyqvist and Butler, whose close, off-screen bond translates onto the screen with ease. One of the main themes of the film, the role of trust, is born in part of the relationship between Glass and Andropov. Whether trust will prevail would be an easily answered question in a stock, predictable action movie, but here, the complexity of the characters and the precarious relationship between Glass and Andropov especially keeps the audience guessing the ending throughout the whole film.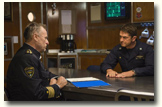 Review from Keagan Miller, The Battalion:
"The one performance I was impressed with came from Michael Nyqvist, who played Butler's counterpart captain in the Russian navy. His stoicism and the complexity of his character made for the one performance in the film that I wasn't expecting, but that caught me off guard in all the right ways. Nyqvist unfortunately died last year after his parts in the film were complete but well before the movie was released. He took a film that could've been interesting on its own and made it into something better."
October 27, 2018
HUNTER KILLER opened in US theaters this weekend. Once more, lead star Gerard Butler saluted his co-star on his instagram account with "To Michael Nyqvist, a great man who stole my heart, the young cast's heart, as well as the hearts of audiences who watch this movie. You are missed in so many ways. Thank you for the brilliance you shared with us. It was an honor to work with you." You can view a scene between Gerard and Michael at this Instagram page.
In an interview with Screen Rant, Butler spoke about working with Michael - "It was one of the best experiences I've ever had with an actor. I love working with Scandinavian actors, because they're so cool. There's no ego. They just get on with it, and yet they're so playful, and you see them trying things, and they take risks. I loved my relationship with him in the movie, with Captain Andropov, and also, how he was. How he inspired the other actors."

The general consensus is the submarine thriller follows in the tradition of The Hunt for Red October, Crimson Tide, and others, and while it doesn't compare favorably to those deep sea classics, Hunter Killer has got an old fashioned aesthetic that should please fans of Tom Clancy-esque action.

At the end of the credits, there is a film dedication to producer John Thompson and Michael. Several reviewers had kind words for our Swedish actor and I was happy to see that the most used movie still was this one.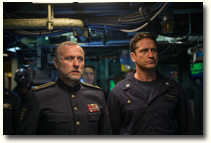 "Michael Nyqvist, in one of his last roles before his demise, brings a war-weary and insightful aura to Captain Andropov. His interactions with Captain Glass are fascinating as the two skippers share a tense yet humane kinship. There are some moments of intrigue created when the two rival captains encounter each other." ...Neil Soans, Times of India

"The film is notable in that it contains one of the last performances for actor Michael Nyqvist, who died last summer due to lung cancer. The incredibly talented Swedish actor became known to American audiences in the original Girl With the Dragon Tattoo movies. Seeing him on-screen was a pleasant surprise, albeit bittersweet." ...Tom Santilli, AXS.com
"The Russian captain is played by the late Michael Nyqvist, the memorably weatherbeaten actor who came to fame in the Swedish Girl with the Dragon Tattoo trilogy. Nyqvist (who died at age 56 in 2017) adds a touch of class, and many of his exchanges with Butler take the form of grim nods of the head. Exactly what you want in a movie like this." ...Robert Horton, Herald Net
"Nyqvist, whose somber, nearly silent performance brings some real gravity to his scenes. It's sad to think that this will probably be that fine actor's screen swan song." ...Frank Swietek, One Guy's Opinion
"Only the late Swedish actor Michael Nyqvist, as the Russian sub commander rescued by Glass, acts with stern distinction and zero histrionics. He was a fine actor; he'll be missed." ...Michael Phillips, Chicago Tribune
"Butler is a strong leading man – the Tom Berenger of our time – and it would be nice if he got a decent part now and then. Still, he does OK with this one, playing particularly well off of Swedish actor Michael Nyqvist, who is brilliant and contained as a humane Russian captain. It was, alas, the next-to-last performance by Nyqvist, who died last year." ...Mick LaSalle, San Francisco Chronicle
* * * * *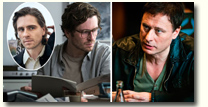 The Girl in the Spider's Web premiered at the Rome Film Festival on October 24th and was released in Sweden yesterday. The crime thriller is based on the novel by David Lagercrantz. Sverrir Gudnason took over the role of Mikael Blomkvist. He told the press his thoughts often went to his deceased friend and colleague during filming. He said, "He was a close friend to me, and his last movie in Sweden was A Serious Game that we made together, where we got to know each other very well. There are many who miss him very much."
October 23, 2018
Gerard Butler, starring in the submarine thriller, "Hunter Killer", was left shattered after he had learned that his co-star from the movie lost his battle with lung cancer and had died at the age of 56.
In an interview Butler said this about the late actor: "He's right up there as one of my favorites, if not my favorite, in terms of somebody who just had such incredible talent, childlike qualities and playfulness. But more than anything, he had such incredible humility and warmth, and this cheeky kind of glint in his eyes. It breaks my heart. And it breaks my heart that we'll never get to sit together to watch this movie."
Michael plays the role of Captain Sergi Andropov in the movie. Butler describes their relationship on film - "I see this movie in some ways as a love story of friendship and respect between these two captains from opposite sides of the world and opposite cultures. They're enemies. But as individuals, they each have the ability to do things differently than anybody else would — they both can see above and beyond the normal rules of conflict and engagement. Andropov is an old salty dog of a warrior while Glass is a hard-nosed, blue-collar Navy man. Yet they both have respect for the other and their almost silent relationship drives the outcome of the story."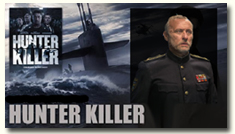 Alicia Adejobi of UK's Metro reviewed the film agrees. She writes, "It's these encounters between Glass and Andropov that provide the most fascinating moments in Hunter Killer. Glass isn't the most well-rounded character – really, all we know is that he's an esteemed commander with eternal optimism driven by hope for a united future. But his steeliness and determination to do the right thing, even if that means saving the opposition, is the thread of Hunter Killer. This is where he clashes with Andropov – the two men are both powerful in their roles as leaders yet polar opposites in their outlook on the world. Glass tells the Russian commander: 'It's about the future' and that they are 'brothers' not enemies. Yet skeptical about the idea of Russia and the US being allies, Andropov dead-pan tells him to 'fuck off'."
Since it premiered over the weekend in the UK and Ireland, other reviews have mentioned Michael. Nikki Baugham of The List, writes, "The captured Russian Captain Andropov is played with admirable poise and gravitas by Michael Nyqvist in one of his final performances." And Owen Glieberman of Variety, writes, "Michael Nyqvist, in one of his last roles, has a mournful grace as a fallen Russian submarine captain."
Yesterday the film's premiere was held at the Intrepid Sea-Air-Space Museum in New York City. Butler posed alongside members of the Royal Navy as well as co-stars Zane Holtz, Michael Trucco, Ryan McPartlin and Common. The film will open in US theaters on Friday.

October 21, 2018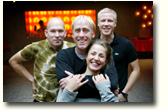 Another film added to the MNA! SMALA SUSSIE (Slim Susie) is a 2003 Swedish gangster comedy directed and co-written by Ulf Malmros. It is considered the director's most popular film. His name is probably familiar to you because he was a friend of Michael's and they collaborated on several films. This screwball thriller has shades of David Lynch and Quentin Tarantino films where violence and crime are blended with humor. It is a difficult balance, but if you're drawn to that type of entertainment, you'll enjoy this quirky film. Ulf Malmros told the press, "I wanted to make a really funny movie and one of the most comical ones you can do is portray people who have lost the ability to see themselves from the outside." Two years after the Swedish premiere, the film was released on DVD in the United States to great reviews.
The story takes place in a quaint rural village filled with small town madness. Former beauty queen Susie is missing. Her brother returns from Stockholm to find out what happened to her and is shocked to discover his sweet and innocent sister was anything but! The director's bold visual style, breakneck pacing, and a pulse-pounding soundtrack make Slim Susie a viscerally exhilarating black comedy in the tradition of movies, such as Pulp Fiction and Trainspotting. You can view a short clip with Michael at this link in his role as a policeman.
* * * * *
I have no information on the following set of photos. It looks as if it might be from an ad campaign.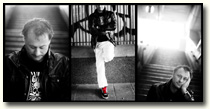 * * * * *
Here are two new publicity photos from the 2007 Norwegian TV series "Nattsösteren".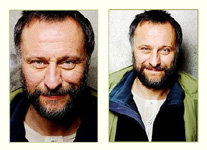 October 13, 2018
Here's an article from a 2007 magazine from the Swedish Film Institute. It's refreshing to hear from a non-Hollywood thespian who thinks of himself as a conduit rather than a mega star. Michael explains, "What I can do as an actor is to make things tangible. It's not about glamour. Our job is to connect, to act as a time machine."
* * * * *
Melodifestivalen is the Swedish music competition which selects Sweden's entry for the Eurovision Song Contest. In March 2016 Michael and Pernilla August participated in the grand finale interpreting "Kom" by Timoteij, the Melodifestivalen 2010 entry. You can watch it at this youtube link. Director Edward af Sillen revealed that there was much laughter during the recording as Michael and Pernilla performed the song as a Chekhov drama. He referred to the pair as two of Sweden's greatest actors.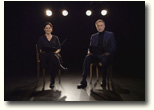 October 11, 2018
Two plays have been added to Michael's theatre works. Both were performed at Dramaten. A reading of the play Dömd (Judged) by Alfhild Agrell had one performance in 2007. And in 2002, En natt i den svenska sommaren (A Night in the Swedish Summer) by Erland Josephson had 56 performances.
* * * * *
Here's another pic from Michael's reading and signing at the Academy Bookstore in Stockholm on April 6, 2013 when his book Dansa för oss was published. He looks especially old and tired.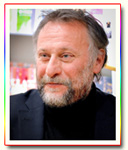 Three years later, he actually looks younger in this photo when he poses with photographer Andreas Hellqvist.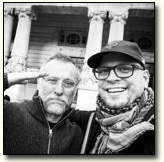 * * * * *
Michael was a guest on an episode of the Bergs Bärbara talk show, which aired on November 7, 2013. A blogger noted that Michael turned out to be an entertaining and friendly person. And apparently with the women. A lady in the audience said she felt that Michael Nyqvist was not just sexy, but even naughty! Oh Lordy, Lordy...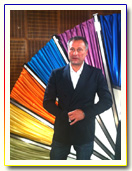 October 9, 2018
More movie stills of Michael from HUNTER KILLER, premiering October 26 in the USA.
* * * * *
When someone dies from lung cancer, you immediately think of a smoker and yet there was no information at the time of Michael's death in regard to his smoking habit. However, the photo below shows him lighting up and even in his own book, he writes about how he smoked cigarette after cigarette while waiting to meet his father. Did Michael ultimately meet his fate through his addiction to nicotine?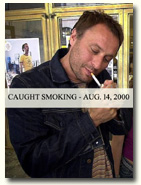 October 7, 2018
There are more pages added under Michael's television work. Almost complete! His very first TV film was Kamraterna (Comrades) in 1982. Bodil Malmsten adapted the August Strindberg play for a television movie. She was known as a poet and novelist but decided to direct the play herself. Sadly, she too died of cancer the year before Michael, but she was 15 years older than him. The play is set in Paris in 1886 and deals with marital problems. Michael's role was very limited and I'm not sure he even had any dialogue as he played a model. In the notes for the play, it says "naked male model". Not sure if Michael kept his clothes on.
In his early days as an actor, he also appeared in one episode in the following TV series: OP7 (1998), Emma åklagare (1997), Zonen (1996), Anmäld försvunnen (1995) and Kvällspressen (1992).
* * * * *
I'm not sure when this photo of young Michael was taken. I would guess he was around ten years old.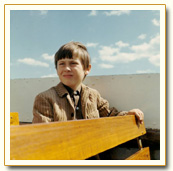 * * * * *
A handsome photo shoot for an unknown magazine:

* * * * *
I found the following fashion blog interesting in regard to the Millennium Trilogy:

Cilla Rörby's overall look for The Girl with the Dragon Tattoo is relaxed and modern. Nearly every character is granted an air of clean European chic, from co-owner of Mikael's left-wing magazine Millennium, Erika Berger (Lena Endre) in immaculate trouser suits and midi-length trench coat, to wealthy Martin Vanger (Peter Haber) in his zipped-up Barbour, to Mikael himself in long sleeve buttoned t-shirts, blue or grey v-neck sweaters, plain white shirt, indigo Lee jeans and trendy short leather jacket.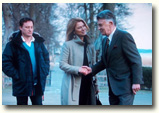 Mikael is an activist not a stuffed shirt; he does not even wear a suit for his sentencing in court at the start of the story. He dons a grey flannel lounge jacket for his postscript with Henrik Vanger (Sven-Bertil Taube) but even that is teamed with blue jeans and white shirt. He is the flipside of Lisbeth because his own vaguely radical style is seen as customary whereas hers is unacceptable. Mikael can be slobby, just like Lisbeth, and is just as comfortable in exposing his body.

In the follow up film, The Girl Who Played with Fire (2009), Mikael remains almost the same in terms of costume from The Girl with the Dragon Tattoo. He wears a new leather jacket with tab collar although the cut is still recognizable, plus the knitted sweaters and long-sleeve t-shirts return. His look is as consistent as his character. Likewise Erika, who in a belted cashmere poncho and wool rollneck is just as elegant as ever.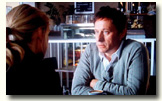 In the final installment, The Girl Who Kicked the Hornets' Nest (2009), Mikael becomes noticeably scruffier during this story. His clothes are changed infrequently; apart from re-emergence of the same leather jacket he wore throughout The Girl with the Dragon Tattoo, much of his original charisma has evaporated.
October 2, 2018
If you've read Michael's first book about his search for his biological parents, the Expressen article I just posted won't give you any new insights into his adoption drama. For those who don't understand Swedish and haven't read the book, you will discover a sad, heartbreaking story. It was featured in the newspaper's July 16, 2017 edition following Michael's death. I think the part about his being a one-year-old in an orphanage with an empty ketchup bottle as his only toy will pull at your heart strings.

* * * * *
Even when it wasn't summertime, Michael obviously loved boating and in this photo, we have his beloved dog Charlie waiting for his master on the pier.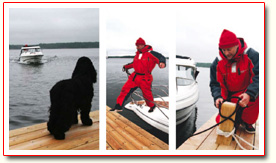 Archive Updates:

2018: January, February, March, April, May, June, July, August, September
2017: April, May, June, July, August, September, October, November, December