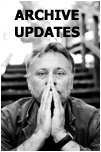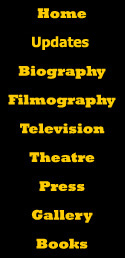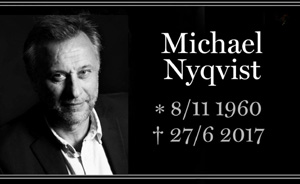 November 16, 2019
On November 8th the annual Michael Nyqvist Foundation Award was given to Swedish actor David Dencik and the Moomsteatern. Dencik actually appeared in both the Swedish and American versions of "The Girl with the Dragon Tattoo" though he took on different roles.
Here is an extra large photo for the Archives that was taken at the Stockholm premiere of "The Girl Who Played with Fire" on September 14, 2009.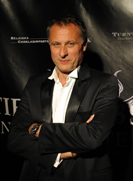 September 25, 2019
Michael's widow Catharina recently wrote an article for "Save Life", the magazine published by Sweden's Cancer Foundation. It was on June 27, 2017, when Michael died of lung cancer at only 56 years old. And now two years later, Catharina looks back over the years that her husband's illness consumed their lives. Before Michael began to film the "100 Code" series back in the spring of 2014, he had been diagnosed with lung cancer. A tumor was discovered and the treatment had been deemed successful with its decrease in size. Michael felt hopeful and was eager to go abroad and begin filming.
However, on a return visit to the doctor, they were told that the cancer had mutated. Catharina describes hospital visits as stepping into another world. Michael does not want to meet anyone he knows, absolutely does not want to be recognized. He stares at the floor. Every visit feels like a doomsday.
Chemotherapy began and a whole plethora of medicines filled their bathroom, so many that Catharina called it "The Apothecary". She describes the powerlessness she felt about not being able to share the disease with her husband. The feeling of injustice. And the anxiety about sitting in the waiting room at the hospital in what felt like hours.
She recalled that when they got married, the priest had told them that they should bear each other's burdens. They thought it was so beautiful, something to be reminded of, a call that gave them strength. She writes, "We chose to live here and now and decided to do everything together. So the illness period became one of the most beautiful in our lives."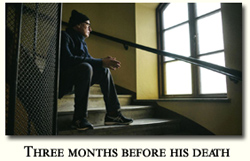 In the last three years of Michael's life, he participated in two television series and ten films. Wow! He certainly persevered!
August 15, 2019
Sadly, I have to report that Michael's scenes in "The Command" (previously titled "Kursk") were left on the floor of the editing room. The photos below show him in his uniform as Colonel Nesterov. The IMDB continues to include him in the cast as well as hundreds of other movie web sites. This error should be corrected.
* * * * *
Here are some new movie stills from the 2016 Pernilla August film DEN ALLVARSAMMA LEKEN (A Serious Game) for which Michael won a Guldbagge for Best Supporting Actor. He had such a kind face though the Americans cast him too often as a baddie.
* * * * *
And a lovely photo of the trio who made MOTHER OF MINE such a beautiful film - Actress Maria Lundqvist, Director Klaus Härö and Michael.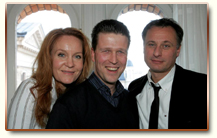 July 3, 2019
Terrence Malick's A HIDDEN LIFE, which premiered at the Cannes Film Festival in May, will hit theaters in the US on December 13, 2019. In France the release date is set for December 11 and it will be screened in UK theaters on January 17, 2020. Fox Searchlight made waves at Cannes when the distributor purchased the rights to the film for a reported $14 million, beating out the likes of A24, Netflix, and others. Clearly, this is the film that everyone has on their mind as an early awards-season favorite.
June 27, 2019
Today sadly marks the two year anniversary of the shocking news that our beloved Michael had passed away. I have added a page to the Archives devoted to his death and funeral at this link.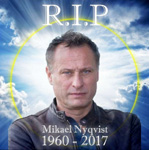 May 24, 2019

It's hard to argue that the subject matter of Terrence Malick's new film, A HIDDEN LIFE, which premiered in competition in Cannes on Tuesday, is almost tailor-made to fit the director's cinematic agenda. The based-on-fact story of the Austrian farmer Franz Jägerstätter (August Diehl), whose refusal to swear allegiance to Hitler and serve in the army during World War II led inexorably to his execution in 1943, possesses all of the elements of an archetypal Malick film. The director has a well-known penchant for protagonists who spurn the material world for higher spiritual callings. In addition, focusing on Jägerstätter's hometown, the idyllic mountain village of St. Radegund in Upper Austria, allows the director to indulge his fondness for capturing achingly beautiful natural landscapes. One must, of course, recall Days of Heaven (1978).
Though Malick eluded the festival's red carpet photographers, dressed in a tuxedo, he was given a warm standing ovation following the screening of the film.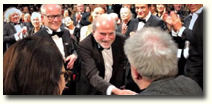 The press corps was hopeful he would show up at the film's new conference but only the film's stars August Diehl and Valerie Pachner were on hand for questions.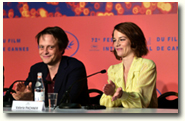 As is often the case with Malick's productions, the film was shot years before finally seeing the light of day. The passage of time was enough to see the death of two actors in the interim. Charles Barfield of The Playlist wrote, "Sadly, the long post production resulted in actors Michael Nyqvist and Bruno Ganz both passing away due to cancer over the course of the editing process. There's a bit of solace knowing that, judging by critical reviews, it appears their final appearances on the big screen will be celebrated as part of an incredible feature."
Michael makes a very brief appearance in the film as Bishop Joseph Fliessen. Franz Jägerstätter is convinced that Adolf Hitler is an evil man and he feels compelled not to swear allegiance to him. He goes to the Bishop to ask counsel. The Bishop vacillates and tells Franz that the Bible says one is to love one's country. He advises, "You have a duty to the fatherland. The church tells you so." In the bishop's residence and other locations away from the bucolic beauty of the village, Malick also excels in visual realization, bringing the interiors of ancient churches, sacred artwork, and embellished medieval edifices of every sort into the story.
David Ehrlich, IndieWire:
"A Hidden Life is a lucid and profoundly defiant portrait of faith in crisis. It's an intimate epic about the immense strength required for resistance, and the courage that it takes for one to hold fast to their virtue during a crisis of faith, and in a world that may never reward them for it... Despite its repetitive and foraging nature, A Hidden Life flies by, as the film is helped along by gorgeous scenery, a beautiful score, and a handful of supporting performances from actors like Matthias Schoenaerts and Franz Rogowski. The late Bruno Ganz and Michael Nyqvist respectively make their final appearances as a Nazi judge and an anguished, sympathizing member of the Church."
Paul Heath, The Hollywood News:
"There are also fleeting appearances from the likes of Matthias Schoenaerts and Jürgen Prochnow, as well as the final on-screen appearances from two of Europe finest actors of their generation, Bruno Ganz and Michael Nyqvist. It is, however, Diehl and Pachner who are most deserved of praise as they really carry the movie in two demanding roles."
The buzz surrounding the film reached such a fever pitch after its premiere that Fox Searchlight spent a ton of money just to secure the distribution rights. According to Deadline, Fox Searchlight spent a reported $12 million to $14 million. The Disney-controlled indie/arthouse studio outbid the likes of Netflix, Paramount, Focus, A24, and others, who were also reportedly in hot pursuit.
The movie's title (renamed from its original title of Radegund), comes from a quote in George Eliot's Middlemarch:
"For the growing good of the world is partly dependent on unhistoric acts; and that things are not so ill with you and me as they might have been is half owing to the number who lived faithfully a hidden life, and rest in unvisited tombs."
The film is not a complete biography of Franz Jägerstätter. You can find a documentary film, Franz Jägerstätter: A Man of Conscience, directed by Jesuit Fr. Ron Schmidt and Jason Schmidt that is excellent. The book on which much of the film is based, Franz Jägerstätter: Letters and Writings from Prison is available from Orbis Books. Malick obtained the rights from Orbis for the film, and passages from these letters form much of the voiceover narration.
May 5, 2019
Here are some miscellaneous photos. The first one is from the documentary "Ett Porträtt - Michael Nyqvist". It shows Michael taking a coffee break during the 2016 filming of "A Serious Game". You may remember that this role earned him his second Guldbagge.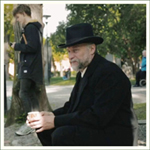 This photo was also taken on location during the filming of "Mission Impossible - Ghost Protocol".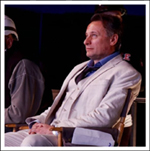 April 18, 2019
The 72nd Cannes Film Festival has announced the lineup of films to be shown next month. Terrence Malick's A HIDDEN LIFE has been chosen to be screened in competition! This is Michael's last film to be released. Perhaps the film will be dedicated to both Michael and co-star Bruno Ganz, who also passed away in February of this year.
April 5, 2019
From IndieWire:
Terrence Malick's upcoming WWII drama is officially titled "A HIDDEN LIFE," a source close to the film has confirmed to IndieWire. The long-in-the-works film had been previously going by the title "Radegund." The historical drama stars August Diehl as Franz Jägerstätter, a conscientious objector to World War II who was guillotined by the Third Reich in 1943. The supporting cast includes Valerie Pachner, Matthias Schoenaerts, and the late actors Michael Nyqvist and Bruno Ganz.

The industry is abuzz that "A Hidden Life" could world premiere at the Cannes Film Festival in May, bringing Malick back to the prestigious event for the first time since winning the Palme d'Or with "The Tree of Life." The title change is the latest development in the film's slow-moving path to release. Malick fans will find out if the film makes the Cannes lineup when the festival announces its 2019 slate on April 18.
April 1, 2019
Today I've posted pages for three of Michael's short films. The earliest one is very short at only 4 minutes and is called NIGHTWALK, written and directed by Ylva Gustavsson and filmed in 1998.
The second one 10:10, made in 2000, was part of a project initiated ten years before by the Göteborg Film Festival and produced and implemented in collaboration with the Swedish Film Institute and SVT Göteborg. It was called "90 minuter 90-tal" and was made to chart the gradual changes of a rolling decade.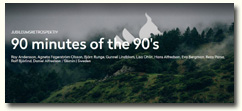 Every year a Swedish director made a new, ten-minute addition to the film on commission. The idea was to allow five more established directors and five more unstable young directors to contribute with each their part, which had some connection with each other, but in principle ten quite different images of the 1990s Sweden with the outside world with quite different form, content and rhythm; some more comical, absurd adventures, others more serious and quietly poetic. Starting in 1990, each year, the previously completed parts - one new per year - were exhibited at both the Göteborg Film Festival and on Swedish television, and in 2000 they were presented as a feature film in their entirety.
The third short film is called FÖRÄLDRAMÖTET (Classmates) that was made in 2003 and runs for 26 minutes. Michael stars as a father, who becomes engaged in an argument with another father whose son has been accused of being a bully.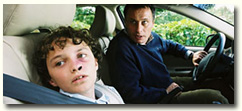 Archive Updates:
2019: January, February, March
2018: January, February, March, April, May, June, July, August, September, October, November, December
2017: April, May, June, July, August, September, October, November, December