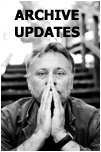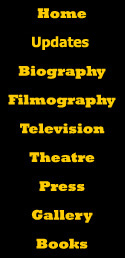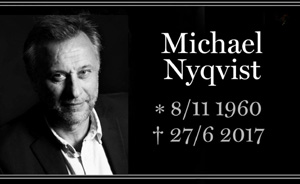 March 3, 2019
In the summer of 2010 Hollywood decided to cash in on the success of the Stieg Larsson screen adaptations in Sweden. They wanted to create their own American version with "The Girl with the Dragon Tattoo". Daniel Craig was chosen to play Mikael Blomkvist. At the time, Michael told the press, "Daniel Craig is just amazing. I'm very curious but I think he'll do a wonderful job. And if they miss what I feel is very Swedish in the way we did it, I think they're going to bring lots of other things to the story. When asked if he felt confident about the English translations of the books, he replied, "I love the English language. I think it's fantastic. Sometimes English describes things better than we do; on the other hand, we can describe some things better in Swedish."

Michael said the real challenge for an actor working on a screen adaptation of a book is how to reveal a literary character's inner life on screen. "Blomkvist is a good listener, has a great deal of empathy and is very intelligent. But, in a way, he's an invisible character. That challenged me enormously. He's actually a very difficult character to play."

His solution was nothing if not novel. Michael said, "Remember the film The Elephant Man? I thought of Mikael as the doctor and Lisbeth as the Elephant Man." [Don't you think our favorite Swede could have easily taken over Anthony Hopkins' role as Dr. Merrick?]

Then there were those aspects of the story that had merely to be hinted at, such as Blomkvist's womanizing. Michael said, "We had to take a lot of that out for the film because of time limitations. So I tried to express it with my eyes, the fact that perhaps you might think he's a womanizer."
I think he failed in giving that impression. For one thing, the hairpiece he was made to wear was God-awful and totally changed the shape of his head and handsome looks. I think the filmmakers thought revealing his bald spot would age him too much.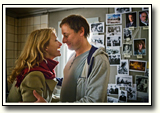 I've added about 25 photos to the Millennium Trilogy pages. Here's a couple on-location shots.
Plus I've added a few photos to the film's publicity events at various locations, such as these taken at Cannes. Michael really looked good with his tanned face and highlighted hair.
February 24, 2019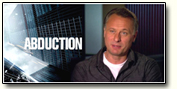 I originally posted the film page for "Abduction" in October 2017, but since then I have amassed more information on the production. In casting Michael for the role, producer Lee Stollman said, "We had seen The Girl with the Dragon Tattoo and we all fell in love with Michael in that movie. He's completely unexposed here in the US and we felt that he was a great fresh face. He can appear sinister, but he's also a handsome, charismatic leading man." Producer Doug Davison agreed - "We were looking for a European villain and I had recently watched Dragon Tattoo, which he's terrific in. We found out that he's Swedish, and since he speaks Swedish in that movie, we needed to know how strong his English was. And it was terrific! He was our first choice. We went after him, he was available and we got him. We feel really fortunate to have him in the film."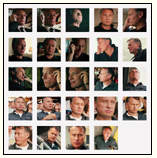 There is no doubt that it was the Millennium trilogy that made the American film industry look up to our Swedish favorite. It certainly opened doors for him. At the time Michael told the press that he was not specifically investing in a Hollywood career but that he was looking for interesting assignments where he could develop.
Michael recalled his response to the casting call - "I've always been attracted to the question of finding your roots (referring to the script), and I love John Singleton's work. He called me and we started to talk about it. I read the script and thought it was well written. Plus the part I play is a bad guy, and that is so fun to do... It's a scary cold-blooded person, a real psychopath. At the beginning of my acting career, I played 'bad boys' in Sweden as well. We have so far only talked to each other over Skype. I have not asked why they chose me, but I understand that he [Singleton] has seen several of my films."
In an interview with Urban Cinefile, he commented, "I play a bad, bad boy. It's so much fun. I get to hit people, kick people. I try and kill Taylor Lautner. I kill his parents... and I get paid for it!" He described how 300 girls turn up at the shoot everyday screaming for Taylor Lautner (Twilight franchise). And added, "John Singleton is SO good to work with. I love it. . . he's so graphic. I love his films."
While on location, Michael lived in an apartment at the Cork Factory, located on the Allegheny River in downtown Pittsburgh in the heart of the "Strip District". It's described as a vibrant neighorhood with an eclectic mix of wholesale merchants, boutiques, sidewalk vendors, restaurants and nightclubs. Michael said he enjoyed his stay there - "It was an older part of town. People liked to walk there instead of using their car. It was almost like being in Europe."

The film's ending took place at PNC Park, home of Major League Baseball's Pittsburgh Pirates. It was shot on August 22, 2010 during a real Pittsburgh Pirates-New York Mets game with a live crowd of over 26,000 fans. The production crew had their work cut out for them because the game happened to be unusually short ending an hour earlier than planned. [Love this silhouette of him in the stadium]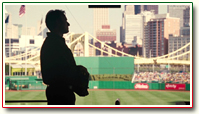 Sadly, the film bombed at the box office and didn't initiate a bright start for Michael in the US, nor elsewhere. It amazingly was screened in at least 50 countries but continually suffered negative criticism. I'm sure expectations were high considering it was a John Singleton film. Critics mostly bashed Taylor Lautner for his dreadful wooden acting and indicated their disappointment in writer/director Singleton, who debuted in 1991 with one of the films that defined an era - Boyz N the Hood. The 24-year-old became the youngest person, and the first African American, ever to be nominated for an Academy Award for Best Director. He also scored an Oscar nomination for Best Original Screenplay. His follow-ups were not quite on the same level but they were ambitious and showed that the talent was still there. Since the failure of Abduction, Singleton has only worked in television, both directing and producing a handful of series.
Most of the reviews made little mention of Michael and that may have served him well. Here are a few positive excerpts:
Jennie Kermode, UK's Eye For Film:
"There are some fantastic supporting players in this film. Alfred Molina is wonderful as always, even if his CIA agent character doesn't have a lot of depth. Sigourney Weaver has fun combining two of her stock characters as a thoughtful psychiatrist who doesn't take any shit. And Michael Nyqvist breathes life into a formulaic villain, doing great work in his brief scenes even if one gets the impression he was only cast for his blue eyes."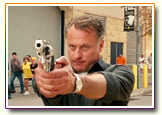 Tom Russo, Boston Globe:
"Also undergoing some Hollywood beta testing is Swedish star Michael Nyqvist semi-effectively cast here as a Serbian nasty on Nathan's trail. For a guy who alternately got to play crusader, hunk, and sidekick in his signature role, Abduction is a stock gig, but Nyqvist makes the most of it. 'I don't understand this game at all,' he says during a climactic set piece at a Pittsburgh Pirates game, equal parts menacing and wry. 'But I like popcorn.'"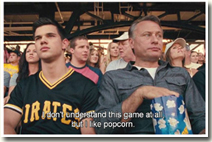 Rene Rodriguez, Miami Herald:
"The main villain, played by Michael Nyqvist is a textbook example of sleazy Eurotrash heavies, although at least he seems to be aware of the movie he's making and has some fun with his role. If he had a mustache, he would twirl it into a pretzel."
Jay Stone, Vancouver Sun:
"The mafia is represented by Kozlow, played with far more subtle menace than the picture deserves by Michael Nyqvist. The question of how Hollywood lured him with this role is more interesting than any of the issues raised in the movie itself."
Here's Michael in his Pirates T-shirt (perhaps a gift from the team) working out at the gym with his trainer Kalle.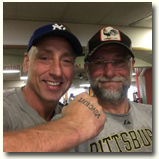 February 22, 2019

The last film yet to be released starring Michael is RADEGUND. The Independent ran with a story last fall that we could expect Terrence Malick's "Radegund" to premiere either at Toronto or Venice last year. That didn't happen. Then it didn't show up in Berlin this month. Is Cannes going to be the place we see Malick's latest opus? The film follows the real-life story of Austrian Franz Jägerstätter, who was a famous conscientious objector and refused to fight for the Nazis during World War II. Michael plays Bishop Joseph Fliessen. It has been over two years since shooting wrapped. Will it ever come to the big screen? The above photo shows him in costume looking very holy.
* * * * *
The 2006 film SÖK (Search) had a cast with some famous Swedish actors, though some only had cameos, such as Michael. I think he was on screen for no more than 15 seconds. If you watch the outtakes at this link, you'll see more of him in his short scene. The film tells the story of 38-year-old Lisa who wants a change of life and begins her search for her Prince Charming. She starts dating by finding suitors on the Internet but it turns out that the more men she meets, the further from family happiness she finds herself. It was not a very successful film and I cannot recommend it.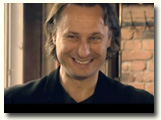 February 18, 2019
Another film page posted - coming to the end - see filmography. The name Johan Renck may be a familiar name to some for he is known as one of the top directors of music videos and has also done directorial work in television and film. His feature film debut was a dark drama called DOWNLOADING NANCY, which premiered at the 2008 Sundance Film Festival. Cast member Rufus Swell was present at the screening and commented, "I didn't expect so many people to walk out at Sundance." The film is loosely based on the death of Sharon Lopatka who sought out someone who would torture her to death. It received mostly negative reviews, garnering a score of 16% on Rotten Tomatoes, which summarized it as "slickly made but mostly unpleasant".
It opened in Swedish theaters on May 1, 2009 and a month later had a limited release in the US. Michael plays a friend of Nancy's husband and it's a rather uninteresting role. I think the reason he took it on was through his friendship with Johan. The two of them are shown in this photo when Johan is directing a scene. Of his role, Michael commented, ""I played what, for me, is a new type of character. Like a neighbor who doesn't dress very well, has a little tunnel vision but likes everyone. Basically, he' not all there."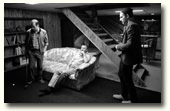 Though the director was Swedish, the film was an American production with Maria Bello, Jason Patric and Rufus Sewell in the lead roles. When Sweden marketed the film, this poster surfaced emphasizing the Nyqvist name.
Because I follow the Skarsgård family as manager of Stellanonline.com, I first came across "Downloading Nancy" when Johan's cast previously included Stellan as the killer and Holly Hunter as Nancy. I was excited about this unique role for Stellan but financing fell apart and eventually a new cast was announced. I was very disappointed.
The following photo shows Michael and Catharina arriving in masquerade costumes for Johan's 40th birthday party at Teater Lederman on Gästrikegatan. One hundred guests were invited and they seemingly made an effort to follow the host's desire for a fun evening.

In 2007 Johan and Michael had another collaboration. Johan made a short film for the Stockholm Film Festival. It was called "Själv porträtt" (Self Portrait) starring Michael. The film was about loneliness and took place one evening in an apartment where Michael does things men do when they're alone: cries in the shower, suppers in front of the TV and jumps from the balcony. (Really?)
Ten years later, the pair spent time together in Paris two months before Michael died. This photo was taken by Michael when they had dined together at a sidewalk cafe.

And two months later Johan attended Michael's funeral with his wife Elin. On his Instagram post about Michael's passing, Johan wrote, "Love you, my prince."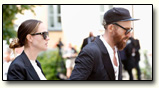 February 14, 2019
According to industry estimates, about 4 million roses are reportedly sold in Sweden on Valentine's Day so it appears this special holiday is celebrated far beyond US borders.
Today we lovingly remember a beloved Swedish actor who left us way too soon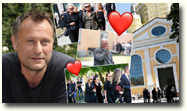 * * * * *
One of Michael's earliest TV roles was as police officer John Banck in the very first season of the popular crime show BECK in 1997-1998. Beck was a Nordic Noir TV series based on the characters from the Martin Beck novels by Per Wahlöö and Maj Sjöwall. The stories aren't really derived from the novels but the show does take their characters, setting and atmosphere. It starred Peter Haber as Martin Beck and Mikael Persbrandt as his angry partner Gunvald Larsson. A small part, it nonetheless gave Michael an opportunity to act alongside Peter Haber, and the two would later reunite on the big screen when Peter played Martin Vanger in The Girl With The Dragon Tattoo.

The first season is available for purchase at Amazon.com, Hulu and other streaming services. Michael appeared in these seven episodes:
Lockpojken (The Decoy Boy)
Mannen med ikonerna (The Man with the Icons)
Vita nätter (White Nights)
Öga för öga (An Eye for an Eye)
Pensionat Pärlan (The Pearl Hotel)
Moneyman (The Money Man)
Spår i mörker (Night Vision)
* * * * *
A relaxed Michael doing some seal spotting at Sandy Cove Beach in California in June 2015.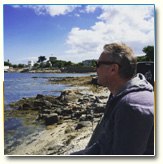 February 11, 2019
HUNTER KILLER is now available on DVD, Blu-ray & 4K UHD. I watched it last week via Amazon Prime Video - great entertainment! Soundtrack was awesome too. Ben Peyton of We Are Cult wrote, "The late Michael Nyqvist brings dignity and class to his Captain Andropov" while Expressen wrote, "As the Russian prisoner of war Captain Andropov, Nyqvist is equally ravaged, honorable and sadly good. An old-fashioned hero."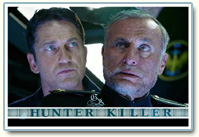 * * * * *
It's been almost two years since Michael passed away. I'm sure his widow is still working through her grief over the death of such a young husband. Here's a sweet photo Catharina posted of the pair in their younger days. The second photo is her official board member photo posted at his Foundation web site.
* * * * *
This photo is from a magazine called Damernas Värld, a woman's fashion publication, one of the oldest in Sweden. Who could look so good in a t-shirt?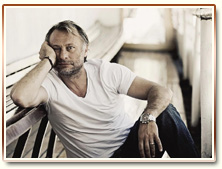 January 28, 2019
Roger Wilson of Swedish Radio recently mentioned Michael when discussing HUNTER KILLER - "Michael Nyqvist plays a Russian officer who is rescued from his sunken craft by an American u-boat. He ends up in the middle of what is developing into a Russian military coup and has to decide who to trust and which side he should support in the intricate and dramatic situation he has ended up in. His role is small but important. He has an intense presence every time he is on screen. It's as if he's in a different movie than everyone else. While the rest of the actors are in a generic action movie, he stands there and knows. Absorbs the feelings - confused, desperate, suspicious." How true! He's always had this magnificent screen presence.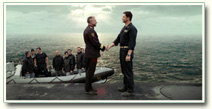 In this photo, it almost appears as though he's saying goodbye as he makes his way to the angelic heavens.
* * * * *
Last month when I posted a film page for VERANDA FÖR EN TENOR (1998), I indicated that I had no photo of Michael in his role as a film director. However, I just stumbled across this one.

* * * * *
Don't you just love this photo! Look at the expression on Michael's face as he makes friends with this baby. The little one is the son of Andrea Eckerbom, a friend of Michael's who works in casting for the film industry. I would guess that this photo was taken four or five years ago considering how old the child is today.

January 8, 2019
I think Michael would be very pleased to see that Stockholm's Bosthlm Home Styling believes the poster of his film, ANGLAVAKT, is worthy of gracing the walls of a dining room. I would agree.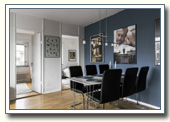 When Izabella Scorupco and Michael were cast as a married couple in the film, it was the perfect match and audiences could feel the chemistry between the pair. Michael told the press in May 2009, "Isabella is a wonderful person with absurd humor and enormous presence on screen. I am one of millions of men who are in love with her." She responded, "That Michael is a fantastic actor I knew, but now I also know that he is a wonderful person."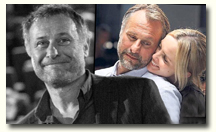 I love the following photo from the film. Oh, those eyes...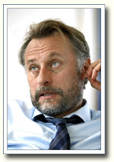 In this photo Michael joins Izabella at the launch of Micael Bindefeld's book, "My Garden is a Party", in April 2014.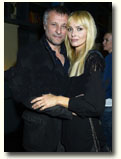 Archive Updates:
2018: January, February, March, April, May, June, July, August, September, October, November, December
2017: April, May, June, July, August, September, October, November, December